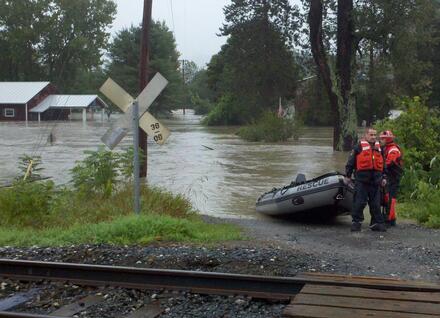 Prepare for a Flood
Prepare a family emergency kit. Check out a list of personal items from the CDC for tips on what to include.
Keep your cell phone charged.
Move important things to the upper floors of your home.
Bring outdoor equipment like trash cans or lawn furniture inside or tie them down securely.
Fill bathtubs, sinks and jugs with clean water. This water can be used for drinking, washing and cleaning the toilet.
Inform local authorities about any special needs that could affect someone's well-being in a flood, for example, a person confined to bed, or someone with a disability that affects mobility.
Gather your emergency supplies and stay tuned to local radio or television station for updates.
Stay Safe During a Flood
In a Car
Do not drive around barriers.
Do not use roads that are marked as closed. Follow detours.
Listen to public safety officials.
Do not drive through flood water. Even water that is not deep can float a car.
If your car stops in water, get out of the car and move to higher ground.
If possible, avoid driving at night when it is hard to see.
At Home
If there is water coming near your house, don't wait – get out and move to higher ground.
If you need to find a shelter, dial 2-1-1 on your phone to find Vermont resources near you.
If you touch flood water, wash your hands with soap and clean hot water.
Do not eat or drink anything that has touched flood water.
Outside
Stay away from flood water. Water can be very deep and can rise quickly.
Do not walk through flood water. Even water that is not deep can move quickly and be dangerous.
Stay away from fallen electricity lines. Electricity can travel through water and hurt or kill you.
Do not go into a home that is flooded unless you are sure that the power has been turned off.
Prepare to Evacuate
Know where your electrical breaker box is and turn off electrical power when there is standing water, fallen power lines, or before you evacuate.
Know where your gas and water shutoff valves are and turn off gas and water before you evacuate.
Fill your vehicle's gas tank and make sure the emergency kit for your car is ready.
Gather essential documents like medical records, insurance cards and ID cards and put in a waterproof bag or container to carry with you during evacuation.
If you have pets, identify a shelter that will let you bring them with you.
Tune into the radio or television for weather updates.
Listen for disaster sirens and warning signals.
Put livestock in a safe area.
Turn the thermostat on refrigerators and freezers to the coldest temperature possible to help protect your food from spoiling.
Resources
Resources
EPA Flooded Homes Video Series
Coming Home
Doing it Yourself
Protecting Your Health
Additional Resources