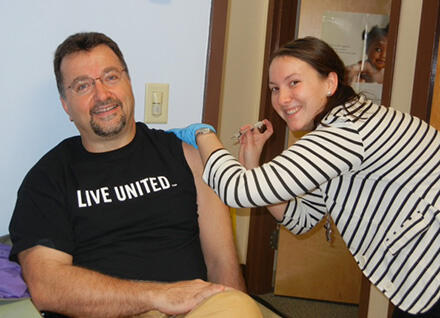 Public Health Nursing Positions, Internships & Student Opportunities
The Vermont Department of Health employs approximately 65 public health nurses who are involved in all areas of public health including maternal and child health, infectious disease control, school health, chronic disease prevention, immunizations and emergency preparedness. A baccalaureate in nursing (BSN) is recommended but is not a requirement for entry into practice for a public health nurse.
If you are interested in possible job opportunities, check the State of Vermont Career Center regularly.
There are many opportunities for nursing students to work with the Vermont Department of Health. We have agreements with the University of Vermont, Vermont Technical College, Norwich University, Castleton College, Southern Vermont College and Rivier University (NH) that allow us to host nursing students for clinical experience in public health nursing. The State of Vermont also has an internship program that can be utilized for nursing.
Find more information about internships at the Vermont Department of Human Resources.