Tobacco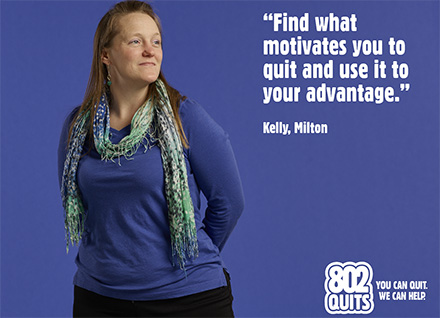 Tobacco use is the #1 preventable cause of death. In Vermont, smoking costs approximately $348 million in medical expenses and results in about 1,000 smoking-related deaths each year. Countless other lives, including those of friends and family members, are impacted by the negative effects of tobacco use and secondhand smoke. 
Tobacco use is one of 3 behaviors that lead to 4 diseases (cancer, heart disease and stroke, type 2 diabetes, and lung disease), resulting in more than 50% of deaths among Vermonters. Physical inactivity and poor nutrition are the other two behaviors. Learn more about 3-4-50
To see how we're doing in Vermont—check out our Tobacco Performance Scorecard
FACT SHEET: Vermont's new tobacco prevention laws
Raising the age at which Vermonters can purchase and possess tobacco products from 18 to 21 will help Vermont make strides against tobacco use, especially for youth. This change aims to:
REDUCE SMOKING RATES: The National Academies of Medicine found that raising the age to 21 would reduce the smoking rate over time by 12% and reduce smoking-related deaths by 10%.
REDUCE THE LIKELIHOOD OF ADDICTION: 95% of adults started smoking by the age of 21. Restricting access to these products also addresses the e-cigarette epidemic that is plaguing the country's youth.
PROTECT DEVELOPING BRAINS: Teens and young adults are uniquely vulnerable to the effects of nicotine and nicotine addiction (including from e-cigarettes).
REDUCE SOCIAL SOURCES OF TOBACCO PRODUCTS: About half of Vermont e-cigarette users under age 18 borrowed or got them from someone who was over age 18.
PROTECT TEENS FROM HARMFUL SUBSTANCES: The e-cigarette aerosol that users breathe from the device and exhale can contain harmful and potentially harmful substances, including nicotine and other toxic chemicals.
Find resources on e-cigarettes and vaping, preventing youth use and quitting