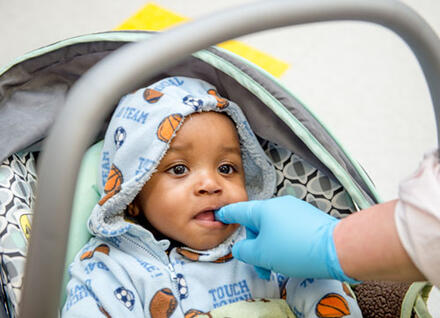 The health of our teeth and mouths is key to overall health, confidence and well-being.  Oral health affects how we grow, look, speak, chew, taste, socialize and enjoy life.  Dental disease is linked to heart disease, stroke, diabetes, pneumonia, low birth weight babies and preterm births.  Tooth decay is the most common chronic childhood disease, and it is  preventable. 
A healthy smile begins with a healthy diet, daily homecare, fluoride as appropriate and the first  dental visit at age 1 and visits continuing regularly through life.  Our goal is for all Windham County residents to have a dental home -- a dental practice where they may receive ongoing preventive, restorative and emergency care.
PUBLIC HEALTH DENTAL HYGIENIST
The Brattleboro office includes a public health dental hygienist. Our dental hygienist is an advocate, promoter and a resource for oral health in the community.  The role of the dental hygienist is to:
Provide oral health services and referrals to WIC families.
Collaborate with and be a resource to community partners and healthcare professionals regarding oral health and access to care.  We are part of the Vermont Oral Health Advisory Panel.
Integrate the latest standards of care into medical and dental practices by providing trainings and current information. Training topics include:
 

Accepting Age 1 Children into Dental Practices
Oral Health Assessments & Fluoride Varnish Applications in Medical Practices
Dental Care During Pregnancy is Safe and Recommended
TOOTH TUTOR PROGRAM
Vermont's Tooth Tutor program helps to ensure that every child has access to emergency, preventive, restorative and continuous care in a dental office.  Tooth Tutors provide screenings and present classroom-based oral health education, giving students the opportunity to accept more responsibility for their own wellness.  Schools choose to participate in the Tooth Tutor Program.  The schools of Windham Southwest Supervisory Union have long participated and benefited from this program.
UNITED WAY, WINDHAM COUNTY ORAL HEALTH PROGRAMS
Adult Dental Care Day – an evolving volunteer community-wide effort to provide limited preventive, restorative and extraction care to our least-served. Donations accepted.
The Denture Fund – works with local community support workers at the Brattleboro Memorial and Grace Cottage Hospitals, Groundworks, Pathways, SEVCA and local dentists.   Dentures and partials are provided to low-income-eligible residents with a $100 co-pay for each denture.  For more information contact our dental hygienist.
FREE DENTAL CLINIC
Volunteer dentists provide limited free dental care by appointment.  Call 802-251-8484 and leave a message.  Your call will be returned within one week.
LEARN MORE
Oral Health in Vermont
Oral Health in Pregnancy and Childhood
CONTACT INFORMATION
Susan, Public Health Dental Hygienist
802-254-3287
AHS.VDHOLHBrattleboro@Vermont.gov