Image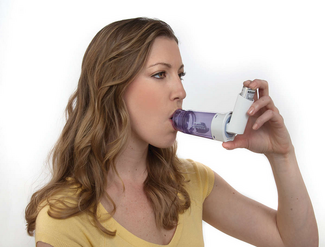 Asthma is a chronic (long-term) disease in which the lungs become inflamed and airways narrow and react to "triggers." When the lungs become irritated, the airways swell and mucus builds up, causing shortness of breath, coughing, wheezing, chest pain or tightness, tiredness or a combination of these symptoms.  People with uncontrolled asthma often have difficulty sleeping and breathing, may miss school and work, and often face costly medical bills due to hospitalizations and emergency department visits.  Asthma affects people of all ages, and most often starts during childhood.  
In Vermont about 67,000 people have asthma, and nearly 9,600 are children.  Fortunately, if a person with asthma gets an accurate diagnosis, learns to avoid asthma triggers, and takes medications as prescribed by a doctor, asthma can be controlled. People with asthma can live active, healthy lives.
To see how we are doing in Vermont, go to the Respiratory Disease Performance Scorecard.
Find Vermont data and reports on the Asthma Surveillance in Vermont page.  See also Tracking Asthma in Vermont on Health and the Environment.