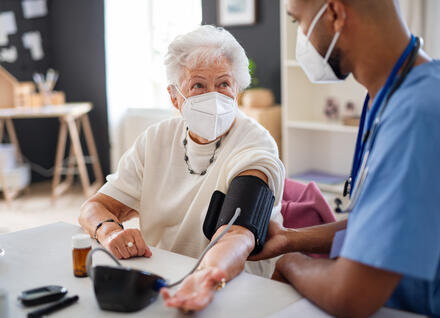 *This page is currently under review and will soon include up-to-date CDC and VT guidance.   
The Health Department works closely with the Department of Disabilities, Aging and Independent Living and long-term care facilities to help them prepare for cases of COVID-19. Other types of group living settings, also called congregate care settings, can follow strategies to detect and prevent the spread of respiratory viruses like COVID-19.
This information on this page is directed to long-term care facilities and staff. If you are a member of the public or a loved one of someone living in a long-term care facility and are looking for information about specific facilities, please contact the facility directly. 
To report a case of COVID-19 in a long-term care facility, call the Infectious Disease Epidemiology team at 802-863-7240 (option 7 after business hours or on weekends; option 8 during business hours), or email [email protected] (monitored during business hours). You may also wish to get started on your response by using the Long-Term Care Facility Response Checklist (updated 4/29/2022).
Updated Isolation and Quarantine Guidance
What we are doing
Outreach
The Health Department has contacted all long-term care facilities, nursing homes, assisted living facilities, and senior housing facilities proactively to review strategies to prevent COVID-19 infection and develop plans to respond immediately if an infection is identified. We complete an in-depth assessment by phone and provide guidance about personal protective equipment and other infection prevention and control recommendations. We continue to stay in touch for any technical assistance needs and additional questions.
Rapid Response
If a case of COVID-19 is associated with a long​ term care facility, a rapid response team, including staff from Health Department as well as other State partners, is quickly activated. They contact the facility to provide recommendations and infection control support. The team begins an investigation ­to determine the source of the infection and how it may be spreading. They ask questions and collect information to help identify anyone the patient had close contact with. The team communicates with facility staff to ensure containment measures are being implemented, which will differ depending on the type of setting.
Universal Testing at Facilities
Vermont is taking additional measures to slow the spread of COVID-19 in certain types of group living facilities, including nursing homes, assisted living residences, residential care homes, therapeutic community residences, residential treatment centers, correctional facilities, state psychiatric care facilities, and homeless shelters.
If a staff member or resident tests positive for COVID-19, testing of staff and residents, potentially facility-wide, might be recommended in consultation with the Health Department. If testing is recommended, the Health Department provides technical assistance to make sure that the facility is connected with testing resources and provides guidance on when additional rounds of testing should take place. The Health Department also works closely with the facility to provide infection control guidance and resources.
Residents and staff of group living facilities (for example, long-term care facilities or correctional facilities) and new admissions to nursing homes, assisted living residences and residential care homes must complete the full 14-day quarantine. Fully vaccinated new admissions and exposed staff do not need to quarantine.
COVID-19 vaccine access in long term care facilities
Residents and staff of licensed long-term care facilities were among the first to be vaccinated in Vermont, through the Federal Pharmacy Partnership for Long-Term Care.  This program ended on June 30, 2021.  The COVID-19 Vaccine Access in Long-term Care Settings, a CDC resource page, was created to help LTCF's answer questions and connect with resources. On this page, you will find:
Planning for booster doses in long term care facilities

Work with your existing pharmacy partner
Most facilities should have an established relationship with a pharmacy, though not all pharmacies can provide COVID-19 vaccine at this time.  LTCFs should confirm this capability with their existing partner. If your pharmacy has already been providing the COVID-19 vaccine, discuss their plan for booster doses. 
 
Establish contact with a new pharmacy partner
If you do not have an established relationship with a pharmacy or your pharmacy partner is not providing COVID-19 vaccines, please get in touch with one of the pharmacies on the list below who may support booster doses at your facility.
Kinney Drugs (partnering with Health Direct): Shannon Miller, PharmD, CDE
E-mail: [email protected]
Telephone: (315) 451-2873, ext. 3148
Genoa: Willis (Bill) Breen
E-mail: [email protected]
Telephone: (802) 917-0102
Shaw's Osco Pharmacies: Kathleen Wobby, PharmD, District Pharmacy manager
Email: [email protected]
Telephone: (802) 309-4469
Office: (508) 313-4533
CDC also has a list of pharmacies that may provide COVID-19 vaccines either onsite or in a retail location.  You may find this list on the Connecting Long-term Care Settings with Federal Pharmacy Partners website.

Use community clinics and retail pharmacies for mobile residents
If your residents are mobile and can be transported, residents can sign up for the vaccine at a community clinic or through a retail pharmacy.
Transportation 
Mobile patients able to travel to a COVID-19 vaccine clinic without access to their own transportation can call their local transportation agency.  A list of providers is found on the
Vermont Public Transportation Association (VPTA)
website. The VPTA toll-free number is (833) 387-7200. These trips are free to all Vermonters. Please note that people who live near a fixed bus or transit route will be asked to use these routes whenever the vaccine clinic is also located near a fixed route.

Contact us if you need assistance
If none of these options are will work for your facility, contact the Health Department at [email protected] 
Visitors
Facilities must allow indoor visitation at all times and for all residents as permitted under CMS and DAIL regulations. Visitors must adhere to core principles of infection control and may be asked to leave if they do not. While previously acceptable during the public health emergency, facilities can no longer limit the frequency and length of visits for residents, the number of visitors, or require advance scheduling of visits. Please refer to this CMS memo and the long term care operational guidance for more detail regarding visitation. It is important that each facility develop visitation policies that consider both the impact of resident isolation and the importance of the core principles of COVID-19 infection prevention. 
Facility entry should not be permitted for visitors who have symptoms of COVID-19, who meet the criteria for quarantine on the visit date, or who report a positive viral test (PCR or antigen) for COVID-19 within 10 days of the visit. Keep in mind that isolation and quarantine recommendations for those entering long term care facilities are different than that of the community. A facility may decide on a case-by-case basis whether to allow the entry of visitors with a known ongoing household exposure or other higher risk situations who are not required to quarantine due to vaccination status. Visitors are expected to follow Health Department guidance for communal spaces while in the facility. 
The COVID-19 response team and DAIL are available as a resource should you have any questions about visitation or facility exposure. CMS also has a frequently asked questions regarding visitation.
What to do if a visitor was exposed to COVID-19 at your facility
Notify the visitor of the exposure, and supply them with the information on What to Do if You're a Close Contact.
What to do if a visitor exposes a resident of your facility to COVID-19
Determine if the resident meets close contact with the infectious individual and then refer to our quarantine and isolation guidance for residents to determine if resident quarantine is indicated.
Resources
•    What To Do If You Test Positive
•    What To Do If You're a Close Contact
•    Long-Term Care Operational Guidance
•    CMS FAQ: Visitation FAQ (cms.gov)
Personal protective equipment and infection control
The Health Department recommends that all health care personnel in long-term care facilities and other congregate care living settings where health care is provided wear face masks, regardless of the presence of COVID-19 in the facility. 
Encounters with asymptomatic or presymptomatic patients with COVID-19 are more likely in the context of moderate (400-799 cases/million) or substantial (800+ cases/million) community transmission. In such instances, the use of universal eye protection reduces the potential for high-risk exposure (and exclusion from work and quarantine recommendations) among providers.
Unvaccinated residents and staff of congregate care settings with exposures and unvaccinated new admissions to nursing homes must complete the full 14-day quarantine period. Testing out of quarantine on or after day 7 is an option for fully vaccinated residents with exposures.
The CDC recommendations for preventing the spread of COVID-19 in long-term care facilities include many of the same strategies these facilities use every day to detect and prevent the spread of other respiratory viruses like influenza.
Isolation and quarantine guidance for residents and staff
On February 2, 2022, the CDC updated the health care guidance preventing COVID-19 transmission in long-term care facilities. Vermont Department of Health has worked to integrate these recommendations into state-specific guidance based on the needs of Vermonters. Below are the current recommendations from the Health Department.  
Quarantine of Residents
Determine if quarantine is needed
Is the resident a close contact? 
Were they within 6 feet of a person with COVID-19 for 15 minutes or more accumulative over a 24-hour period?
OR 
Did they have unprotected direct contact with infectious secretions or excretions of the person with confirmed infection?
OR
Were they within more than 6 feet of a person with COVID-19 for a long in an indoor area with poor ventilation?
All residents identified as close contacts should be monitored for symptoms and included in COVID-19 response testing. When residents are recommended for quarantine, staff working with these residents should be using full COVID-19 transmission-based precautions (TBP) including NIOSH-approved N95 respirator, eye protection, gown and gloves. 
Residents Who Are Not Up-to-date with their COVID-19 Vaccinations and have not had COVID-19 in the Past 90 Days 
These residents include those who are unvaccinated, partially vaccinated, or who have completed a full primary COVID-19 vaccine series and are eligible for but have NOT yet received additional doses or a booster.
Based on changes to quarantine guidance for the general public related to the Omicron variant, the CDC and the Vermont  Department of Health recommend that residents who are not up to date with their COVID-19 vaccination quarantine.
Residents can end quarantine and transmission-based precautions after day 10 since last exposure if they do not develop symptoms. It is preferred that they receive a negative viral test but not required.
 Residents are eligible to end quarantine after 7 days if they do not develop symptoms and receive a negative viral test result within 48 hours before the time of planned discontinuation of quarantine/TBP.
Day 0 is the last day they had exposure to the person with COVID-19.
Residents Who Are Up-to-date with their COVID-19 Vaccinations and have not had COVID-19 in the Past 90 Days 
These are residents who have had all recommended COVID-19 vaccination doses that they are eligible for, including boosters and additional primary shots for some immunocompromised people.
These residents are not broadly recommended for quarantine, but modified precautions are indicated, including sequential testing and enhanced infection prevention and control measures, unless there is ongoing or uncontrolled transmission in the facility.   
Residents should be monitored closely every shift for symptoms, and should be placed on quarantine if they develop symptoms.
Residents should wear source control (surgical mask or cloth face covering) when they are in communal spaces or interacting with other residents or staff.
Social distancing should be encouraged, maintaining 6-foot space when possible.
Facility should consider ways to reduce risk during higher-risk activities such as dining. Examples include cohorting and environmental spacing. 
Residents should be included in all PCR response testing AND if supplies allow should be tested using a point of care COVID-19 viral test at the same time. (If the point of care test was a PCR or LAMP test, there would be no need to perform a send-out PCR test on the same day). This is to reduce the number of potential exposure days to the facility with a same-day result.
Quarantine might be considered for up-to-date residents if the resident is moderately to severely immunocompromised.  
Residents who have recently recovered from COVID-19
According to the CDC, residents who have recovered from COVID-19 in the last 90 days do not need to be quarantined, restricted to their room, or cared for by health care provider using transmission-based precautions unless they develop symptoms of COVID-19, are diagnosed with COVID-19 infection, or the facility is directed to do so by the jurisdiction's public health authority.
Ongoing transmission in the facility
In the event of ongoing transmission within a facility that is not controlled with initial interventions, the Vermont Department of Health may recommend the use of quarantine for residents who have had higher risk exposures even if they are up-to-date with COVID-19 vaccine.
Isolation of positive residents
The Health Department's recommendations for residents in long-term care settings are consistent with the CDC recommendations.
Patients with mild to moderate illness who are not moderately to severely immunocompromised can generally end isolation after 10 days. 
If they had symptoms, then the day that symptoms first appeared is day 0 of the 10-day isolation period. Symptoms should be markedly improved and they should be fever-free for at least 24 hours without fever reducing medication. 
If they never developed symptoms, the day the first positive viral test was collected is day 0 of the 10-day isolation period.
At times, patients with severe to critical illness or who are moderately to severely immunocompromised are recommended for a longer isolation period. Refer to CDC's guidance.
Quarantine of Staff
Please use the Guidance for Exclusion of Health Care Workers to assess which staff meet high-risk close contact criteria and are recommended for work exclusion under the conventional staffing measures.
If your facility is unable to exclude all staff recommended for quarantine due to staffing shortage, you may need to enact contingency staffing mitigation strategies. Please refer to CDC's staffing shortage mitigation guidance to evaluate your facilities needs. If your facility is in contingency staffing, then use the Guidance for Return to Work Among Health Care Workers During Contingency Staffing to help guide you in return-to-work decisions.
Isolation of Staff
Isolation recommendations for health care workers are more conservative than in the general community. This is because the people that health care personnel work with may be at higher risk for poor outcomes if infected. Outside of work, a health care worker may follow the current community guidance.
Within the workplace, the following guidance specific to health care providers is recommended.
During conventional staffing, health care workers who test positive for COVID-19 will complete a 10-day isolation period. 
Isolate for 10 days, returning to work on day 11

OR
Isolate for 7 days with 2 negative antigen tests collected at least 24 hours apart and within 48 hours before returning to work on day 8. Day 0 is the day your symptoms started, or you never had symptoms, it is the day the positive COVID-19 viral test was collected.

AND
To return to work, you must be fever-free for 24 hours without the use of fever-reducing medication and your symptoms have improved and you feel better.
People with severe to critical COVID-19 illness or who are moderately to severely immunocompromised, may need to isolate for longer. If there are questions about whether you meet these criteria, you should consult with your health care provider.
If your facility is in contingency staffing, you may be able to bring staff back with a shortened isolation period. Use the Guidance for Return to Work Among Health Care Workers During Contingency Staffing document to help guide you in return-to-work decisions.
Resources
Staffing Assistance
At times, DAIL can arrange staffing assistance for facilities. During staffing shortage, facilities should first exhaust staffing shortage mitigation strategies sequentially, and alternate staffing channels. If your facility needs assistance, contact DAIL at [email protected] to discuss your situation. Please include the following information in your email:
Number of resident and staff positives at the facility
Number of residents and staff recommended for quarantine/exclusion
Staffing channels you have already tried
Staffing shortage mitigation strategies you have already enacted
Which shifts you need assistance with and what level of training these staff would need
Copy the Healthcare Outbreak prevention and Response Teams on your email:

[email protected]
COVID-19 treatments
Considerations for covid-19 Therapeutics
Providing COVID-19 therapeutics early in congregate care settings can prevent hospitalizations. 
Paxlovid is an oral antiviral medication that has been found to prevent hospitalizations in recently diagnosed COVID-19 patients by 88% and is also effective against the Omicron variant. Providers should carefully review the patient's drug history for potential interactions. 
COVID-19 therapeutics are authorized through an Emergency Use Authorization (EUA), meaning they are investigational drugs that have not been approved by the FDA and should not be considered the standard of care for treatment of patients with COVID-19.  
Paxlovid is in limited supply nationally. Logistical constraints (e.g., limited space, not enough staff who can administer therapy) may make it difficult to administer these agents to all eligible patients. In situations where it may be necessary to prioritize eligible patients, the state will provide further operational guidance. 
Paxlovid may help people who meet the risk criteria and,
have a positive COVID-19 test, and had symptoms for 5 days or less.
have not been hospitalized due to COVID-19
Individuals are eligible for monoclonal antibody treatment if they:  
are an adult or pediatric patient (at least 12 years of age and weighing at least 88 lbs),
have tested positive for COVID-19,
are experiencing mild or moderate symptoms of COVID-19,
experienced the first symptoms of COVID-19 in the last 7 days, and
are at high risk for having more serious symptoms of COVID-19 and/or going to the hospital (over 65 years old, diabetes, heart disease, obesity, etc.).
How can I order monoclonal antibodies for residents of long-term care facilities?
Please consult with your facility's medical director and then complete this form.
For additional questions, reach out to the Vermont Department of Health at

[email protected]

.
Resources
Antigen testing
For more information on antigen testing see the following resources:
Health Alert Network documents from the Vermont Department of Health
Guidance from the Vermont Department of Health
Guidance and resources from device manufacturers
Testing
Routine Testing of Staff
Routine surveillance testing of staff who are not up to date on their COVID-19 vaccinations is required for skilled nursing facilities and recommended for other long term care facilities. While CMS does not require that staff who are up to date submit to routine surveillance testing, it is the Health Department's recommendation to include them in your facility's routine testing at least once weekly, though ideally at the same frequency at which you are surveilling your staff who are not up-to-date.
CMS issued revised surveillance testing guidance on March 10, 2022, that uses CDC's level of community transmission to determine the frequency of routine staff surveillance testing. Click to get county level community transmission data (link has been updated). Use the table below to determine what frequency you should be routinely testing staff.
If the county positivity rate decreases to a lower level of activity, the facility should continue testing staff at the higher frequency level until the county positivity rate has remained at the lower activity level for at least two weeks before reducing testing frequency.
COVID-19 Community Transmission
minimum testing frequency
Low

(blue)

Not recommended
Moderate

(yellow)

Once a week
Substantial

(orange)

Twice a week
High

(red)

Twice a week
For more information, see CMS Memo QSO-20-38-NH: Long-Term Care Facility Testing Requirements.