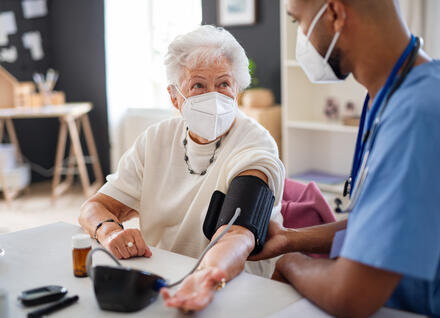 This information is for long-term care facilities and staff. If you are a member of the public, or a loved one of someone living in a long-term care facility, and are looking for information about specific facilities, please contact the facility directly.
The Health Department works closely with the Department of Disabilities, Aging and Independent Living (DAIL) and long-term care facilities to help them prepare for cases of COVID-19. Other types of group living settings, also called congregate care settings, can follow strategies to detect and prevent the spread of respiratory viruses like COVID-19.
Report Cases of COVID-19
Report any COVID-19 exposure in a facility to the Vermont Department of Health so we can help coordinate your response. 
A COVID-19 exposure includes when:
A staff member tests positive and worked while infectious.
A resident tests positive with no known exposure.
A visitor tests positive and visited during their infectious period (10 days since symptom onset or date of first positive test if asymptomatic).
Clusters of residents or staff have COVID-like or flu-like symptoms.
To report a case of COVID-19 in a long-term care facility:
Call the Infectious Disease Epidemiology team at 802-863-7240 (option 7 after business hours or on weekends; option 8 during business hours), or
Email

[email protected]

(monitored during business hours).
Use the response checklist (updated 4/29/2022) to get started:
Download the Facility Response Checklist
If an Outbreak Exposure is Suspected
A COVID-19 outbreak is defined as at least three (3) or more cases that are linked to each other. 
Report COVID-like illness facility exposures or outbreaks to the Health Department.
It is important to contact the Health Department so we can help coordinate your response. Health Department staff will ask about symptoms, onset, case totals, exposure, treatments, outcomes, and actions taken.
Contact us in one of these ways:
Email: [email protected]
Phone: 802-863-7240 (available 24/7). 
Collect specimens from all exposed individuals.
Collect specimens on days 1, 3 and 5 post-exposure. "Day 0" is the most recent exposure date. Monitor staff and residents for symptoms and have a low threshold for work exclusion and symptomatic testing.
Work with the Health Department to explore COVID-19 treatments.
Providing COVID-19 therapeutics early in congregate care settings can prevent hospitalizations and death. Facilities can order COVID-19 treatments through the Vermont Department of Health and have them delivered to your facility within 24 hours.
To request COVID-19 treatment:
Consult with your facility's medical director, and
Complete the COVID-19 Therapeutics Request Form. This form is monitored Monday through Friday, 8 a.m. to 4:30 p.m. Saturday requests can also be accommodated if received by 1 p.m. 
Learn about COVID-19 treatment options
For additional questions, reach out to the Vermont Department of Health at [email protected].
Exclude sick staff from work.
Exclude sick staff from work for 10 days after symptom onset or, if asymptomatic, 10 days after positive specimen collection. 
If symptoms have markedly improved and they have been fever-free without assistance from fever-reducing medication for 24 hours, they can return on day 8, provided they have had a negative viral test between days 5-7. NOTE: If using an antigen test, HCP should have a negative test obtained on day 5 and again 48 hours later.
If this day 5-7 test is positive, they should complete their full 10-day isolation period.
Read about strategies to mitigate health care personnel staffing shortages (CDC)
Isolate positive residents for 10 days.
Isolate positive residents for 10 days, starting from symptom onset or specimen collection, if asymptomatic. 
Restrict positive residents to their rooms or cohort on the infected unit. 
Encourage symptomatic residents to practice respiratory hygiene. 
Follow transmission-based precautions for positive or symptomatic residents.
Have exposed residents mask and practice social distancing in shared spaces.
Exposed residents do not need to quarantine. Exposed residents should wear masks in shared spaces and practice social distancing (at least 6-ft apart). Limit group activities and serve meals in rooms for exposed residents. Facilities may want to consider other environmental infection prevention and control measures. Please work with the Health Department to create a plan.
Discourage COVID-19 positive or symptomatic people from visiting.
Visitors who have COVID-19 or have symptoms should not enter the facility until they end isolation in line with resident guidelines. 
Track sick residents and staff.
More Ways to Prevent and Control Outbreaks
Do not float staff between units.
Provide training in infection control and hand hygiene for staff.
If a resident is transferred to another facility during an outbreak, notify the receiving facility of the outbreak regardless of whether the individual has symptoms.
Offer the COVID-19 vaccine to unvaccinated or under-vaccinated staff, residents, and new admissions on a regular basis. See the Vaccines Section below
Download the Response Checklist
Testing
The State of Vermont no longer holds a contract to assist with PCR testing. Facilities who are interested in PCR testing need to make their own arrangements. Facilities are encouraged to begin immediately sourcing their own antigen test kits through the private market. 
If your facility faces specific challenges that require more time for this transition, you may request professional antigen kits (while supplies last) by emailing [email protected]. 
VACCINES
COVID-19 vaccine access in long term care facilities
The Federal Pharmacy Partnership for Long-Term Care program ended on June 30, 2021. Visit the CDC's Promoting COVID-19 Vaccine in Long-term Care Settings webpage for more  information on vaccines for residents and family members, administrators and managers, clinical considerations and booster shot updates, and answers to frequently asked questions.
Planning for booster doses in long term care facilities
When planning for booster doses, please consider the following options below. If none of these options will work for your facility, please contact the Health Department at [email protected]. 
Work with your existing pharmacy partner.
Most facilities should have an established relationship with a pharmacy, though not all pharmacies can provide COVID-19 vaccine at this time.  Facilities should confirm this capability with their existing partners. If your pharmacy has already been providing the COVID-19 vaccine, discuss their plan for booster doses. 
Establish contact with a new pharmacy partner.
Share vaccine resources for mobile residents.
If your residents are mobile and can be transported, residents can make an appointment to be vaccinated at local retail pharmacies. Learn more about vaccine locations and free transportation assistance on our COVID-19 Vaccine page.