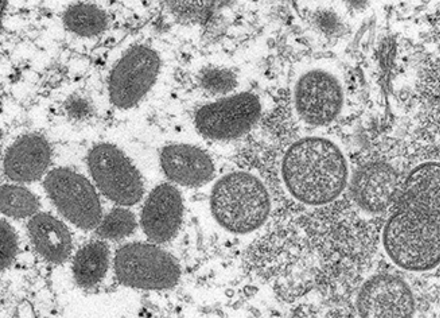 Click to jump to a section on this page:
Go To Information for clinicians 
The Vermont Department of Health and the Centers for Disease Control and Prevention (CDC) now refer to the human monkeypox virus as "mpox" following the World Health Organization's (WHO) recommendation. Mpox follows the WHO's best practices established in 2015 that new disease names should aim to minimize unnecessary negative impacts of names on trade, travel, tourism or animal welfare, and avoid causing offense to any cultural, social, national, regional, professional or ethnic groups. 
Mpox—previously referred to as hMPXV— is a viral illness circulating in the United States. The risk to the public is low. Find more information about mpox, including the number of reported cases in Vermont, from CDC.
What Vermonters Can Do
Anyone with a rash that looks like mpox (which may look like pimples, blisters or sores) should talk to their health care provider, even if they don't think they've had contact with someone who has mpox. If they do not have a health care provider, call 2-1-1 to be connected to care, or contact the nearest federally qualified health center or one of Vermont's free & referral clinics.
Consider getting the free vaccine if you are eligible. 
Make informed choices when in spaces or situations where mpox could be spread.
Cases of mpox have been reported in many countries around the world. Be safe when traveling abroad by avoiding close contact, including sexual contact, with people who are sick or have a rash, and wash your hands often.  
How it Spreads
Mpox can spread to anyone through close and often skin-to-skin contact with someone who is infected. It also spreads by sharing items, like clothing, bedding, and towels, used by someone who is infected. At this time, gay, bisexual, and other men who have sex with men make up a high number of cases and might be at higher risk of coming into contact with the virus.
Symptoms
The most common symptom of illness from mpox is a rash, which may look like pimples, blisters, or sores. It can also look like other more common rashes such as chicken pox, syphilis, or shingles. Other symptoms may include fever, headache, muscle aches, backaches, swollen lymph nodes, chills, and exhaustion.
Vaccines and Treatment
Vaccination is FREE and available regardless of immigration status. 
Eligibility
Gay, bisexual, and other men or trans people who have sex with men, who had or expect to have more than one (1) sexual partner.
People who have had recent exposures to individuals with confirmed mpox infections.
People who have had recent exposures to individuals with possible mpox infections.
Certain health care and laboratory personnel whose jobs regularly put them at high risk of exposure to the virus, such as performing testing or caring for multiple people infected with mpox.
People who are eligible should get the JYNNEOS vaccine even if they were previously vaccinated against smallpox. Previous smallpox vaccination may not provide complete or lifelong protection against mpox.
How to Get Vaccines
Talk to your health care provider about getting vaccinated or you can make an appointment at one of the following providers: 
Planned Parenthood – All locations (patients and non-patients accepted)
Community Health Centers of Burlington – Limited locations (current patients only)
University of Vermont Infectious Disease/Comprehensive Care Clinic – Limited locations (current patients only)
If you are unable to access one of the sites listed above for any reason, please connect with your local health office to get vaccinated.

The JYNNEOS vaccine helps protect against mpox when given before or shortly after an exposure. The vaccine is two doses, given four weeks apart. Appointments can be made for first and second doses. If you received your first dose in another state or country, you can get your second dose in Vermont.
Treatment
Treatment is available if you are diagnosed with mpox and your health care provider determines that you need it. If you do not have a health care provider, call 2-1-1 to be connected to care, or contact the nearest federally qualified health center or one of Vermont's Free & Referral Clinics.
Communication Resources
More communication resources from CDC
MPOX Information for Clinicians
Patients eligible for vaccination may contact your office looking for this vaccine. If you have a patient who meets eligibility requirements, please contact the Health Department at [email protected]. You will be referred to an administering location or instructed on how to obtain a dose for your patient.
What to do if Clinicians suspect MPOX?
Clinicians who suspect mpox should call the Infectious Disease Program at (802) 863-7240, Option 2 to speak with an epidemiologist 24/7. Follow appropriate isolation and infection control protocols.
An epidemiologist will guide you through the process of specimen collection and sending specimens to the Vermont Department of Health Laboratory (VDHL). Testing is also available through the commercial labs Labcorp, Aegis, Quest, and Mayo. Turn-around time and cost may vary by lab. 
Clinicians who see a patient with a rash characteristic of mpox and one or more risk factors should have a low threshold for testing for mpox. Other more common diseases (e.g., HSV, VZV) can be simultaneously ruled in or out through usual diagnostic channels. Find more information on risk factors and what to do if you suspect mpox.
How to Collect and Send a Specimen for mpox Testing 
Locate collection materials
There are pre-made kits in:
Vermont hospitals
Vermont Department of Health District Offices (available M-F 7:45 am – 4:30 pm)
Some outpatient clinics
If you don't have access to a kit, you may be able to assemble your own. You'll need: 
Four dry Dacron, nylon or polyester swabs with plastic, wood or thin aluminum shafts
Four sterile 15ml conical tubes (preferred) or containers
Labels for specimen tubes and shipping container
Biosafety bag
Cooler
Frozen ice packs
Collect the specimens
Read through the entire directions before proceeding. We recommend labeling your tubes before you begin specimen collection so that swabs can go directly into pre-labeled tubes. 
Select two lesions, preferably in different stages and/or locations (e.g., vesicle, pustule).
Vigorously swab or brush each lesion with two separate sterile dry polyester, nylon or Dacron swabs. This will result in two pairs of swabs, one pair for the Vermont Department of Health Laboratory (VDHL) and one pair for CDC. If two lesions are swabbed, there should be a total of four swabs. For example: if you chose an elbow lesion and a knee lesion, there should be two elbow swabs and two knee swabs.  
Insert each swab into a sterile screw-capped tube, such as a 15mL conical tube, or a 1.5- or 2-mL screw-capped tube with O-ring. A sterile container can be used if tubes are not available. Do NOT add or store in viral or universal transport media. Label each tube to indicate which lesion the swab was taken from (e.g., elbow, knee). For example: if you chose an elbow and a knee lesion, there should be four tubes total, two marked as elbow and two marked as knee. Each tube would contain one swab. 
Refrigerate (2–8oC) specimens within an hour after collection and maintain at this temperature during shipping.
Package the specimens
Complete a Clinical Laboratory Test Request Form for each site. Include the site of the lesion on the request form. Select "Other" under Molecular Virology and write in "NVO." See an example of a completed form here.
Specimens should be packaged and transported as Category B specimens as outlined in Transporting Infectious Substances Safely.
Segregate tubes by site of lesion. In each biohazard bag, include the request form in the outer pocket, not in the bag with the specimens. For example: if you chose an elbow and a knee lesion, you should have two bags, one with the two tubes labeled "elbow" and one with the two tubes labeled "knee." 
Place the bags with specimens and request forms in a cooler with a frozen ice pack.
Send the specimens
Seal the cooler and label to: VDHL, 359 South Park Dr, Colchester, VT 05446.
Fill out the "Person Responsible (Name and Phone number)" label. This should be someone who can answer questions about the package.
Add a UN 3373 Biological Substance, Category B label to comply with DOT/IATA shipping regulations. Mark "NVO" on the outside of the package. 
The Health Department will provide guidance on shipping specimens to the Vermont Department of Health Laboratory in Colchester through a courier service.
Receiving Results
Someone from Epidemiology will verbally notify you of a positive result.
An official lab report will follow based on contact information provided on the Clinical Laboratory Test Request Form.
Providers will share the results with their patients. 
Instructions for Collection and Submission of specimens
Resources for Clinicians