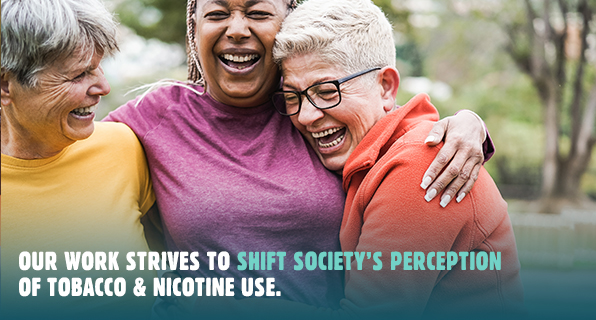 Our program strives to create change at the environmental, policy and individual levels to prevent people from initiating use of tobacco and nicotine products, support those looking to reduce their use or quit, and ultimately, shift society's perception of tobacco and nicotine use. Specifically, our goals are to:
Prevent youth and young adults from starting to use tobacco
Decrease tobacco use in adults and youth
Reduce exposure to secondhand smoke  
Discourage the use of other tobacco products
Inherent in these goals is a requirement for robust evaluation strategies and data collection, which—at the highest level—tell us how we're doing on the previously mentioned goals. We can also use data to help tell the stories of Vermonters impacted by tobacco and nicotine and how our efforts have moved the needle. 
Data & Evaluation Methods
The Health Department's Health Surveillance division gathers Vermont-specific data on tobacco use and quit behaviors among adults and youth, as well as perceptions of harm and the support and impact of current and future policies/programs.
Recent Reports
The following reports are just some of the many data sources that have been used to steer the program's work with Tobacco Control and Prevention:
We are proud that the Tobacco Control Program has had a positive impact across Vermont, and Vermonters young and old have been impacted by our partnerships, initiatives and campaigns. Read more about what's been done in the Success Stories below.
Success Stories

Unhyped Vaping Education Campaign
Following a surge in youth vaping in 2019, the Tobacco Control Program launched a unique campaign to reach this audience and convey the serious risks of vaping. 
The Problem:
In 2019, youth vaping surged in the U.S. and in Vermont, with 26% of Vermonters aged 12-25 regularly vaping (up from 12% in 2017). Concerned that this uptick signaled a new generation of nicotine addicted individuals, the Tobacco Control Program worked quickly to create a compelling new brand and campaign designed to convey the very real risks of vaping.
The Plan:
In 2020, Unhyped, Vermont's youth-oriented anti-vaping brand and campaign, launched four sets of messaging on digital media channels. Topics included the following:  
The dangers of flavored vape products
The harms of vaping to the brain and the body
Deceptive vape industry marketing practices used to attract young users
The signs of nicotine addiction
The Outcome:
Thanks to the Policy and Communication Evaluation (PACE VT) study, near real-time monitoring of Unhyped's reach and impact was possible.
The results showed the following:
Awareness of the Unhyped brand doubled over three months in 2019 (from 8.6% to 19.1%).
As awareness of the Unhyped campaign increased from spring 2019 to fall 2019, so did the perceived risk of weekly electronic vape product (EVP) use.
The state's Unhyped campaign was effective in promoting short-term vaping prevention and cessation or reduction in teens and young adults.
In response to data from the PACE study, the Unhyped campaign has since adapted messaging in response to new data on youth vaping, like the association between vaping and mental health issues. For more on the Unhyped campaign, visit https://unhypedvt.com/.

Collaboration with the Clara Martin Center
In an effort to reduce high rates of tobacco use among people with mental health and substance misuse disorders, the Tobacco Control Program partnered with a trusted organization already serving this population to increase Vermonters' access to on-site quit support.
The Problem:
Individuals with mental health or substance misuse disorders are often overlooked for quit support, in part because smoking is generally accepted as a crutch or coping tool. Hoping to turn the tide on this trend, the Tobacco Control Program provided funding to treatment organizations, like the Clara Martin Center, to expand on-site, quit-smoking services.
The Plan:
With funding from the Tobacco Control Program, Clara Martin Center, a behavioral health and substance use treatment facility, was able to increase the availability and duration of its tobacco cessation services within Community Rehabilitation Services (CRT) facilities and other Department of Mental Health Designated Agencies.
The Center's Wellness Team is also working to improve how wellness data is collected within their agency and support other organizations and agencies interested in starting wellness programming.
The Outcome:
Thanks to monthly data provided by the Clara Martin Center, the Tobacco Control Program is able to monitor real-time changes in tobacco use and quit progress at the population level. So far, this collaboration has proved successful in helping many clients quit or reduce their tobacco use.

Success with 802Quits Incentives
802quits, Vermont's go-to resource for free tobacco treatment and support, used financial incentives to encourage high-risk Vermonters to utilize its services and support.
The Problem:
In Vermont, the rate of tobacco use among pregnant and postpartum people is more than twice the national average. Among Vermonters with Medicaid and those uninsured, the rate of tobacco use is nearly 3x higher than those with private insurance. In an effort to increase quit attempts among these populations, the Vermont Tobacco Program developed a program offering financial incentives to individuals who completed Quitline coaching sessions.
The Plan:
In 2012, 802quits began offering up to $65 in quit tobacco incentives to certain high-risk individuals. Thanks to the success of this effort, as of March 2021, the Tobacco Control Program now offers:
Up to $250 for pregnant and postpartum individuals
Up to $150 for people with Medicaid insurance or those without insurance
Up to $150 for people using menthol flavored tobacco products
Currently, Vermont is the only state to offer all three incentives. Additionally, the Tobacco Control Program deployed a robust, paid digital media campaign to raise awareness and drive enrollment among the groups of interest, as well as health care providers.
The Outcome:
Between March and June 2021, financial incentives were given to 4 pregnant or postpartum callers, 30 menthol callers and 155 Medicaid or uninsured callers.
Additionally, this effort generated these results:
Among pregnant and postpartum callers, the Quitline saw a 75% increase in calls 1-5 and a 50% increase in calls 6-10.
Comparing this period's data to the same period in 2020, the Quitline saw an increase of 16.8% among first-time callers and 6.9% for calls 2-5, which suggests incentives increased calls.
For more details on 802Quits and its incentive programs, visit https://802quits.org/

Anti-Vaping Education in Rutland Schools
Partners for Prevention, a Rutland-based Tobacco Control Program partner, collaborated with Rutland area schools and Stafford Technical Center's Video Communications Program in an effort to educate students about the risks of vaping using content created by and for youth.
The Problem:
Vermont youth are particularly at risk of vaping and e-cigarette use. In fact, data from the Vermont Youth Risk Behavior Survey and the Vermont Youth Project indicate that 25% of Vermont teens are vaping regularly. In response to this alarming trend, Partners in Prevention, a community network addressing the risks of alcohol and other drug misuse, launched an initiative where teens and tweens were tasked with creating anti-vaping messaging.
The Plan:
Using a mix of in-person education, conversations and resources to educate youth and teens about the dangers of vaping, Partners for Prevention has led education programs in multiple schools. In 2021 and 2022, students were challenged to create anti-vaping content to educate their peers and empower them to make positive change.
With the help of the Stafford Technical Center's Video Communications Program, the students launched a video contest for their peers to create anti-vaping Public Service Announcements (PSAs). The community voted for their top choices and the top three earned prizes.
The Outcome:
The videos were extremely well received by the schools and the community at large—even garnering media attention! The winning videos were then shown to students to assist in vaping education. Since this initial campaign, Rutland and Fair Haven youth councils have reached out to Partners for Prevention, wanting to create their own anti-vaping PSAs.
Watch the winning videos from the Spring 2022 Youth to Youth Voice Anti-Vaping PSA Challenge: