Image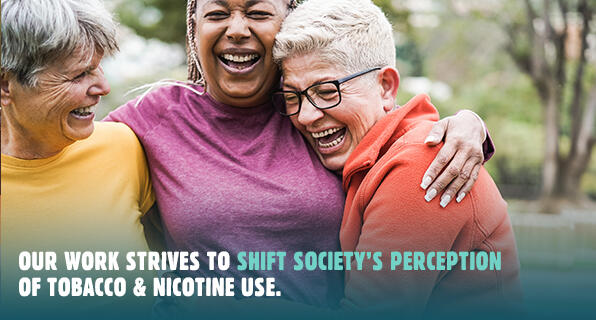 Our program strives to create change at the individual, community and policy levels to prevent people from initiating use of tobacco and nicotine products, support those looking to reduce their use or quit, and ultimately, shift society's perception of tobacco and nicotine use. Specifically, our goals are to:
Prevent youth and young adults from starting to use tobacco.
Decrease tobacco use in adults and youth.
Reduce exposure to secondhand smoke and vape emissions.
Discourage the use of other tobacco products such as nicotine pouches, heat-not-burn devices and synthetic tobacco.
Inherent in these goals is a requirement for robust evaluation strategies and data collection, which—at the highest level—tell us how we're doing on the previously mentioned goals. We can also use data to help tell the stories of Vermonters impacted by tobacco and nicotine and how our efforts have moved the needle. 
Tobacco Surveillance Data 
The Health Department's Health Statistics and Informatics Division gathers Vermont-specific data on tobacco use and quit behaviors among adults and youth, as well as perceptions of harm and the support and impact of current and future policies/programs.
Tobacco Plans & Reports
The Tobacco Control Program reports on tobacco related topics at the national, state and community levels. Find plans and reports, including evaluation findings, at Tobacco Plans & Reports.
Impact Reports
The following reports are just some of the many data sources that have been used to steer the program's work with Tobacco Control and Prevention: