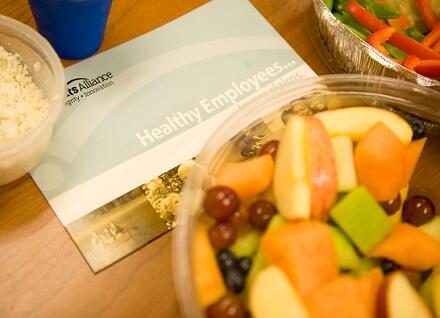 Healthy eating improves wellness and decreases obesity and chronic disease risk. Worksites can play an important role in promoting healthy eating and making sure healthy food options are available to employees
RECOMMENDED STRATEGIES
Create healthy food and beverage policies for meetings.
Provide refrigerators, microwaves and break areas.
Provide access to free water available throughout the day.
Support healthy choices from vending machines and cafeterias:
 

Use competitive pricing to make healthier choices more economical in vending machines or cafeterias.
Implement healthy vending machine and cafeteria standards to increase the percentage of healthy options that are available.
Use signs or symbols to make healthy choices stand out and make nutrition information available for foods and beverages.
 

Provide incentives for participating in nutrition and weight management activities.
Include employees' family members in campaigns that promote healthy nutrition.
Support local food initiatives:
 

Offer an on-site Community Supported Agriculture (CSA) program.
Organize a worksite garden.
Provide local food in the cafeteria.
Consider subsidizing or discounting a CSA program.
RELATED RESOURCES
For more information, download the healthy food choices section of the Worksite Wellness Toolkit!