Image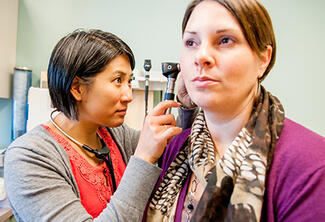 Vermonters usually get their basic health care in a primary care setting – in the office of a family physician, pediatrician, obstetrics and gynecology or general internist practice, or dental practice.
Primary care practitioners (who may be physicians, nurse practitioners, certified nurse midwives, physicians' assistants, or dentists) screen for disease, counsel patients about their health-related behaviors, treat illness, refer for specialty care, and manage an individual's or a family's total health care. A long-term relationship between a patient and provider or provider group ensures that a complete medical history and other health information are easily available, and that care is consistent and coordinated over time. The place where a person receives these primary care services can be called a "medical home". 
Public health professionals are concerned with creating the conditions in which everyone can have an equal chance at health. The Vermont Department of Health employs public health nurses who work in our central office and in the 12 local health offices around the state to promote and protect the health of whole communities and populations. We also work to attract and retain an adequate supply of health care professionals so that every Vermonter can have a medical home.