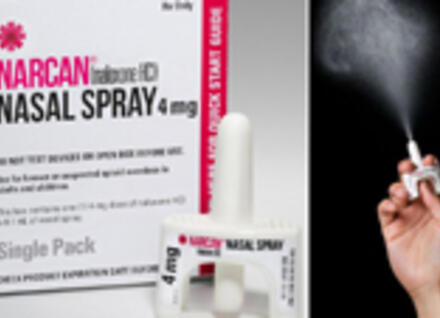 Vermont's Opioid Overdose prevention & Reversal Project
In 2013 the Vermont Legislature directed the Health Department to develop and administer a statewide pilot program for distributing emergency overdose rescue kits to people who are at risk for overdose, and to family members and others who may be in a position to help in the event of an overdose. No longer a pilot project after more than two years of experience, the Opioid Overdose Prevention & Reversal Project continues.
Opioids are a highly addictive class of drugs that includes pain relievers such as oxycodone, codeine, morphine and fentanyl, street drugs such as heroin, as well as methadone used to treat opioid addiction. In an overdose, opioids can slow breathing to the point of death.
To save lives, the Health Department gives out a medication called nasal naloxone hydrochloride – known by the trade name Narcan® – that can easily reverse an overdose. When sprayed into the nose of a person who has overdosed, the medication blocks the opioids and restores normal breathing. To work, it must be administered as quickly as possible after an overdose. Narcan® is safe and easy to use. EMS and some police carry this medication. Family, friends and contacts of someone who could overdose can also get this medication from one of our partner community distribution sites listed below. 
Read the latest data brief on naloxone distribution.