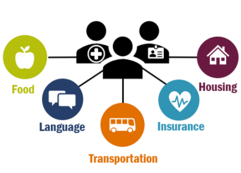 Over the last 20 years Vermont has created a strong system to help Vermonters meet their health needs. Recently, groups have focused on the value of team-based care (a whole team of people contributing to a person's health - including doctors, nurses, social workers, counselors and others), working together to support a person's health. Groups are also looking at how determinants of health like housing, transportation, income level, education and race or ethnicity impact a person's health.
Community Health Workers (CHWs) can play an important role in supporting peoples' health in community settings. CHWs connect people to services, reduce barriers, and serve as a peer or professional resource for patients. 
What is a Community Health Worker?
Community Health Workers is an umbrella term describing people who provide services to members of the community with a goal of helping them improve their health. CHWs may work for pay or volunteer through a local agency, organization or health care system. CHWs often share ethnicity, language, socioeconomic status, values and life experiences with the community members they serve. CHWs and the kinds of services they provide can also be as different as the communities they serve. 
Vermont's CHW Committee includes partners from the Department of Health, The Vermont Blueprint for Health, Support and Services at Home (SASH), Visiting Nurses Association, OneCare Vermont, University of Vermont, and CHWs themselves. The committee considered feedback and lessons learned from other states when it was developing a CHW definition for Vermont. The committee adapted the American Public Health Association defintion of a Community Health Worker, but made some changes to fit with Vermont's values:
Vermont Community Health Worker Definition
A Community Health Worker (CHW) is a frontline public health professional who is a trusted member of or has a close understanding of the community being served. A CHW uses a person-centered approach to build trusting relationships that enable the CHW to serve as a liaison between health and social services and the community to facilitate access to services and improve the quality and cultural and linguistic competence of service delivery. In addition, a CHW increases self-sufficiency, wellbeing and positive health outcomes through a range of activities such as outreach, community education, supportive guidance, self-management, coaching and the provision of social support and advocacy.
State Efforts
The Health Department receives a grant from the Centers for Disease Control to focus on strategies and partnerships to help prevent and manage heart disease and diabetes in Vermont. Part of the grant is to focus on developing a statewide CHW infrastructure that can support Vermonters and the people who care for them to have better health outcomes.
Vermont's existing system for delivering health services, together with the health reform efforts that are being rolled out by the Department of Vermont Health Access and OneCare Vermont, provides opportunity for CHWs to provide services that support Vermonters in achieving positive health outcomes. While we know that CHWs are working in different sectors and roles, no consistent definition has been used and a community of CHWs has not been developed to date. To promote statewide understanding, support, recognition, and value of CHWs in Vermont, the partners mentioned above (Department of Health, Vermont Blueprint for Health, SASH, University of Vermont and other community agencies and organizations) have formed a group to define and promote CHWs, and to provide opportunities and resources in support of a strong and sustainable CHW workforce. A steering committee was formed in December 2018 and continues to meet on a regular basis. Subcommittees are focusing on workforce development and the development of a statewide network. 
Resources
Contact
For more information about the state level initiative or to get involved, please contact:
Jennifer Woolard, Chronic Disease Program Specialist, Health Promotion and Disease Prevention               
jennifer.woolard@vermont.gov