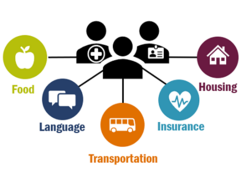 Vermont has created a strong system to help Vermonters meet their health needs. Recently, groups have focused on the value of team-based care (a whole team of people contributing to a person's health - including doctors, nurses, social workers, counselors and others), working together to support a person's health. Groups are also looking at how determinants of health like housing, transportation, income level, education and race or ethnicity impact a person's health.
Community Health Workers (CHWs) can play an important role in supporting peoples' health in community settings. CHWs connect people to services, reduce barriers, and serve as a peer or professional resource for patients. 
Vermont Community Health Worker Environmental Scan
What is a Community Health Worker?
Community Health Workers (CHW) is an umbrella term describing people who provide services to members of the community with a goal of helping them improve their health. There are many different job titles associated with the umbrella term, such as lay health worker, community resource coordinator, care coordinator, navigator or SASH coordinator.  It also includes titles that involve special training or knowledge in a particular area, like peer recovery specialists. CHWs may work for pay or volunteer through a local agency, organization or health care system. CHWs often share ethnicity, language, socioeconomic status, values and life experiences with the community members they serve. CHWs and the kinds of services they provide can also be as different as the communities they serve. 
Vermont's CHW Committee includes partners from the Department of Health, The Vermont Blueprint for Health, Support and Services at Home (SASH), Visiting Nurses Association, OneCare Vermont, University of Vermont, and CHWs themselves. The committee considered feedback and lessons learned from other states when it was developing a CHW definition for Vermont. The committee adapted the American Public Health Association definition of a Community Health Worker, but made some changes to fit with Vermont's values:
Vermont Community Health Worker Definition
A Community Health Worker (CHW) is a frontline public health professional who is a trusted member of or has a close understanding of the community being served. A CHW uses a person-centered approach to build trusting relationships that enable the CHW to serve as a liaison between health and social services and the community to facilitate access to services and improve the quality and cultural and linguistic competence of service delivery. In addition, a CHW increases self-sufficiency, wellbeing and positive health outcomes through a range of activities such as outreach, community education, supportive guidance, self-management, coaching and the provision of social support and advocacy.
State Efforts
In 2018, the Department of Health was awarded a five-year Centers for Disease Control and Prevention (CDC) grant to focus on strategies and partnerships to help prevent and manage heart disease and diabetes in Vermont. Due to the growing body of evidence demonstrating the effectiveness of the Community Health Workers in addressing chronic conditions, this grant includes strategies in support of the development of a statewide CHW infrastructure.
Vermont's existing system for delivering health services, together with the health reform efforts that are being rolled out by the Department of Vermont Health Access and OneCare Vermont, provides opportunity for CHWs to provide services that support Vermonters in achieving positive health outcomes. While we know that CHWs are working in different sectors and roles, no consistent definition has been used and a community of CHWs has not been developed to date. To promote statewide understanding, support, recognition, and value of CHWs in Vermont, the partners mentioned above (Department of Health, Vermont Blueprint for Health, SASH, University of Vermont and other community agencies and organizations) have formed the Vermont Community Health Worker Steering Committee. The Committee continues to develop the foundation that supports a strong and sustainable workforce in Vermont.
Priorities are to:
Adopt and promote a statewide CHW definition (June 2019)
Assess current CHW landscape in Vermont (Spring/Summer 2020)
Generate a professional identity and logo for VT CHWs (Spring 2020)
Create a statewide CHW network & peer-to-peer sharing mechanism
Develop scope of practice and core competencies
Facilitate training and educational opportunities for CHWs
Engage state-level support and integration of CHWs into community and clinical settings
Contact
For more information about the state level initiative or to get involved, please contact:
Jennifer Woolard, Chronic Disease Program Specialist, Health Promotion and Disease Prevention               
[email protected].
Scope of Practice & Core Competencies
A well-defined scope of practice and core competency guidelines for community health workers can help to support education, practices and policies that impact the workforce across the state. In the Fall of 2019, the Vermont Community Health Worker Steering Committee performed a crosswalk of roles and competencies from eight other states (Massachusetts, Minnesota, Ohio, Arizona, Maryland, Indiana, Oregon, Kentucky, and Texas), using the Community Health Worker Core Consensus (C3) Project as a guide. The final scope of practice and core competencies list was also included in the 2020 Vermont Community Health Worker Survey to assess how they align with work in the field across Vermont positions. 
Community Health Worker Scope of Practice & Core Competencies Report
2020 State Survey Findings
The Vermont Department of Health and the Vermont Community Health Worker Steering Committee conducted the first statewide Community Health Worker Survey in May of 2020. Two  surveys were conducted, one designed for community health workers and another for supervisors and employers. The survey results continue to help statewide efforts to understand community health worker roles, populations served, health issues addressed, training needs and more. 
2020 Survey Data Brief: Workforce Development 
2021 State Survey Findings
Resources for Community Health Workers
There is currently no standard training curriculum for CHWs. The VT CHW Steering Committee continues to coordinate with statewide partners to assess the development of a Vermont specific program.
National and Regional Resources:
Centers for Disease Control & Prevention (CDC) has CHW-led interventions targeting diabetes and heart disease & stroke known to have positive health outcomes for individuals and communities.
Resources for Employers
Integration into work setting
The successful integration of CHWs into any setting requires thoughtful planning, leadership, organizational readiness and a conducive cultural context. The Centers for Disease Control and Prevention's Community Health Workers (CHW) Inclusion Checklist is a general framework for public health practitioners to use when including CHWs in different settings. Learn more about CHW Inclusion Checklist
Supervising Community health workers 
CHWs require highly skilled, supportive and attuned supervisors to ensure the appropriate and strategic use of CHW skills, provide regular coaching, and guide CHW practice. Minnesota developed a toolkit to support best practices in CHW supervision. 
Resources on COVID-19
Information sheet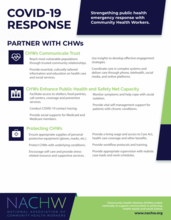 COVID-19 Resources: Partner with CHWs, NACHW
Webinars
Community Health Workers and COVID-19 Response (English), NACHW & CDC
The Role of Community Health Workers as First Responders in the COVID-19 Outbreak, American Diabetes Association
Support Patients During the COVID-19 Crisis: How to create a virtual response center staffed by community health workers, Penn Center for Community Health Workers 
General guidance 
Vermont COVID-19 data and latest guidance, Vermont Department of Health
COVID-19 guidance translated in multiple languages, Vermont Department of Health