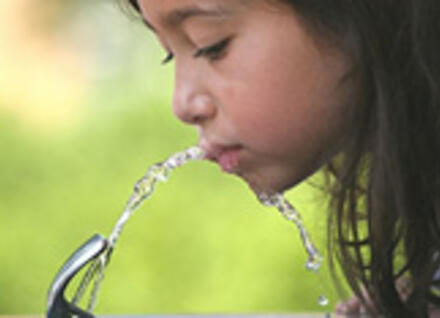 For more than 60 years, community water fluoridation has been a major factor in the decline of tooth decay in Vermont. Optimally fluoridated water is the single most cost-effective strategy that a community can use to improve the oral health of its residents. Fluoridation benefits everyone – it has been shown to save money for families and the health care system. Fluoridation is considered one of the 10 great public health achievements of the 20th century.
The U.S. Department of Health and Human Services' (link is external) recommended level for fluoride is 0.70 parts per million (ppm) for all public water systems that fluoridate the water. 
Fluoride already exists naturally in all groundwater, lakes, rivers and the ocean at various levels. Water fluoridation is simply adjusting the existing level of fluoride to the recommended level of 0.70 parts per million (ppm) to reduce tooth decay.
Fluoride in private wells or spring water
The only way to know the existing level of fluoride in a well or spring is to test the water.
The Vermont Department of Health recommends testing your private well or spring to know how much fluoride is in your water before giving your child a fluoride supplement or mixing infant formula with well or spring water.
Where is well water testing available?
Information for health care providers
Before prescribing fluoride supplements for children, you need to know the existing level of fluoride in their drinking water. The Vermont Guide to Fluoride Levels in Public Water Systems booklet lists the various levels of fluoride in public water systems, including the systems that fluoridate.
Not listed in this booklet are households whose water source may be from a private well or spring. Included in this booklet is information on the Well Water Testing program and the Well Water Order Form for testing private wells or springs for existing fluoride levels.
 
Silver Diamine Fluoride (SDF)
Silver Diamine Fluoride (SDF) is a liquid that can be brushed on teeth to stop tooth decay. It is applied to teeth without using needles or a drill, so it can be especially helpful for Vermonters who have difficulty accessing dental health care in a traditional setting (e.g., older Vermonters, young children). Please see our Fact Sheet for more information about SDF.
Fluoridation Learning Online (FLO)
Fluoridation Learning Online (FLO) is a free resource designed to build the capability of state fluoridation programs, and to help increase knowledge and refine skills to implement and maintain community water fluoridation.  Vermont offers four Training Contact Hours (TCH) for taking FLO.