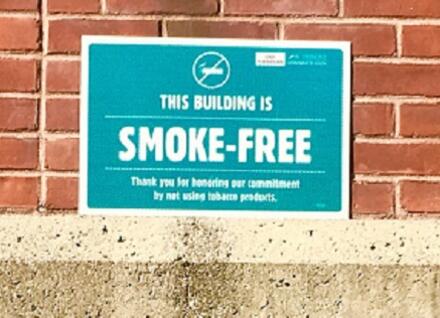 Tobacco use continues to be a leading cause of preventable death in Vermont. Some groups of employed adults—including those working in food service, maintenance and construction-related occupations—have even higher rates of tobacco use. The prevalence of adult smoking has decreased over the last decade, in part due to polices supporting tobacco-free workplace. Worksites can continue to play an important role in reducing tobacco use and creating an environment that supports a right to breathe clean air.
RECOMMENDED STRATEGIES:
Create a property-wide tobacco-free policy that includes e-cigarettes and make sure employees are aware it exists.
Support tobacco cessation efforts:
 

Promote free quit resources through 802Quits.
Establish a policy that allows employees to access smoking cessation support during the work day (for example, provide flextime to attend a support class).
Host an on-site group cessation class.
Ensure that tobacco cessation counseling and medication are offered through the organization's health insurance.
RELATED RESOURCES:
For more information, download the going tobacco-free section of the Worksite Wellness Toolkit!