Hepatitis A Outbreaks in the United States
Multiple states across the country have reported outbreaks of hepatitis A, primarily among people who use drugs and people experiencing homelessness. CDC provides updates on state-reported outbreaks here. 
The Vermont outbreak of hepatitis A has ended as of July 2022.
Requested actions of health care professionals:
Hospital emergency departments and urgent care centers should offer the hepatitis A vaccine to susceptible individuals.
Clinical and community-based agencies providing services to people experiencing homelessness and those with substance use disorder, especially those injecting drugs, should work with Health Department local health offices to increase hepatitis A vaccination among at-risk individuals. Public health nurses from District Offices can provide on-site clinics for susceptible individuals at homeless shelters, syringe services programs and other locations.
Check patients' vaccination status in the Vermont Immunization Registry. Vaccinations should not be postponed if vaccination history cannot be obtained or records are unavailable. Enter vaccine doses administered into the Vermont Immunization Registry.
Primary care providers should continue their efforts to vaccinate all children and teens with two doses of the hepatitis A vaccine. Data from the Vermont Immunization Registry indicates that statewide, only 56% of children aged 13-17 years are fully vaccinated against hepatitis A and less than 15% of adults aged 19-64 years old have received a dose of hepatitis A vaccine.
Refer uninsured individuals to local health offices for free vaccination.
Report suspected cases of hepatitis A infection and hepatitis A IgM positive laboratory findings to the Epidemiology Program 24/7 at 802-863-7240.
Hepatitis A Vaccine
Hepatitis A vaccine is highly safe and effective. A complete hepatitis A vaccine series provides long-term protection against hepatitis A infection. One dose of single-antigen hepatitis A vaccine provides up to 95% seroprotection in immunocompetent individuals. Pre-vaccination serologic testing is not required to administer the hepatitis A vaccine.
Hepatitis A vaccination is recommended routinely for children at age 12-23 months. It's also recommended for people who are at increased risk for hepatitis A infection and for anyone wishing to obtain immunity. People at increased risk for hepatitis A infection include:
Men who have sex with men.
People who use injection and noninjection drugs.
People who are currently or were recently incarcerated.
People with chronic liver disease.
People with a clotting factor disorder.
People who work with hepatitis A-infected primates or with hepatitis A in a research laboratory setting.
Hepatitis A Activity in Vermont 1/1/2019-7/09/2022
The table and map below show the number of hepatitis A cases in Vermont by county during the person-to-person outbreak between January 1, 2019 and July 9, 2022.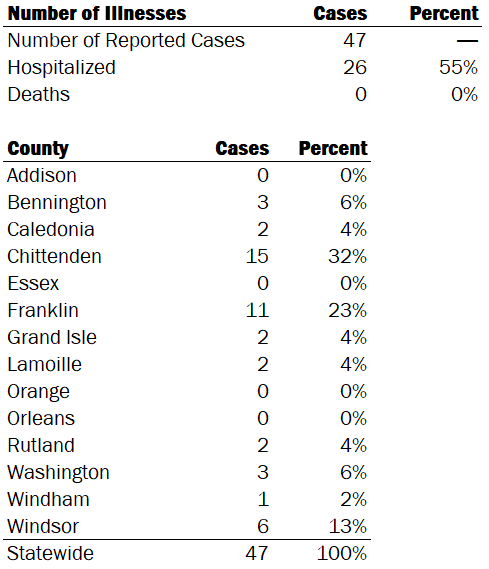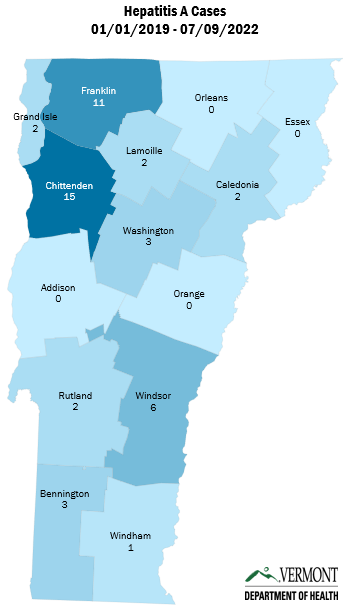 Resources
General
Tools, fact sheets and guidelines
Vaccination
Outbreak information and advisories