Image

Image

Vermont WIC Foods Effective October 1 

WIC offers a large range of healthy foods for your family. Not all brands and sizes are included. So, if you're new to WIC, we recommend matching foods found on your benefits list to brands in Vermont WIC Foods | دری (Dari) | Français (French) | नेपाली (Nepali) | پښتو (Pashto) | Soomaali (Somali) | Español (Spanish) | Swahili
Image

MILK 
Whole fat for children under 2, 1% or skim for women and children 2 and over

Image

WHOLE GRAINS
Whole wheat breads & pastas, brown rice, & corn tortillas

Image

YOGURT
Whole milk for children under age 2, low-fat or non-fat for women and children 2 and over

Image

CHEESE
Regular and low-fat varieties

Image

EGGS
Medium or large

Image

FRUIT AND VEGETABLES
Fresh, frozen or canned

Image

BREAKFAST CEREAL
Whole grain and regular, low in sugar, high in iron, hot and cold varieties

Image

LEGUMES
Peanut butter, canned or dry beans

Image

100% FRUIT JUICE
Refrigerated, frozen concentrate or shelf-stable bottles

Image

TOFU/SOY BEV
Calcium set tofu, fortified soy milk beverage

Image

INFANT FORMULA
For infants infants 6-12 months not, or partially, breastfeeding
 

Image

BABY FOOD FRUITS/VEGETABLES
For infants 6-12 months old

Image

BABY FOOD MEATS
For fully breastfeeding infants 6-12 months old

 
 
Image

Before you get to the store, it's a good idea to check your balance and make a grocery list of the WIC foods you're looking for. And, review a list of Vermont WIC grocery stores.
While shopping, look for "WIC" or "Vermont WIC Approved" on the item's shelf tag to find WIC-approved foods. Or, use the WICShopper App to scan the item's barcode.
At the register, have your WIC card ready. Tell the cashier you are using a WIC card before the first item is scanned.
When starting out, it's good to separate your WIC purchases–until you're comfortable.
Swipe your WIC card and enter your 4-digit PIN. Approved foods will be taken off of your WIC account.
Always pay with WIC first before using other payments such as SNAP, cash, or credit for non-WIC items. Approve your WIC purchase on the display screen or printed list and hit the "yes" button. Once you press "yes" no changes can be made, so be sure to check the list.
Keep your receipt (or take a picture of it) so you can easily find your WIC balance.
Image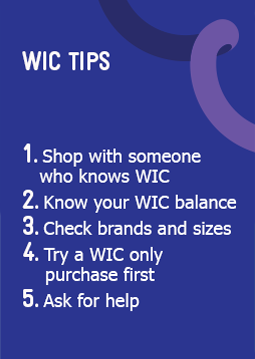 For more information, check out the Vermont WIC Program and Shopping Guide | دری (Dari) | नेपाली (Nepali) | پښتو (Pashto) | Soomaali (Somali) | Español (Spanish) | Swahili and the Shopping with WIC videos:
Understanding Vermont WIC Benefits | Maay Maay | नेपाली (Nepali) | Soomaali (Somali) | Español (Spanish) 
How to Check Your WIC Balance | Maay Maay | नेपाली (Nepali) | Soomaali (Somali) | Español (Spanish) 
Look for Specific Foods | Maay Maay | नेपाली (Nepali) | Soomaali (Somali) | Español (Spanish) 
Know the Checkout System | Maay Maay | नेपाली (Nepali) | Soomaali (Somali) | Español (Spanish)  
5 Tips for WIC Shopping | Maay Maay | नेपाली (Nepali) | Soomaali (Somali) | Español (Spanish)