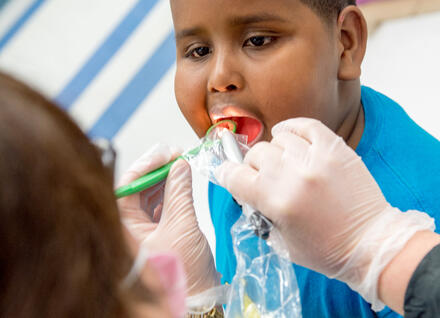 promoting medical/dental integration in family practice
Oral health is an important part of overall health that is especially true for Vermonters who have diabetes, coronary artery disease, cerebral vascular disease or who are pregnant.
Patients who have low socioeconomic status are most at risk for oral disease, have the least access to dental care, and are also at greater risk for experiencing chronic disease. Many people who don't receive regular dental care rely on their primary care physician to tell them if there is a problem. Even though preventative dental care is covered by Medicaid in Vermont, only about 30% of adult Vermonters insured by Medicaid access dental care annually. Primary care practices are keenly positioned to help patients understand the linkages of oral health to systemic health, and a referral from a family physician to a dentist in the community can have a huge long term impact.
Learn More
Medical/Dental Integration Strategies & Implementation
Use the Qualis Health Oral Health Integration Implementation Guide to pilot an oral health program with a targeted population (e.g., pregnant patients, children, patients with diabetes) in your practice.
Learn about the connections between oral health and systemic health, and about how to incorporate oral health into medical practice by participating in the Smiles for Life Oral Health Curriculum.
Get to know each other! If you work in a medical practice, get to know the people working in dental practices in your community, and vice versa. Consider developing community referral networks between medical and dental practices, just as you do with other specialists.
Vermont's Dental Periodicity Schedule
Vermont's dental periodicity schedule outlines preventive pediatric oral health services that children should receive at their pediatric or general dental home. This schedule contains recourses to help providers implement the recommendations, and indicates where there is overlap between services that can be provided at both medical and dental homes. 
Vermont Oral Health Risk Assessment and Shared Decision-Making Tool with Translations
For Dental Practices: Age One Dental Visit Training
If you work in a dental practice, participate in the Age One Dental Visit training. For more information about this training email Robin Miller at [email protected].
Silver Diamine Fluoride (SDF)
Silver Diamine Fluoride (SDF) is a liquid that can be brushed on teeth to stop tooth decay. It is applied to teeth without using needles or a drill, so it can be especially helpful for Vermonters who have difficulty accessing dental health care in a traditional setting (e.g., older Vermonters, young children). Please see our SDF Fact Sheet for more information. 
 
Resources for Oral Health Friendly Snacks and Beverages
3-4-50 & Oral Health

3-4-50
 is a campaign to draw attention to the importance of chronic disease prevention.  It refers to 3 health behaviors that lead to 4 diseases that cause over 50% of deaths in Vermont. In order to draw attention to the importance of oral health to chronic disease prevention and management, we've created two data briefs linking oral health with the 3-4-50 campaign:
HPV Prevention at the Dental Practice
HPV PREVENTION AT THE DENTIST?
The human papilloma virus is the primary cause of an increase in new cases of oropharyngeal cancer in the U.S. The steps between oral HPV acquisition and development of HPV-positive oropharyngeal cancer are unknown but HPV 
vaccination of adolescents is the most promising prevention strategy. 
UVM medical students assessed HPV vaccine counseling practices among dentists and dental hygienists to improve HPV vaccine promotion in routine dental practice and increase vaccine coverage and cancer prevention in Vermont. Read more about their project and findings.
RESOURCES FOR TALKING ABOUT HPV WITH PARENTS AND PATIENTS AT THE DENTAL OFFICE: