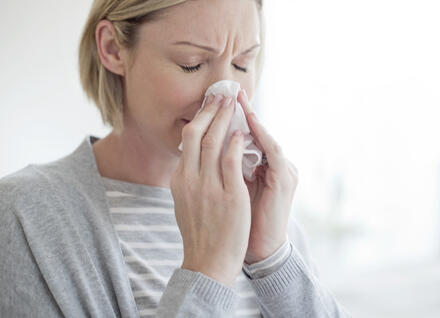 Click to go to page section:
Symptoms
If you test positive for COVID-19
Guidance for close contacts
Treatment for COVID-19
Long COVID
Find translated videos and factsheets in: American Sign Language | العربية (Arabic) | မြန်မာစာ (Burmese) | Chinese Traditional | Chinese Simplified | دری (Dari) | Français (French) | Kirundi | Maay Maay | Mandarin Chinese | नेपाली (Nepali) |پښتو (Pashto) | Soomaali (Somali) | Español (Spanish) | Swahili | Tiếng Việt (Vietnamese) 
Symptoms
The Health Department recommends getting tested if you develop symptoms at any time. People with COVID-19 may have a wide range of symptoms, including no symptoms at all, mild or moderate symptoms, or needing medical attention for severe illness. Even people with no symptoms can spread the virus to others. 
Symptoms can start 2 to 14 days after exposure to the virus and might include:
Fever (100.4 °F or higher)
Cough
Shortness of breath or difficulty breathing
Chills
Fatigue
Muscle or body aches
Headache
Sore throat
New loss of taste or smell
Congestion or runny nose
Nausea or vomiting
Diarrhea
See symptoms list in pictures (CDC)
Learn more on preventing COVID-19 
If You Test Positive for COVID-19
If you test positive for COVID-19, isolate as soon as you receive your test result – even if you are vaccinated or never have symptoms. Isolation means staying home and away from other people for at least 5 days from the date of your positive test or the start of your symptoms, whichever is earlier. 
You can end isolation after day 5 if your symptoms have improved AND you have had no fever for at least 24 hours without the use of medicine that reduces fevers. This guidance does not apply to health care workers. Please check with your employer, school or childcare program to learn about their return from isolation policies.

If you are not able to isolate because of financial, care giving or other reasons, you can still lower the risk of getting other people sick by:
Wearing a well-fitting, high-quality mask, or a disposable mask under a cloth mask.
Limiting close contact with other people as much as possible.
Washing your hands often with soap and water, or use hand sanitizer.
Cleaning and disinfecting surfaces as much as possible.
Request a FREE Pulse Oximeter to monitor pulse and oxygen levels
You can request a pulse oximeter from the Health Department by filling out this online request form. 
This small device that clips onto your fingertip measures your pulse and oxygen levels and can help you know how sick you are. You can request one if you or someone you care for over the age of two tests positive for COVID-19. Be prepared to give your name, date of birth, physical address, and contact information. Orders will not be delivered to a PO Box.
More on testing
Find where to get masks, vaccines, tests and treatment at COVID.gov 
Guidance for Close Contacts
Close contact means being within 6 feet, for a total of 15 minutes or more over a 24-hour period, of someone with COVID-19 while they are contagious. 
To determine if you were a close contact, consider time spent with someone with COVID-19 starting 2 days before they developed symptoms–or the date they tested positive if no symptoms–until they started isolation.
The Health Department recommends getting tested if you develop symptoms at any time – even if you are vaccinated or have recently had COVID-19. 
 
Close contacts who are not up to date on their COVID-19 vaccines or are not vaccinated are recommended to either: 
Test on day 4 or later with two antigen tests (rapid self-tests) at least 24 hours apart, OR
Test on day 5 or later with a PCR or LAMP test.
This guidance does not apply to health care workers. 
Find more on testing recommendations 
Treatment for COVID-19
Some people are more likely to get very sick from COVID-19. If you are age 50 or older or have a medical condition that may put you at risk, reach out to your health care provider to ask about treatment as soon as you get a positive test result, or if you have a known exposure, are having signs and symptoms, and are at high risk of disease progression - even if you tested negative.
Don't delay—treatment must be started within days after you first develop symptoms to be effective.
People at higher risk should speak to their doctor about treatment even if vaccinated or experiencing mild symptoms. By getting treatment, you could have less serious symptoms and may lower the chances of your illness getting worse and needing care in the hospital.
Learn more about COVID-19 treatments and medications (CDC) 
Long COVID
Although most people with COVID-19 get better within weeks of illness, some people continue to experience new, returning or ongoing symptoms that can last months after first being infected. These post-COVID conditions are also known as long COVID, long-haul COVID or post-acute COVID.  As of July 2021, long COVID can be considered a disability under the Americans with Disabilities Act (ADA). Please contact your health care provider if you are experiencing long COVID symptoms.
Learn more about the long-term effects of COVID (CDC)
Find help at COVID-19 Recovery Program (UVM Health Network)
Translated Videos and Factsheets
Find more COVID-19 translations 
COVID-19 resources for people who are deaf and hard of hearing
Symptoms list:  العربية / Arabic | မြန်မာစာ / Burmese | Chinese - Simplified | Chinese - Traditional |دری / Dari  |  Français / French | Kirundi | नेपाली / Nepali | پښتو / Pashto | Soomaali / Somali | Español / Spanish | Swahili | Tiếng Việt / Vietnamese
What to do if you test positive for COVID-19
Factsheet (English): العربية / Arabic | မြန်မာစာ / Burmese | دری / Dari | Français / French | Kirundi | नेपाली / Nepali | پښتو / Pashto | Soomaali / Somali | Español / Spanish | Swahili | Tiếng Việt / Vietnamese
Video (English):  العربية / Arabic | မြန်မာစာ / Burmese | دری / Dari | Français / French | Kirundi | Maay Maay | Mandarin Chinese | नेपाली / Nepali | پښتو / Pashto | Soomaali / Somali | Español / Spanish | Swahili | Tiếng Việt / Vietnamese
Guidance for Close Contacts
Factsheet (English): العربية / Arabic | မြန်မာစာ / Burmese | Chinese - Simplified | Chinese - Traditional | دری / Dari | Français / French | Kirundi | नेपाली / Nepali |پښتو / Pashto | Soomaali | Español / Spanish | Swahili | Tiếng Việt / Vietnamese
Video (English): العربية / Arabic | မြန်မာစာ / Burmese | دری / Dari | Français / French | Kirundi | Maay Maay | Mandarin Chinese | नेपाली / Nepali | پښتو / Pashto | Soomaali / Somali | Español / Spanish | Swahili | Tiếng Việt / Vietnamese
Video on Treatment for COVID-19: American Sign Language | العربية / Arabic | မြန်မာစာ / Burmese | دری / Dari | Français / French| Kirundi | Maay Maay | नेपाली / Nepali| پښتو / Pashto | Soomaali / Somali| Español / Spanish | Swahili | Tiếng Việt / Vietnamese