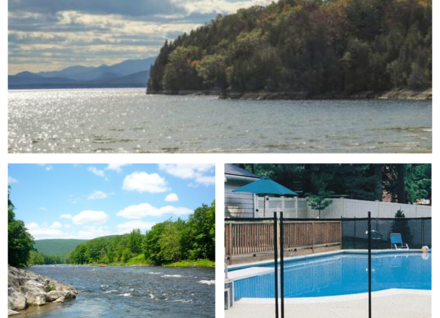 Vermont's lakes, rivers and swimming holes are an important part of our recreational landscape. Whether boating, swimming or just splashing around, here are tips to safely enjoy waterways and pools:
Always swim with a buddy. Never swim alone or allow someone to swim alone. 
Do not leave young children unattended near the water. Never trust a child to watch another child.
Learn to swim, and teach your children to swim.
Make sure that others in your group swim in areas appropriate for their swimming ability.
Always stay within arm's reach of young children.
Avoid alcohol. Do not drink and swim.
Know where the closest phone is located.
In case of an emergency, dial 9-1-1.
Teach your children about water safety with the CDC's water safety website.
Rivers, Lakes and Swimming Holes
Know the terrain.
Be aware of and avoid drop-offs and hidden obstacles in natural water sites.
Do not dive into water, always enter water feet-first.
In Vermont, there are rapidly changing weather conditions. Check your weather forecast and watch for signs of changing weather, such as storm clouds and high winds.
Swimming Pool and Home Safety
Install fencing around your pool. 
Don't leave toys out that encourage children to go in the pool area without supervision.
Never leave a child alone near standing water, bathtub, bucket of water or toilet. Small children are top-heavy and can fall in and drown within minutes.
Safe Boating
According to the U.S. Coast Guard, nearly 75% of people who died in boating incidents in 2007 drowned. Of those, 84% were not wearing a life jacket. Operator error, lack of training, and alcohol use contribute to the risk of drowning in a boating incident; 29% of deaths occurred on boats that were anchored, docked, moored or drifting.