The 2025 Vermont Cancer Plan is Vermont's roadmap for addressing cancer. It represents the work of the Vermont Department of Health Comprehensive Cancer Control Program, Vermonters Taking Action Against Cancer (VTAAC) and many other organizations and individuals throughout the state to reduce the burden of cancer in Vermont over the next five years. Vermont's Cancer Plan goals include preventing, detecting and treating cancer, as well as improving the lives of cancer survivors and their families.
Image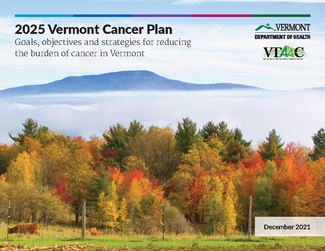 Evaluation Plan and Reports
Evaluation is a fundamental component of the Vermont Comprehensive Cancer Control Program, VTAAC and the Vermont Cancer Plan.
An evaluation plan has been developed to help understand what is working to improve cancer outcomes and inform the vision, goals and objectives of future efforts.  In addition, status reports on Vermont Cancer Plan measures are published annually to direct and inform partners and activities.
Cancer Data and Statistics
The Vermont Department of Health carries out surveillance to measure the burden of cancer in Vermont to assist the Department and our many partners to effectively reduce the impact of cancer statewide.
A comprehensive collection of health data is used to monitor cancer in Vermont. The Vermont Cancer Registry, a statewide cancer surveillance system, collects information on all cases of cancer diagnosed and treated in Vermont. Other sources of data, such as population health surveys and vital records are utilized to provide high-quality cancer reporting.
Here's a closer look at Vermont Cancer Data Reports and Publications.
For More Information
Cancer is a leading cause of death in Vermont. Learn more about Cancer Prevention, Early Detection, Treatment and Survivorship.