Image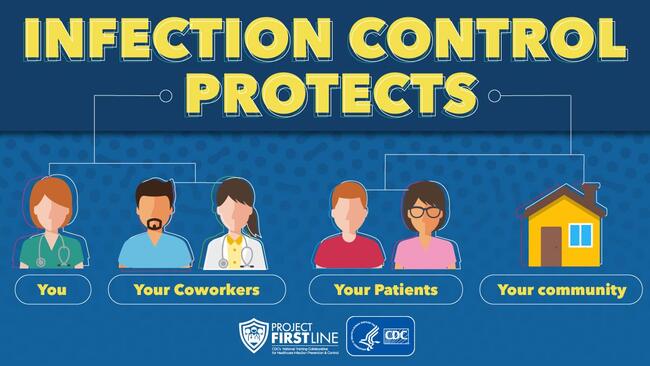 The Vermont Department of Health has partnered with the U.S. Centers for Disease Control and Prevention's Project Firstline to make free infection prevention and control training and education available to health care workers in Vermont.
Developed for health care workers by health care workers, these trainings provide action-oriented, engaging, and practical infection prevention and control education to help you become a change agent for your organization. 
Live Online Learning Sessions
Join us for a live webinar for homeless shelter staff, outpatient health care workers, home caregivers, and anyone else interested in learning more about infection prevention and control. Thursday, May 25, 2023 at 12:00pm ET
Sign up for the learning session
Available On-Demand Trainings
Trainings are specifically designed for home health care workers, home caregivers, environmental service workers, EMS providers, outpatient healthcare workers, nurses, and advanced providers.
Sign up for on-demand trainings
In-person Learning Opportunities with the Special Pathogen Network
The Special Pathogen Network is a federally recognized collective of hospitals, public health entities, and first-responder organizations from across Colorado with specialized knowledge and expertise in the diagnosis, care, and management of highly infectious diseases. The network supports other healthcare entities by providing free, in-person, tailored and interactive learning along with sustainable tools to increase provider safety. 
The PPE Donning and Doffing Master Train the Training Event is a unique opportunity for health care workers to expand their comprehensive PPE knowledge and be given the tools they need to deliver this training to their own healthcare organizations. It is a three hour, didactic and hands-on, participant-centered workshop.
Space is limited and registration will be first come, first serve. The training dates, times and locations are: 
April 18, 11am – 2pm, White River Junction VA Medical Center

April 19, 11am – 2pm, Vermont EMS Academy, Newfane

April 20, 10am – 1pm, Williston Fire Department