Image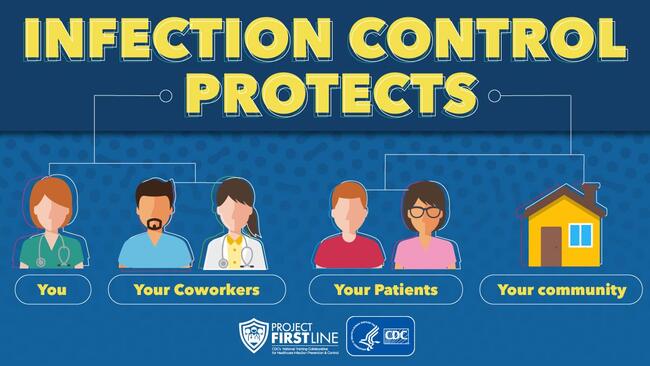 The Vermont Department of Health has partnered with the U.S. Centers for Disease Control and Prevention's Project Firstline to make free infection prevention and control training and education available to health care workers in Vermont.
Developed for health care workers by health care workers, these trainings provide action-oriented, engaging, and practical infection prevention and control education to help you become a change agent for your organization. 
Available On-Demand Trainings
Trainings are specifically designed for home health care workers, home caregivers, environmental service workers, EMS providers, outpatient healthcare workers, nurses, and advanced providers.
Sign up for on-demand trainings
CIC® Preparatory Intensive Workshop
Dates: July 25 - July 28, 2023
Times: 8:00 am - 5:00 pm each day
Location: State Office Complex, Waterbury, VT, Red Oak 49, Building A, Room A283. 
The CIC® Preparatory Intensive Workshop is sponsored by the Vermont Department of Health's Healthcare-Associated Infections (HAI) Program and is available to all qualified state of Vermont residents and those who work at Vermont healthcare facilities or in the public health field. The Workshop will be led by Association for Professionals in Infection Control and Epidemiology (APIC®) trainers. The workshop is provided at no cost and includes reimbursement for approved travel-related expenses. A light breakfast and lunch will be provided each day for course participants.
This comprehensive workshop, led by CIC®-certified instructors, will help prepare attendees for the CIC® certification exam. The experienced APIC faculty will build upon foundational knowledge and guide attendees through interactive discussions, activities, and sample test questions. Attendees will be able to identify their individual areas of strength and build on them, and pinpoint areas where they need further concentrated study in preparation for the exam. 
Objectives
Upon completion of this course, attendees will be able to:
Describe key concepts and competencies of Infection Prevention and Control (IPC) practice as defined by the Certification Board of Infection Control and Epidemiology, Inc. (CBIC®).

Describe the steps in the certification process.

Identify strategies to assist with test-taking and the development of study plans.

Apply skills in critical thinking when analyzing different types of exam questions.
The Association for Professionals in Infection Control and Epidemiology (APIC) is accredited with distinction as a provider of continuing professional development by the American Nurses Credentialing Center's Commission on Accreditation (ANCC). This is the highest level of recognition awarded by ANCC's Accreditation Program and has been granted to APIC through March 31, 2024.
Exam Eligibility Requirements
Successful CIC® certification indicates competence in the actual practice of infection prevention and control and healthcare epidemiology. It is intended for individuals who are directly responsible for the infection prevention and control program activities within their current position. Interested candidates must be actively employed and accountable for infection prevention and control. 
More at Certification Board of Infection Control and Epidemiology, Inc. 
Travel Reimbursement
All Clear, as the contractor for the Vermont Department of Health, will reimburse approved travel-related expenses for all state of Vermont residents or those who work at a Vermont healthcare facility or in the public health field if the participant successfully attends the entire course. Reimbursement forms will be provided by email to the course participants before the beginning of the course and should be submitted after the course is complete.  
Lodging 
A limited number of hotel accommodations are available for up to four nights between Monday, July 24, and Friday, July 28. Receipts are required for reimbursement. 
Please note, the room block will close June 24 and will not be available afterward. It is highly encouraged that you make your reservations as soon as possible. All reservations must be made before June 24. Click here to make your hotel reservation

Non-State employees are eligible for a rate of $186.00+tax per night.

State of Vermont employees are eligible for a state rate of $134.00/night outside of the room block. If no rooms are available at the state rate, state employees are encouraged to book a hotel room under the room block.
Mileage 
Mileage will be reimbursed for travel. This includes:  
From your residence or place of work to Waterbury and back (eligible each day if not staying overnight). 

Reasonable mileage for driving each day between the hotel, the state office complex, and local restaurants for dinner.
Meals
A light breakfast and lunch are provided to workshop participants each day. Meals outside of those provided are limited to the federal government per diem reimbursement rate of $31 per day for dinner. 
If you or your organization has a financial barrier that would prevent you from attending the CIC® Preparatory Intensive Workshop due to the upfront travel-related costs, please contact both email addresses listed below for alternative arrangements. We want you to be able to attend and will work with you. 
If you have any questions, please email both [email protected] and [email protected].