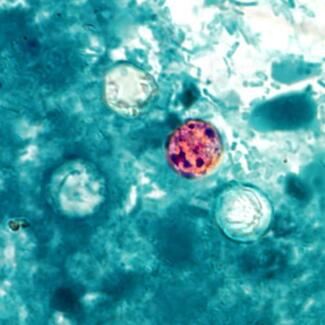 The Vermont Department of Health Laboratory (VDHL) tests for intestinal parasites in patient stool specimens. A total of three stool specimens (all collected on different days) should be submitted in the VDHL Kit # 2, which contains a specimen preservative, called "Total-Fix" preservative. 
Test Options
Enzyme immunoassay (EIA) for Giardia and/or Cryptosporidium

Microscopic examination for ova, larva, and cysts of parasites

Cyclospora identification using the Acid Fast staining techniques

Pinworm identification by microscopic identification (request VDHL Kit # 6, Pinworm Paddle)
Serology Specimen Submission for Parasitic Diseases
The Vermont Department of Health Laboratory can also send serology specimens to the Centers for Disease Control for additional or unusual parasite testing.

Information on submitting serology specimens to the CDC through the Vermont Department of Health Laboratory
Image

Visit our Forms & Ordering Information page for information on specimen submission requirements or available tests.
Image

There are three main classes of parasites that can cause disease in humans: protozoa, helminths, and ectoparasites.