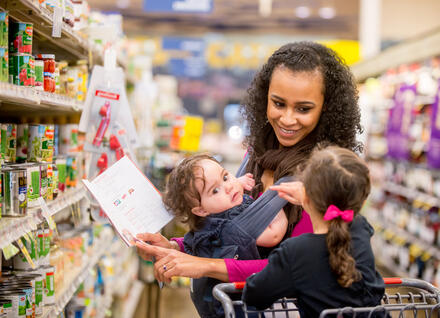 WIC is the Federal Special Supplemental Nutrition Program for Women, Infants and Children. WIC provides healthy food and much more, including nutrition education, breastfeeding support and referrals to health care and other community programs. You can trust WIC to be your family's nutrition expert during critical periods of growth and development, like pregnancy, infancy and early childhood. Over half of all new babies and 40% of pregnant women in Vermont benefit from WIC.

During twice-a-year WIC office visits, we weigh and measure your child, help you to make a plan to meet your nutritional needs, and tell you about other services that are available to you. We offer many nutrition and physical activity classes each monthly, such as preparing for pregnancy, baby cuing, transitioning to solids, canning, gardening and picky eaters. Classes are also available online to WIC participants.

To make an appointment, call 802-479-4200 or call toll free 888-253-8786. Most Barre WIC clinics are open from 8:00 a.m. – 3:30 p.m. in the Barre Local Health Office, in the McFarland Office Building 5 Perry Street, Suite 250. For the convenience of our participants, we also have clinics in other towns:
Waterbury
Waterbury Congregational Church
8 North Main Street
Third Wednesday of each month
8:30 a.m. – 2:30 p.m.
Plainfield 
Plainfield Health Center
157 Towne Avenue
Second Tuesday of each month
2:00 – 6:00 p.m
new ewic system
"I absolutely love the new eWIC card system. I am always on the go with my two little ones, and work and school add to my hectic schedule... I was a bit nervous about relying on a new system for my WIC benefits, but the transition has been not only easy, but an improvement over the home delivery system."

- Central Vermont WIC participant and mother of two
The eWIC card system allows you to shop for healthy WIC foods at an approved grocery store or small market throughout the state, and some border stores. You shop with a card, called the eWIC card, which is similar to a debit card.
Local Stores that Accept eWIC cards:
Pump and Pantry
Waterbury Village Market
Shaw's
Hannaford
Price Chopper
Berlin Walmart
Tops
View a list of statewide stores that accept eWIC (see "Where to Shop").
Nutrition Education Opportunities from WIC
Prenatal Breastfeeding Group: Preparing for Birth & the First 10 Days
Share the joys and worries about being a new mother/parent/grandparent etc. Understand the hospital practices that support breastfeeding, discuss infant feeding plans, learn the signs that breastfeeding is going well and when to call the doctor and recognize the signs that baby is getting enough to eat.
Fourth Wednesday of each month
11:00 a.m. – 12:00 p.m.
WIC office in Barre, second floor
Understanding Your Baby's Cues
Join other new parents to learn about your baby's behavior. Understand how babies sleep, why they cry, and what they need. All these things can help you feel more relaxed and confident. Responding quickly to your baby's cues helps them feel more safe and secure.
Fourth Wednesday of each month
1:00 – 2:00 p.m.
WIC office in Barre, second floor
WIC Nutrition Education: "What's Cookin" Rutland on PEGTV
A monthly Cooking show that features healthy recipes and tips. Watch a 30 Minute episode of "What's Cookin' Rutland" online for your nutrition education activity.  During the show a WIC Nutrition Education Code will display at the bottom of the screen.  When you call our office (802-479-4200) to report your WIC Nutrition Education Activity, give us the code and tell us about one of the recipes you watched being prepared. Watch online anytime! Click here. Then, click on "Video on Demand," choose "Cooking Shows" and scroll to "What's Cookin' Rutland" video.
WIC Nutrition Education - WIChealth.org
Complete your WIC nutrition education online with WIChealth.org. These activities are fun and easy ways to get more information from a trusted source about many of the issues families face when parenting small children. Lots of families like these activities because they can be done at your convenience in the privacy of your own home.
Fit WIC
Fit WIC encourages your family to play every day, with ideas for indoor and outdoor play, building skills and exploring new and interesting places to visit.
WIC2Five
WIC2Five provides weekly health and nutrition tips by text.  Each message is specific to your child's age and stage of development, and offers helpful health and nutrition information, and more! WIC2five is just one of the many benefits from WIC, your family's trusted source for nutrition information.
Nutrition Education Opportunities from Community Partners
Many community partners also offer nutrition education that can count toward your WIC benefit renewal. Talk with them to find out how you can receive WIC nutrition education credit through their many programs.
Many classroom and home-visit activities are WIC-approved. Talk to your child's classroom teacher or home visitor for more details. 
Strong Families Start at Home
Strong Families partner with the Department for Children and Families Child Development Division to deliver a comprehensive system of voluntary home visiting in Vermont. While there can be some variation regarding eligibility or length of service, all home visiting includes trained professionals  – nurses, social workers, child development specialists and more – who meet regularly with expectant parents or families with young children in their homes. Home visitors partner with parents to tailor services and resources to best meet the unique needs of each family. We work with families to:
Recognize and build on the strengths of the family, parents and children in the home.
Teach parenting skills and model effective techniques.
Promote early learning in the home with an emphasis on positive interactions between parents and children.
Provide information and guidance on a wide range of topics including breastfeeding, safe sleep position, injury prevention and nutrition.
Conduct screenings and provide referrals and connections to resources if necessary.
Connect families to other services and resources as appropriate.
The Doula Project
The Doula Project is a program of Washington County Mental Health Services. Services provided include childbirth education, labor doula support and postpartum support. Many of the activities that this project supports are WIC-approved. If you are already enrolled talk with your doula about which activities are WIC-approved and how to get credit. More information: Call Maria Noyes at 802-522-8637.  Maria is a Certified Labor Doula, Certified Lactation Counselor and Capta Certified Childbirth Educator.
Breastfeeding Moms Group / Bosom Buddies
The Breastfeeding Moms Group / Bosom Buddies is open to anyone interested in learning more about breastfeeding.
First Monday of every month
Central Vermont Medical Center Women & Children's Unit
5:30 – 7:00 p.m.
More information: Call Stevie or Heidi at 802-371- 4415
How to Breastfeed Prenatal Class
How to Breastfeed is an introduction to providing the world's best food for your baby.  Learn about why breastfeeding matters, the importance of "skin to skin", how babies "latch-on", how much milk babies need, how new babies "talk" to us, getting off to the best start, overcoming challenges and more. 
First Thursday of each month, 8:00 – 9:30 a.m., or
Fourth Tuesday of each month, 4:30 – 6:00 p.m.
University of Vermont Central Vermont Medical Center
More information: Call Stevie or Heidi at 802-371-4415 to sign up and talk about how to receive WIC credit.
Farm to Family Coupons
Each summer, WIC families are eligible to receive coupons to use at participating farmers markets to buy fresh fruits and vegetables. Coupons can be picked up in June through August while supplies last. Find a list of participating farmers markets in Vermont here.
Related Resources
Apply for WIC
Watch "Shopping with WIC" videos
Use the WICShopper Smartphone App
USDA Nondiscrimination Statement
Learn More
WIC in Vermont
Family Planning & Pregnancy for Vermonters
Infants & Young Children in Vermont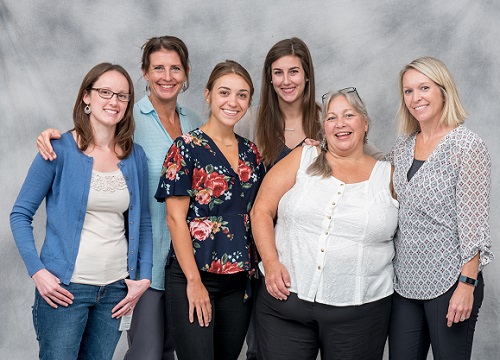 Your WIC staff welcomes you!
Contact Us
Barre WIC Office
802-479-4200 or toll-free 1-888-253-8786