COVID-19 is highly contagious, and Vermont is expanding testing and contact tracing to slow the spread of this disease.
All Vermonters with even mild symptoms are encouraged to contact their health care provider to get tested. This includes parents of children who have symptoms that could be related to COVID-19. Your provider will refer you to a hospital or health center near you that can perform the test at no cost. If you don't have a health care provider, call 2-1 -1 to connect with a community or hospital-connected clinic.
Symptoms include: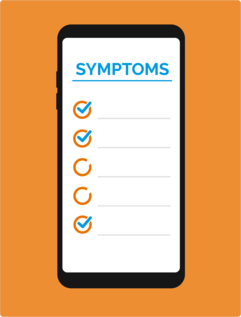 Fever
Cough
Shortness of breath or difficulty breathing
Chills
Fatigue
Muscle pain or aches
Headache
Sore throat
New loss of taste or smell
Congestion or runny nose
Nausea or vomiting
Diarrhea
If you are having any symptoms of COVID-19, call your provider. The symptoms may start 2 to 14 days after exposure to the virus. If you are having a medical emergency, call 9-1-1 or go to the hospital.
Check your symptoms with CDC's Self Checker Tool. Not everyone infected with the COVID-19 virus has symptoms.
Prevention
Here is how you can protect yourself from COVID-19, and avoid spreading the disease to others:
Stay at home to protect others if you are sick. Stay connected with friends and family by phone or online. 
Staying home is still the best way to lower our risk of COVID-19, but small groups of 25 or fewer people are allowed if health and safety precautions are followed.
When you leave home, stay at least 6 feet away from people you don't live with.
Wear a cloth mask or covering in public settings when a physical distance of six feet is difficult to maintain. For example, at a grocery store or on a crowded sidewalk or bike path.
Avoid close contact with people who are sick.
Avoid touching your eyes, nose, and mouth.
Cover your coughs and sneezes with the inside of your elbow or a tissue. Throw the tissue in the trash and wash your hands.
Wash your hands often with soap and water for at least 20 seconds, especially after going to the bathroom; before eating; and after blowing your nose, coughing, or sneezing.
If soap and water are not readily available, use an alcohol-based hand sanitizer with at least 60% alcohol. Always wash hands with soap and water if hands look dirty.
Clean and disinfect frequently touched objects and surfaces (like tables, hard-backed chairs, doorknobs, light switches, remote controllers, handles, desks, toilets, sinks) using a regular household cleaning spray or wipe.
Travel increases your chances of getting and spreading COVID-19. Read CDC's guidance on travel in the United States.
Residents and non-residents coming to Vermont ­– for anything other than an essential purpose ­­– should quarantine at home for 14 days
People at high risk for more severe illness
Older adults (65 years and over) and people of all ages with underlying medical conditions are at higher risk for developing a more severe illness. If you are in one of these groups, take these precautions:
Continue your medications and do not change your treatment plan without talking to your health care provider.
Have at least a 2-week supply of prescription and non-prescription medications. 
Talk to your health care provider about whether your vaccinations are up to date. 
Do not delay getting emergency care for any underlying medical condition because of COVID-19. 
Call your health care provider if you have concerns about underlying medical conditions or if you get sick and think that you may have COVID-19.
Families  with Children
Encourage your child to help stop the spread of COVID-19 by teaching them to do the same things everyone should do to stay healthy. Keep activities as close to home as possible and wash toys regularly, following the manufacturer's instructions. Use the warmest water setting and dry the toys completely.
See guidance about COVID-19 for pregnant and breastfeeding parents (CDC)
Find resources for Families with Children
families with pets
We are still learning about the virus that causes COVID-19, but it appears that it can spread from people to animals in some situations. Until we learn more about how this virus affects animals, treat pets as you would other human family members to protect them from a possible infection. Because there is a small risk that people with COVID-19 could spread the virus to animals, CDC recommends that pet owners limit their pet's interaction with people outside their household.
Keep cats indoors when possible and do not let them roam freely outside.
Walk dogs on a leash at least 6 feet (2 meters) away from others.
Avoid public places where a large number of people gather.
Do not put face coverings on pets. Covering a pet's face could harm them.
There is no evidence that the virus can spread to people from the skin, fur, or hair of pets. Do not wipe or bathe your pet with chemical disinfectants, alcohol, hydrogen peroxide, or any other products not approved for animal use.
Talk to your veterinarian if your pet gets sick or if you have any concerns about your pet's health.
Resources
Tips to Help Keep Illness from Spreading
Arabic | Burmese | Chinese | English | French | Kirundi | Nepali | Somali | Spanish | Swahili | Vietnamese

Using Cloth Face Coverings to Help Slow the Spread of COVID-19
Guidance for Large or Extended Families Living in the Same Household (CDC)
Video that illustrates COVID-19 virus transmission and prevention with visuals, not words (from Stanford Medicine)
Testing
If You're sick
If you are sick and think you may have COVID-19, call your health care provider to be evaluated. Your provider will determine if you need a test. If you don't have a provider, call 2-1-1 to be referred to a clinic in your area. Do not go to a testing site without a referral from your provider. Health care providers are encouraged to order a test for any child or adult who is showing symptoms of COVID-19. Typically, you'll receive test results within 1-3 days.
Anyone who meets the medical requirements for testing for COVID-19 can be tested at no cost.
If you don't have symptoms
Pop-Up Sites
Anyone without symptoms who lives or works in Vermont can be tested at a pop-up testing site without a doctor's referral. Health care workers, first responders and child care providers are encouraged to get tested. Any person under quarantine who has had no symptoms during the first 7 days of quarantine, has the option of being tested at a pop-up testing site. Registration is required.

register for testing
New Winooski Community Testing Site
The Vermont Department of Health, in partnership with Community Health Centers of Burlington, will be offering testing at the O'Brien Community Center in Winooski at 32 Mallets Bay Avenue. This is for members of the community of Winooski. Testing is free and available to anyone. Children under the age of 12 months cannot be tested. These clinics are part of the State of Vermont's efforts to ramp up testing and prevent the spread of COVID-19.
Pharmacies
Soon some pharmacies will be offering testing at no cost for people without symptoms. Call the pharmacy first to see if testing is offered and to schedule an appointment.
About Testing
Testing helps us better understand the current rate of active infections of COVID-19 in Vermont, and helps to contain and slow the spread to others. It also lets us see how that rate is changing over time as we slowly reopen the state.
These tests will tell you if you have a current infection. It is not a serology/antibody test, which means it will not tell you if you were infected in the past.
resources
If you are diagnosed with COVID-19
Most people with mild illness can recover at home. While there is no specific treatment for COVID-19, you should get plenty of rest, drink plenty of fluids, and take fever-reducing medication if needed.
If you or a family member are sick, take these steps:
Isolate at home
Don't leave home, except for medical care. Call ahead before visiting a health care provider or emergency department. Anyone who does not have a health care provider can call 2-1-1 to be connected to a clinic in their area. Wear a cloth face mask or covering if you need to leave home for medical care.
Most people with mild illness can manage their symptoms at home with rest, drinking fluids, and taking fever-reducing medicine, when needed.
Stay in a specific room in your home and use a separate bathroom, as much as possible. Stay at least six feet away from others in your home and wear a cloth face mask or covering if you're in the same room with other people. Avoid sharing household items. 
Avoid contact with your pets. If you must care for pets or be around animals while you are sick, wear a cloth face mask and wash your hands before and after you interact with them.  
Cover your coughs and sneezes with your sleeve or a tissue, then throw the tissue in the trash.
Do not go to or visit any hospitals or long-term care facilities. This is to protect everyone's health, including patients and staff.
Clean daily
Wash your hands often with soap and water for at least 20 seconds. Use an alcohol-based sanitizer if soap and water aren't available. 
Clean and disinfect the surfaces in your separate room and bathroom every day. Have someone else clean the rest of your home.
Thoroughly wash household items, like utensils, after using.
Get support from others. Stay in touch with family and friends by phone, email or online platform.
 
CONTACT TRACING
If you are diagnosed with COVID-19, someone from the Health Department will contact you to ask for your help with contact tracing. Contact tracing is a strategy used to determine the source of an infection and how it is spreading. Finding people who are close contacts to a person who has tested positive for COVID-19 and therefore at higher risk of becoming infected themselves, can help prevent further spread of the virus. You'll be asked questions about your activities – within a certain timeframe – to help identify anyone you had close contact with. (Close contact means being closer than six feet apart for a long time while you were infectious.) Those contacts might include family members, co-workers or health care providers. The team then gets in touch with those contacts and provides health guidance. A close contact is asked to stay home for 14 days and watch for symptoms.
Resources
Caring for Yourself at Home (CDC)
10 Ways to Manage Respiratory Symptoms at Home  (CDC)
Information on Breastfeeding if you Have COVID-19 (CDC)
What is isolation, quarantine and self-observation
How to Self-isolate for COVID-19
Arabic | Chinese | English | French | Somali | Spanish | Vietnamese
What to do if you are diagnosed with COVID-19
Arabic | Burmese | Chinese | English | French | Kirundi | Nepali | Somali | Spanish | Swahili | Vietnamese
Caring for someone with COVID-19
Close contacts of someone diagnosed with COVID-19
COVID-19 spreads easily from person to person. If you are a close contact of someone with COVID-19 you will need to take steps to prevent possible spread in case you also have COVID-19.
Close contact means being within six feet, for a long time, of someone who is diagnosed with COVID-19 during their infectious period, which starts two days before any symptoms began, or for people who didn't have symptoms, two days before they got tested, and continues until they are recovered. Close contact does not mean: being more than six feet away in the same indoor environment for a long period of time, walking by, or briefly being in the same room.
A "long period of time" is hard to define because it depends on whether the person was sick at the time and what type of interaction you had with that person. These examples can help you determine whether you were a close contact or not.
| Examples of close contacts     | Examples of not close contacts |
| --- | --- |
| You live in the same home     | You were their cashier at the grocery store |
| You are intimate partners | You are a pharmacist who gave the person medication |
| You rode in the same car while the person was infectious | You were in front of the person in line at the store |
| You had dinner together while the person was infectious  | You're a coworker who briefly walked by to ask a question |
What to do if you are a close contact of someone who is diagnosed with COVID-19
Arabic | Burmese | Chinese | English | French | Kirundi | Nepali | Somali | Spanish | Swahili | Vietnamese
A team at the Health Department works with people with COVID-19 to identify their close contacts. This is called contact tracing. The team assesses each close contact for their exposure risk and gives them health guidance and recommendations for self-isolation or other restrictions.
While we have been successful in contact tracing, we will continue to add resources and personnel needed to address any increase in the number of people who test positive, which we expect to happen with more testing. This includes the use of technology to help in these efforts. We will be using an app called Sara Alert, a secure monitoring and reporting system for public health that is being used in other states. This system will allow us to offer people who have tested positive for COVID-19, and their close contacts, to enroll in a text-based system to help us keep in touch and monitor their symptoms.
As the state reopens, Vermonters should consider keeping a contact journal – a list of other people who you have been in close contact with each day. If you do get sick, this would make it easier to get in touch with those people and so they can take proper precautions to prevent further spread of COVID-19.
The chart describing What is isolation, quarantine and self-observation has details about what you should do and not do, depending on your exposure risk.
Multisystem Inflammatory Syndrome in Children
According to the CDC, Multisystem Inflammatory Syndrome in Children (MIS-C) is a condition where different body parts can become inflamed, including the heart, lungs, kidneys, brain, skin, eyes, or gastrointestinal organs. We do not yet know what causes MIS-C. However, we know that many children with MIS-C had the COVID-19 virus, or had been around someone with COVID-19. MIS-C can be serious, even deadly, but most children who were diagnosed with this condition have gotten better with medical care.
MIS-C is rare, and it remains unknown whether multisystem inflammatory syndrome only occurs in children or if it also can occur in adults.
Learn more about Multisystem Inflammatory Syndrome in Children and COVID-19 (Vermont Department of Health)
Recovery
Someone has recovered from COVID-19 when all three of these have happened:
It has been three full days of no fever without the use of fever-reducing medication, and
Other symptoms have improved, and
At least 10 days have passed since symptoms first appeared.   
We don't know whether people who recover from COVID-19 can be infected again because the immune response is not yet understood. We know that people with another type of coronavirus, MERS-CoV, are not likely to be re-infected shortly after they recover. But we don't know yet if this is true for COVID-19.
People who have fully recovered from COVID-19 have antibodies in their blood plasma. This is the body's immune response to the virus. Plasma may be helpful to people sick with COVID-19. But currently, plasma donations are only being done experimentally. In the future, plasma could be used to treat serious cases of COVID-19.
The Red Cross is looking for people who are fully recovered from COVID-19 and may be able to donate plasma. If you are fully recovered from a COVID-19 diagnosis that was confirmed by a lab test and would like to donate your plasma, fill out the form on the Red Cross website.
Background on COVID-19
Coronaviruses are a type of virus that are named for the crown-like spikes on their surface. There are many kinds of coronaviruses including some that cause respiratory illnesses, like the common cold.
Sometimes, coronaviruses that infect animals can evolve and make people sick – and become a new human coronavirus. An example is the newly discovered coronavirus that causes coronavirus disease 2019, abbreviated as COVID-19.
The virus that causes COVID-19 is thought to spread mainly from person to person through respiratory droplets produced when an infected person coughs, sneezes or speaks. These droplets can land in the mouths or noses of people who are nearby, or can be inhaled into the lungs. Spread is more likely when people are in close contact with one another (within about 6 feet).
COVID-19 is spreading easily and sustainably in our communities. This community spread means people have been infected with the virus in an area, including some who are not sure how or where they became infected. Adults who are 65 years or older and people of any age who have serious underlying medical conditions may be at higher risk for more severe complications from COVID-19.