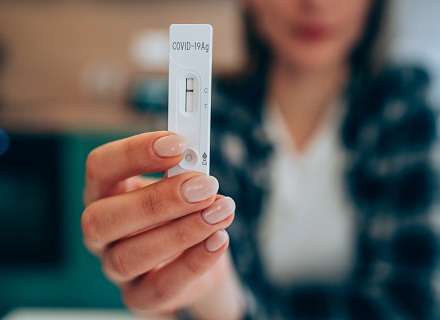 UPDATE:
As of June 25, Health Department testing sites are closed.
How to get tested in Vermont
At-home antigen tests (also called rapid tests or self-tests) meet many testing needs and are widely available at pharmacies around the state and at online retailers.
Buy online or in pharmacies and retail stores: Some health insurance plans can cover the cost of at-home tests. You may be able to show your insurance card at the pharmacy and get test kits at no cost to you. Some health plans may require you to pay for the tests and then be reimbursed. Learn more about insurance coverage 
Contact your health care provider: Medical practices may offer other COVID-19 testing options.
HELP Getting Tests
If you cannot get at-home antigen tests from the options above, you can call the Health Department at 802-863-7200, or check with your local health office.
Non-profit community organizations may qualify for free at-home tests by mail if they work with Vermonters who may have difficulty getting tests due to overall systemic inequities. This includes Vermonters who are Black, Indigenous or people of color (BIPOC), speak languages other than English, are experiencing homelessness, have a disability or other groups. Please email [email protected].

Food shelves, libraries, and municipal offices who are interested in distributing COVID-19 at-home tests in their community can also email [email protected].
If you are homebound, you can get a PCR test in your home. Homebound means you are not able to leave your home for scheduled medical care or non-medical appointments. Call 802-863-7200 (toll-free 800-464-4343), Monday through Friday, 8:00 a.m. to 4:30 p.m.

Translated videos on where to get tests from the Vermont Language Justice Project: ASL | العربية (Arabic) | မြန်မာစာ (Burmese) | دری (Dari) | English | Français (French) | Kirundi | Maay Maay | Mandarin | नेपाली (Nepali) | پښتو (Pashto) | Soomaai (Somali) | Español (Spanish) | Kiswahili (Swahili) | Tiếng Việt (Vietnamese)
TEST KIT EXPIRATION DATES
Many test expiration dates have been extended. Check information below for new dates by brand:

FDA information on tests.
Check Intrivo on/go tests.
Check iHealth tests.
Check FlowFlex tests.