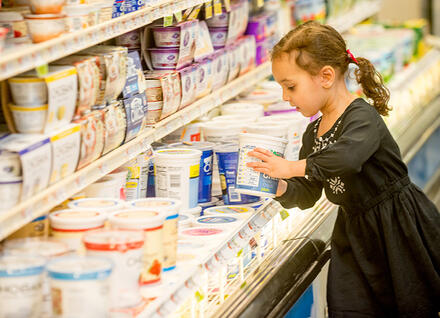 The WIC Program (Women, Infants and Children) provides access to healthy foods, nutrition education, breastfeeding support and referrals to health care and other community resources. You can trust WIC to be your family's nutrition expert during critical periods of growth and development, like pregnancy, infancy and early childhood.
How do I join WIC?
WIC is for income-eligible Vermont residents who are pregnant, breastfeeding or have a new baby, and children under age 5. Parents, grandparents and foster parents may apply for children in their care. Or, if you or your child is on Medicaid, Dr. Dynasaur or 3SquaresVT/SNAP, you can join WIC.
APPLY today!  Or text VTWIC to 855-11 to sign up!
Standard message & data rates may apply. Text STOP to opt-­‐out. HELP for help. See end user privacy and terms and conditions.
"The staff was so sweet and I didn't feel judged for the first time in a long time."
What towns does the St. Albans office serve?
The St. Albans Office of Local Health is the place to come for WIC if you live in:
Alburg, Bakersfield, Berkshire, Enosburg, Fairfax, Fairfield, Fletcher, Franklin, Georgia, Grand Isle, Higate Isle La Motte, Motgomery, North Hero, Richford, St. Albans City, St. Albans Town, Sheldon, South Hero, Swanton
Is your home in another town? Find out which office is for you.
Clinics
Appointments are currently offered over the phone, via video, or in person.
St. Albans Local Health Office
27 Federal Street, Suite 201
St. Albans, VT
Clinics are held at various times. Call 802-524-7970 for an appointment.
Champlain Islands Health Center 
564 Route 2,
South Hero, VT
Mar, June, Sept, Dec
1st Friday of the month
Schedule may vary – please call 802-524-7970 to confirm
Swanton Head Start
31 Church Street
Swanton, VT
2nd Thursday, alternate months – Jan, March, May, Sept, Nov (none in July)
Schedule may vary – please call 802-524-7970 to confirm
NOTCH Partnering Project
Richford Health Center
52 Main Street
Richford, VT
Fourth Wednesday of each month
Schedule may vary – please call 802-524-7970 to confirm.
Alburgh Village Office
1 North Main Street
Alburgh, VT 05440
Second Thursday of the month – Jan, April, July, Oct
Schedule may vary – please call 802-524-7970 to confirm.
Enosburgh Public Library
241 Main Street
Enosburg Falls, VT
Third Thursday of each month from 2:00pm - 6:30pm
Schedule may vary – please call 802-524-7970 to confirm
Fairfax Library
75 Hunt St,
Fairfax, VT
2nd Thursday quarterly – Feb, May, Aug & Nov.
Schedule may vary – please call 802-524-7970 to confirm
Nutrition Education Opportunities
We offer a variety of learning opportunities to help you keep your family healthy. Please call 1-802-524-7970 or visit WICHealth.org to complete an online activity.
Breastfeeding Support 
There are many ways WIC can help you succeed with breastfeeding, including:
Extra WIC foods for breastfeeding parents
Breastfeeding peer counselors (available in some offices)
Referrals to community lactation consultants and other support services
Breast pumps
Breastfeeding groups and classes
Our staff includes peer counselors available to support pregnant and new mothers. The peer counselors are also WIC moms. The support is generally over the phone.
We work with community partners to provide breastfeeding support groups. We consult with and support for employers working to be breastfeeding friendly. We work with childcare providers to help them support breastfeeding families.
We provide hand breast pumps for WIC moms, as well as electric pumps for WIC moms who are returning to school or work. We provide education about and support for pumping.
Farm To Family
At a farmers market you can buy just-picked fruits and vegetables and find something new to try. The market can also be a great learning experience for your kids! The Vermont Farm to Family Program offers coupons for free, locally grown vegetables and fruits to eligible WIC participants. See a list of participating farmers markets.
Health Care Referrals and Community Programs
We pride ourselves in making sure families are connected with the resources in our community to help meet and maintain their goals. We connect WIC participants with a variety of resources on a variety of topics including:
Health Insurance
Affordable Housing
Childcare / Preschool
Some community partners that we make referrals to include:
Physician Offices, Dental Offices, & Mental Health Office
Dental Hygienist
Young children and pregnant women are at an increased risk for developing a variety of dental issues. Brushing twice a day, flossing, having a source of fluoride, receiving routine dental care, and consuming a diet free of extra sugar are just some of the ways that you can help avoid dental cavities and gum disease. Our dental hygienist can help connect you with a dental practice and can offer tips to help you achieve and maintain good oral health! To learn more, call 802-527-6159. 
Related Resources
Learn More

Family Planning & Pregnancy for Vermonters 
Infants & Young Children in Vermont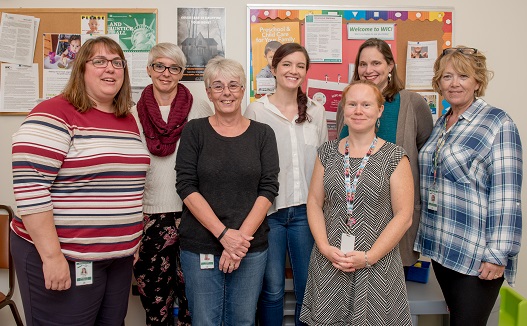 Our WIC staff welcomes you!
Contact Us
802-524-7970