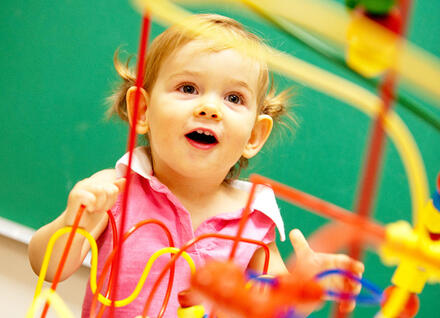 The WIC Program (Women, Infants and Children) provides access to healthy foods, nutrition education, breastfeeding support and referrals to health care and other community resources. You can trust WIC to be your family's nutrition expert during critical periods of growth and development, like pregnancy, infancy and early childhood.
How do I join WIC?
WIC is for income-eligible Vermont residents who are pregnant, breastfeeding or have a new baby, and children under age 5. Parents, grandparents and foster parents may apply for children in their care. Or, if you or your child is on Medicaid, Dr. Dynasaur or 3SquaresVT/SNAP, you can join WIC.
"Nutritional support with WIC Foods and Farmers' Market coupons has been immensely helpful to my family."    - Vermont WIC Participant
Local WIC Highlights
What towns does the Springfield office serve?
The Springfield Office of Local Health is the place to come for WIC if you live in:
Andover, Baltimore, Cavendish, Chester, Grafton, Londonderry, Ludlow, Plymouth, Reading, Rockingham (including Bellows Falls), Springfield, Weathersfield, West Windsor, Weston, Windham, Windsor
Is your home in another town? Find out which office is for you.
Clinics
Appointments are currently offered over the phone, via video, or in person in our Springfield office.
In mid 2023, we are working to reopen our clinics in three other communities in our region. Please call our office to for updates on when these locations will be accepting appointments: 802-289-0600 or toll-free 1-888-296-8151.
United Church of Bellows Falls
8 School Street
Bellows Falls, VT 05101



United Church
48 Pleasant Street
Ludlow, VT 05149
Late clinic last Wednesday of the month
Trinity Evangelical Church
47 Main St
Windsor, VT 05089
Nutrition and Health Education
WIC staff offer a variety of classes throughout the year, such as Make Your Own Baby Food, "Snacktivities" and seasonal recipes to help make the most of your WIC foods and budget.
Participation in an activity or a WIChealth.org lesson helps keep your benefits active.
For your convenience, we partner with others in local communities, such as the Springfield Pre-K Program and Head Start, to have their activities count toward WIC nutrition and health education requirements
Breastfeeding Support
There are many ways WIC can help you succeed with breastfeeding, including:
Extra WIC foods for breastfeeding parents
Breastfeeding peer counselors (available in some offices)
Referrals to community lactation consultants and other support services
Breast pumps
Breastfeeding groups and classes
Help is available to make sure families make the most of breastfeeding by answering questions and providing support on baby feeding and behavior.
Breastfeeding resources and education are offered to all pregnant women as they prepare for the arrival of their new baby.
Our office is breastfeeding friendly!  Anyone can use our private infant feeding room.
For more details, see the WIC breastfeeding section of this page or call us at 802-289-0600
Shopping Information
Find out where in Vermont to shop for WIC foods in your area.
Choose from these foods shown in the WIC Shopping Guide.
Farm to Family
At a farmers market you can buy just-picked fruits and vegetables and find something new to try. The market can also be a great learning experience for your kids! The Vermont Farm to Family Program offers coupons for free, locally grown vegetables and fruits to eligible WIC participants. See a list of participating farmers markets (link is external).
Coupons are available for use at participating markets throughout our region on a first come, first served basis.
Coupons can be picked up at our office after completing a WIChealth.org lesson or attending a scheduled distribution at the office or a local market.
Coupons can be used July through October, giving families the chance to select their favorite fruits and vegetables!
Health Care Referrals and Community Programs
We pride ourselves in making sure families are connected with the resources in our community to help meet and maintain their goals. We connect WIC participants with a variety of resources related to food, child care, health care, drug and alcohol programs and housing.
Health Care and Community Program Referrals
Home visiting is available through a referral to the Children's Integrated Services Program for families from pregnancy to age 5.  Get support for breastfeeding, parenting, child care, screenings and help connecting with other services and resources.
Need help finding a local doctor or dentist?  Need to know how to access food stamps or health insurance?  WIC staff can help!
Learn more about how we can help with referrals