The WIC Program (Women, Infants and Children) provides access to healthy foods, nutrition education, breastfeeding support and referrals to health care and other community resources. You can trust WIC to be your family's nutrition expert during critical periods of growth and development, like pregnancy, infancy and early childhood.
how do i join wic?
WIC is for income-eligible Vermont residents who are pregnant, breastfeeding or have a new baby, and children under age 5. Parents, grandparents and foster parents may apply for children in their care. Or, if you or your child is on Medicaid, Dr. Dynasaur or 3SquaresVT/SNAP, you can join WIC.
APPLY now!  Or text VTWIC to 855-11 to sign up!
Standard message & data rates may apply. Text STOP to opt-­‐out. HELP for help. See end user privacy and terms and conditions.
"I don't feel alone. Sounds silly but I'm a single mom and just to have people there for my kids feels like help and support and I love that it's there." - Vermont WIC Participant
Local WIC Highlights
What towns does the Bennington office serve?
The Bennington Office of Local Health is the place to come for WIC if you live in:
Arlington, Bennington, Dorset, Glastonbury, Landgrove, Manchester, Peru, Pownal, Readsboro, Rupert, Sandgate, Searsburg, Shaftsbury, Stamford, Sunderland, Winhall, and Woodford
Is your home in another town? Find out which office is for you.
Clinics
Appointments are currently offered over the phone, via video, or in person. Please call our office to find an appointment in a location that's most convenient for you: 802-447-6408 or toll-free 1-888-296-8151.
Nutrition and Health Education
 WIC staff offers a variety of classes and activities throughout the year, such as virtual prenatal and postpartum classes.
 Participation in an activity or a WIChealth.org lesson helps keep your benefits active.
 For your convenience, we partner with others in local communities, such as Head Start, Southern Vermont Medical Center, and EFNEP, to have their activities and and classes count toward WIC nutrition and health education requirements.
Breastfeeding Support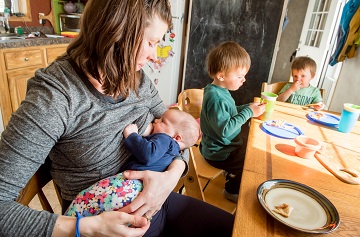 There are many ways WIC can help you succeed with breastfeeding, including:
Extra WIC foods for breastfeeding parents
Breastfeeding peer counselors (available in some offices)
Referrals to community lactation consultants and other support services
Breast pumps
Breastfeeding groups and classes
Our staff is available to answer breastfeeding questions and provide breastfeeding resources to help you and your baby meet your breastfeeding goals.
For more details, see the WIC breastfeeding section of this page or call us at 802-447-6408
See more breastfeeding resources
Shopping Information
Find out where in Vermont to shop for WIC foods in your area.
Choose from these foods shown in the
WIC Shopping Guide
.
Use the WICShopper Smartphone App, and learn more about shopping with WIC!
Watch "Shopping with WIC" videos.
Farm to Family
At a farmers market you can buy just-picked fruits and vegetables and find something new to try. The market can also be a great learning experience for your kids! The Vermont Farm to Family Program offers coupons for free, locally grown vegetables and fruits to eligible WIC participants. See a list of participating farmers markets.
Health Care Referrals and Community Programs
We pride ourselves in making sure families are connected with the resources in our community to help meet and maintain their goals. We connect WIC participants with a variety of resources related to food, child care, health care, drug and alcohol programs and housing.
Learn more about how we can help with referrals
Health Insurance
Affordable Housing
3SquaresVT
Childcare/Preschool
Some community partners we make referrals to include:
Physician offices, Dental offices, and Mental Health offices