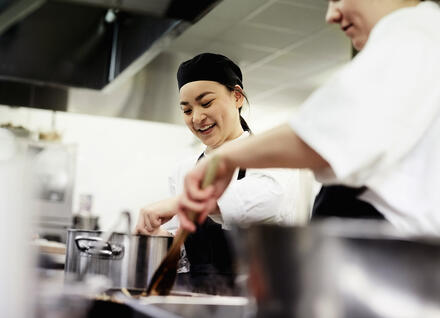 Vermont businesses! Want to host a COVID-19 vaccine clinic for your staff or local community? Contact the state!
Businesses can make their own decisions about whether to require employees or customers to wear masks or be vaccinated. Businesses can refer to the Vermont Occupational and Safety and Health Administration's (VOSHA) for recommendations related to COVID-19. 
Vermont's high vaccination rates mean the vast majority of Vermonters are protected from the virus and keep the virus from spreading to others. With continued vaccination and common sense personal prevention efforts, Vermonters can safely return to many of the activities they enjoyed before the pandemic.  
Learn more about the steps anyone can take to prevent COVID-19
Information for employers
The Health Department cannot help businesses set up their own weekly testing. Employees can use testing sites found on our testing page. 
The Health Department will notify a business if there was a person who was infectious while at their facility. Employers need to notify anyone who was in close contact with the person with COVID-19 and give them guidance on quarantine and testing. Use the definition of close contact to identify people in your workplace who need to quarantine which is being within 6 feet, for a total of 15 minutes or more over a 24-hour period, of someone with COVID-19 during their infectious period. Employers should send the Health Department a list of close contacts to the Health Department using the linelist form.
Once someone meets the criteria for ending isolation, there is no longer a risk of them spreading the virus to others.
The Health Department does not recommend requiring proof of a negative test before allowing a close contact or a recovered person to return to work. People with COVID-19 can continue to test positive long after they've recovered and are no longer contagious. Instead, refer to the time-based and symptom-based strategy in the handout above to know when it's safe for an employee with COVID-19 to return to work.
The Health Department does not provide letters for employees to return to work or to be excused from work.
Resources
Information for Employees
If you have a COVID-19 related concern in your workplace, contact the Vermont Occupational Safety and Health Administration (VOSHA). You can submit a safety complaint form on the VOSHA website or call toll-free at 1-800-287-2765.
If you are sick with any symptoms of COVID-19, talk with your health care provider to determine if:
your symptoms are due to COVID-19 or some other reason
you should or should not go to public places or work
If COVID-19 is suspected, your health care provider can refer you for testing. Stay home while you are waiting for your test results. If you test positive, a Health Department contact tracer will reach out to walk you through what to do next. You will be advised to stay home from work and other activities until:
your fever has resolved for at least 24 hours without the use of fever-reducing medications, and other symptoms (like cough or shortness of breath) have improved, and
at least 10 days have passed since symptoms first appeared.
If you are sick due to something other than COVID-19, you should stay out of work until:
you have been without fever for 24 hours without using fever-reducing medications (if you had a fever), and
any other symptoms have resolved or are improving.
Resources