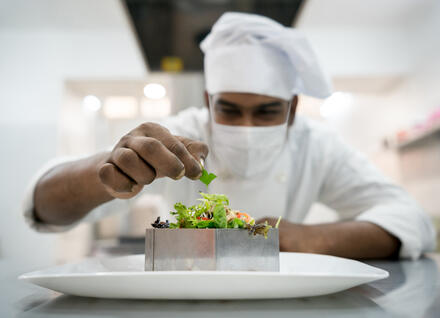 Vermont businesses! Want to host a COVID-19 vaccine clinic for your staff or local community? Contact the state.
Businesses can make their own decisions about whether to require employees or customers to wear masks or be vaccinated, unless there are requirements from local government. Businesses can refer to the Vermont Occupational and Safety and Health Administration's (VOSHA) for recommendations related to COVID-19. 
Learn more about the steps anyone can take to prevent COVID-19
Information for employers
The information on this page is for non-health care related Vermont businesses and employers.
The Health Department cannot help businesses set up their own weekly testing. Employees can use testing sites found on our testing page. 

If multiple employees have COVID-19 and you would like to consult with someone from the Health Department please call 802-863-7240.
The Health Department does not recommend requiring proof of a negative test before allowing a close contact or a recovered person to return to work. People with COVID-19 can continue to test positive long after they've recovered and are no longer contagious. Instead, refer to the isolation guidance to know when it's safe for an employee with COVID-19 to return to work.
The Health Department does not provide letters for employees to return to work or to be excused from work.
Information for Employees
If you have a COVID-19 related concern in your workplace, contact the Vermont Occupational Safety and Health Administration (VOSHA). You can submit a safety complaint form on the VOSHA website or call toll-free at 1-800-287-2765.
If you are sick with any symptoms of COVID-19, get tested. You can refer to our isolation guidance and find information for close contacts.
Resources