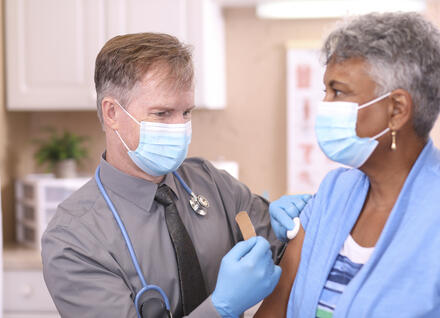 Safe and effective vaccines are critical to ending the COVID-19 pandemic.
Putting Safety First
The global push to develop vaccines for COVID-19 is unprecedented, but this urgency cannot outweigh the importance of vaccine safety and efficacy. That is why we keep a close watch on the vaccine development process and put science above all else when it comes to distributing any vaccine in Vermont. Before it is given to anyone in Vermont, a vaccine must meet strict U.S. Food and Drug Administration (FDA) safety standards and be recommended by the Advisory Committee on Immunization Practices (ACIP).* All newly developed vaccines will also be monitored continuously for safety.
Three COVID-19 vaccines have received Emergency Use Authorization from the U.S. Food and Drug Administration (FDA). The Pfizer-BioNTech vaccine received an EUA on December 11, 2020. The Moderna vaccine received an EUA on December 18, 2020. The Johnson & Johnson (Janssen Biotech, Inc.) vaccine received an EUA on February 27, 2021.
Learn more about Emergency Use Authorization and watch a video on what an EUA is.
deciding who gets vaccine and when
The initial supply of COVID-19 vaccine will be limited. Vaccine efforts will prioritize groups that:
Are most critical to the COVID-19 response
Provide direct care to others
Are at highest risk for developing severe illness from COVID-19
Initial doses will go to the groups identified as priority populations in Phase 1A by the Advisory Committee on Immunization Practices (ACIP). This includes high-risk health care workers and long-term care facility residents. These priority populations were also recommended by Vermont's COVID-19 Vaccine Implementation Advisory Committee and approved by Health Commissioner Mark Levine, MD.
Vermont is using age groupings to distribute the vaccine with the primary goal of saving lives. After people 65 years and older group, the vaccine will be offered to people with medical conditions that put them at increased risk for severe illness. Decisions about who will get the vaccine next are being made now. The Health Department works with State leadership to make these difficult choices after considering recommendations from the Advisory Committee on Immunization Practices, CDC, and Vermont's Vaccine Implementation Advisory Committee. Based on our data, we know that focusing next on providing vaccine to people based on their age and whether they have certain high-risk health conditions will help us save lives. 
Learn more on our About COVID-19 Vaccines in Vermont web page
Ensuring Equitable Access
When a COVID-19 vaccine is more widely available, we will work closely with the health care providers, pharmacies, and others who will provide the vaccine in Vermont, to ensure access across the state. We will also collaborate with community organizations and other partners to make sure people who are disproportionately affected by COVID-19, including Black, Indigenous and people of color, have equitable access to the vaccine.   
Sharing Information with Vermonters
We are committed to sharing ongoing updates with Vermonters as we continue to make plans for vaccine distribution, and as we learn more about strategies at the national level.
Vermont COVID-19 Vaccine Implementation Advisory Committee
The Vermont COVID-19 Vaccine implementation Advisory Committee:
Advises the Commissioner of Health on COVID-19 vaccines, and
Makes recommendations about the needs of priority populations during vaccine planning and distribution when the supply is limited.
The committee discusses and shares ideas for reaching priority populations and promoting COVID-19 vaccination. Committee members have different professional backgrounds and bring with them a variety of experience and expertise.
ADVISORY COMMITTEE UPDATES
COVID-19 Vaccine Implementation Advisory Committee Update - 3/18/21
Advisory Committee Recommendations
Advisory Committee Members
Abenaki Tribal Member 
Association of Africans Living in Vermont 
Bi-State Primary Care Association  
Brattleboro Memorial Hospital  
Disability Rights Vermont 
OneCare Vermont 
Long Term Care Facilities Representative  
Northeast Vermont Regional Hospital / Vermont Chapter of American College of Emergency Physicians  
Pediatric Providers  
Support Services at Home (SASH) 
US Committee for Refugees and Immigrants (USCRI)  
UVM Vaccine Research Center 
UVM Health Network 
UVM Medical Center 
UVM Department of Nursing 
Vermont Association of Hospitals and Health Systems  
Vermont Care Partners 
Vermont Coalition to End Homelessness 
Vermont Department of Disabilities, Aging and Independent Living  
Vermont Department of Health 
Vermont Emergency Management  
Vermont Ethics Network  
Vermont Legal Aid 
Vermont Medical Society  
Vermont Partnership for Fairness and Diversity 
Vermont Pharmacists Association 
Vermont's Free & Referral Clinics 
VNAs of Vermont