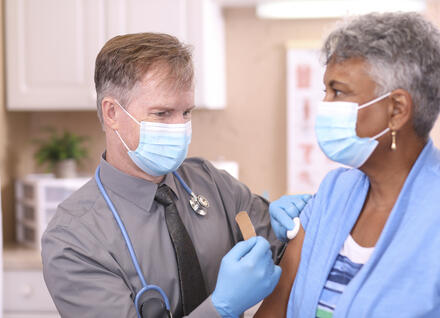 Safe and effective vaccines are critical to ending the COVID-19 pandemic.
get Your Booster, First or Second Dose!
Putting Safety First
The global push to develop vaccines for COVID-19 is unprecedented, but this urgency cannot outweigh the importance of vaccine safety and efficacy. That is why we have kept close watch on the vaccine development process and put science above all else when it comes to distributing any vaccine in Vermont. Before it is given to anyone in Vermont, a vaccine must meet strict U.S. Food and Drug Administration (FDA) safety standards and be recommended by the Advisory Committee on Immunization Practices (ACIP).* All newly developed vaccines will also be monitored continuously for safety.
Three COVID-19 vaccines have received Emergency Use Authorization from the U.S. Food and Drug Administration (FDA). The Pfizer-BioNTech vaccine received an EUA on December 11, 2020. The Pfizer-BioNTech vaccine received FDA approval for people age 16 and older on August 23, 2021. The Moderna vaccine received an EUA on December 18, 2020. The Johnson & Johnson (Janssen Biotech, Inc.) vaccine received an EUA on February 27, 2021.
Learn more about Emergency Use Authorization and watch a video on what an EUA is.
Working toward equity
As part of our strategy to prioritize Vermonters most at risk of severe illness and save lives, we have also begun vaccinating Vermonters in communities that have unique needs, such as people who speak languages other than English and people who are homebound. This requires us to meet people where they are and find ways to reduce known barriers to vaccine access where we can. We will continue to do this as more vaccine becomes available and we are able to reach more people in Vermont. Below are some examples of ways we are working to meet Vermonters where they are to work toward equitable access to COVID-19 vaccines.
Vermonters who are Black, Indigenous and People of Color (BIPOC)
We still have much more to do to address the significant disparities in the rates of COVID-19 infection, hospitalization, and death among Vermonters who are Black, Indigenous and people of color (BIPOC). Right now we are working with funded community partners to understand the barriers that might limit vaccine access for BIPOC Vermonters, as these require unique public health solutions. This coordinated vaccination effort is an important step in working with and compensating trusted community partner networks to reach some of the most historically marginalized people in Vermont. 
Who are BIPOC?
Anyone who is Black, Brown, Asian (AAPI or APIDA), Indigenous/First Nations/Abenaki, African American, Hispanic, Latino/Latina/Latinx, mixed race, or biracial.
AAPI stands for Asian American and Pacific Islander. APIDA stands for Asian, Pacific Islander, Desi American. Desi is a pan-ethnic term used to refer to people from South Asia.
People Who Speak Languages Other Than English
The Health Department has begun holding clinics for Vermonters who are eligible by their age grouping — and their family members age 12 and older — who need safe access to linguistically and culturally appropriate services. We work with cultural liaisons, have interpreters on hand or easily accessible, and provide accurately translated materials for these Vermonters. 
We understand that language barriers and other factors faced by immigrant and refugee communities have led to outbreaks, disproportionate outcomes, and a markedly greater risk of COVID-19. It makes good public health sense to allow families and households facing language and access barriers to get information and services at the same time, rather than duplicate these services later on. 
Migrant farm worker vaccination initiative  
To ensure equitable access to vaccine for migrant farm workers, we are working closely with our local health offices across the state, along with partners Bridges to Health and the Open Door Clinic, who have established connections to migrant agricultural communities. Little Rivers Health Care is supporting these efforts in the Upper Valley region of Vermont. The initiative has started in Addison County, with plans in place to expand across Vermont. These small, on-site vaccinations are being customized to meet the needs of different farms that are home to congregate living spaces. They are for farm workers who meet the current eligibility criteria, along with fellow farm workers living in the same household. 
People Who Are Homebound
The Health Department is coordinating vaccination for people who are homebound through a partnership between local home health and EMS agencies.
This includes people who are eligible by their age grouping and are both homebound and in the service of local home health agencies (including both VNA agencies and Bayada).
We know that there are homebound community members who do not receive home health services who will need to be vaccinated. Once the group of homebound people who are connected to home health agencies are vaccinated, we will expand this service by reaching out through numerous partners, including primary care, Agencies on Aging, and municipalities to identify people to include in the second phase of outreach.
Sharing Information with Vermonters
We are committed to sharing ongoing updates with Vermonters as we continue to make plans for vaccine distribution, and as we learn more about strategies at the national level.
Vermont COVID-19 Vaccine Implementation Advisory Committee
The Vermont COVID-19 Vaccine implementation Advisory Committee:
Advises the Commissioner of Health on COVID-19 vaccines, and
Makes recommendations about the needs of priority populations during vaccine planning and distribution when the supply is limited.
The committee discusses and shares ideas for reaching priority populations and promoting COVID-19 vaccination. Committee members have different professional backgrounds and bring with them a variety of experience and expertise.
ADVISORY COMMITTEE UPDATES
COVID-19 Vaccine Implementation Advisory Committee Update - 3/18/21
Advisory Committee Recommendations
Advisory Committee Members
Abenaki Tribal Member 
Association of Africans Living in Vermont 
Bi-State Primary Care Association  
Brattleboro Memorial Hospital  
Disability Rights Vermont 
OneCare Vermont 
Long Term Care Facilities Representative  
Northeast Vermont Regional Hospital / Vermont Chapter of American College of Emergency Physicians  
Pediatric Providers  
Support Services at Home (SASH) 
US Committee for Refugees and Immigrants (USCRI)  
UVM Vaccine Research Center 
UVM Health Network 
UVM Medical Center 
UVM Department of Nursing 
Vermont Association of Hospitals and Health Systems  
Vermont Care Partners 
Vermont Coalition to End Homelessness 
Vermont Department of Disabilities, Aging and Independent Living  
Vermont Department of Health 
Vermont Emergency Management  
Vermont Ethics Network  
Vermont Legal Aid 
Vermont Medical Society  
Vermont Partnership for Fairness and Diversity 
Vermont Pharmacists Association 
Vermont's Free & Referral Clinics 
VNAs of Vermont