As of 01/15/2021
The Centers for Disease Control and Prevention (CDC) is working with Operation Warp Speed to plan and implement a COVID-19 vaccination program. First, the vaccine must be demonstrated as safe and effective in clinical trials, then approved by the FDA, recommended by the CDC Advisory Committee on Immunization Practices, and made available to states by the CDC. There will be several phases of COVID-19 vaccine distribution. Knowledge about specific vaccines, guidance and Advisory Committee on Immunization Practices recommendations are still being developed. You can find the most current information and guidance on these pages.
Getting your vaccine? Tell the world! 
Vaccines are a critical tool to ending the COVID-19 pandemic. Tell Vermonters what getting your shot means to you and share your selfie using the hashtag #OurShotVT.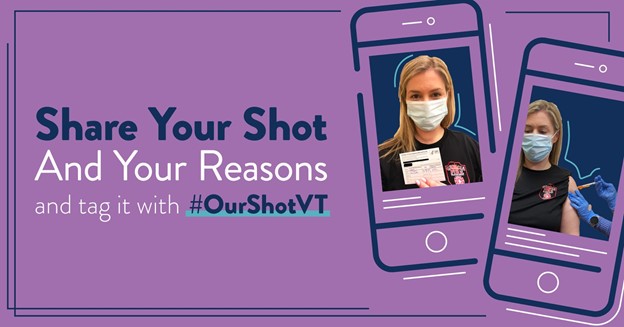 Vaccine Distribution
Who is eligible for a COVID-19 vaccine now?
People in Phase 1A are eligible to get a COVID-19 vaccine now. That includes:
Health care personnel (healthcare personnel comprise clinical staff members, including nursing or medical assistants and support staff (e.g., those who work in food, environmental, and administrative services))
Residents of long-term care facilities (LTCFs) (LTCFs include skilled nursing facilities, nursing homes, and assisted living facilities) vaccination may be offered first to residents and health care personnel in skilled nursing facilities because of health care personnel's (health care personnel are clinical staff members, including nursing or medical assistants) high likelihood to be exposed to COVID-19 patients and long-term care residents. Learn more about vaccines for long-term care facility residents and staff.
The Vermont Vaccine Implementation Advisory Committee has specified that "health care personnel" includes:
Long-term care staff* who have direct patient contact.
Health care providers (all classes including students and support personnel), primarily but not exclusively located in the Emergency Departments and Intensive Care Units, providing care to patients with COVID-19.
Emergency Medical Services personnel** with direct patient contact.
Home health care clinical staff and caregivers who have contact with multiple patients or who are high-risk for serious illness from COVID-19.
Any other health care providers and staff who have patient contact.
*Staff includes all health care providers who enter the facility, regardless of who employs them, as well as ancillary staff. Family caregivers are not included in this definition.
**Emergency medical service personnel and responders include staff within ambulance or rescue squads, fire or police departments, who respond to emergency calls to provide or assist with care or transport for, or access to, sick or injured persons.
WHO WILL BE ELIGIBLE NEXT?
Age Groupings
Vermont is using age groupings to determine who can receive the vaccine next based on our primary goal with vaccination efforts –  to save lives.
High-risk Health Conditions
After the age groups, the vaccine will be available to people who have certain high-risk health conditions. These are medical conditions that put them at increased risk for severe illness from COVID-19 as identified by the CDC. 
Find more details about elibility and timelines here
How are these decisions made?
The National Academies of Sciences, Engineering, and Medicine established a framework for equitable allocation of a COVID-19 vaccine. The Advisory Committee on Immunization Practices (ACIP) has considered this framework and made recommendations for who should receive the vaccine in which phases. The Health Department works with State leadership to make these difficult choices after considering recommendations from the Advisory Committee on Immunization Practices, CDC, and Vermont's Vaccine Implementation Advisory Committee. Based on our data, we know that focusing next on providing vaccine to people based on their age and whether they have certain high-risk health conditions will help us save lives. 
The Health Department is not keeping a list of eligible people. As each group becomes eligible, we will announce when those Vermonters can register for appointments. In addition to Health Department communications, we will work with partners such as health care practices, pharmacies, employers, and local news media to announce additional groups who become eligible for the vaccine.
Vaccines Available
Emergency use authorization (EUA) of two COVID-19 vaccines were granted by the FDA in December. The Advisory Committee on Immunization Practices (ACIP) recommendation occurred immediately following the EUA. Vermont now has a limited allocation of both the Pfizer-BioNTech and Moderna vaccines. Both vaccines are mRNA vaccines, which when introduced into the body, activate the body to produce "spike proteins," which are displayed on the outside of the body's cells, and prompt an immune response. The two vaccines have nearly identical rates of effectiveness and both require two doses over a similar timespan, 21 days for Pfizer-BioNTech and 28 days for Moderna. The main difference is storage temperature. Pfizer-BioNTech requires ultracold storage. 
For more information on the development and approval of these two COVID-19 mRNA vaccines visit the CDC Understanding and Explaining mRNA COVID-19 Vaccines.
Side Effects
Some participants in clinical trials for both leading vaccine candidates elicited a strong immune response leading to side effects. The second shot may result in a stronger immune response than the first shot. This is a normal way that your body builds immunity to COVID-19. There have been no major adverse reactions. Below are some of the side effects participants reported during clinical trials for the two leading vaccines.
Side effects of the Pfizer-BioNTech vaccine reported by some trial participants:
Pain at the injection site (84.1%)
Fatigue (62.9%)
Headache (55.1%)
Chills (31.9%)
Joint Pain (23.6%)
Fever (14.2%)
Side effects for the Moderna vaccine reported by some trial participants
Pain at the injection site (92%)
Fatigue (70%)
Headache (64.7%)
Muscle pain (61.5%)
Joint pain (46.4%)
Chills (45.4%)
Nausea/Vomiting (23%)
Fever (15.5%)
about the Pfizer-BioNTech vaccine
The Pfizer-BioNTech vaccine EUA received December 11, 2020
About the Moderna Vaccine
The Moderna vaccine EUA received December 18, 2020
Enrolling in the Vaccine Program
When enrollment is available for your facility, the Health Department Immunization Program will reach out to you. To receive and administer the COVID-19 vaccine and additional supplies, vaccination providers must enroll in CDC's COVID-19 Vaccination Program Enrollment in the program will occur in phases, based on vaccine availability and Advisory Committee on Immunization Practices (ACIP) recommendations.
Resources
Tracking the Vaccine Inventory
Once enrolled, you will receive information primarily by email. It will be sent from the COVID-19 vaccine coordinator and back-up for your facility. They will ensure staff are aware of which vaccine or vaccines you will receive, delivery timing, and number of vaccine doses you can expect. 
Sign up for the Vaccine Inventory Management System (VIMS) if you are not already a user. A full reconciliation of inventory is required in Vaccine Inventory Management System (VIMS) weekly. Inventory adjustments for wastage or expiration should happen the day they occur.
Administering the Vaccine
As vaccines are approved, more information will be coming about administering specific vaccines, including storage, side effects patients might have and reporting adverse reactions.
Authorized Age Groups
Under the EUAs, the following age groups are authorized to receive vaccination:
Pfizer-BioNTech: ages ≥16 years
Moderna: ages ≥18 year
Children and adolescents outside of these authorized age groups should not receive COVID-19 vaccination at this time.
Administering mRNA Vaccines
The mRNA COVID-19 vaccine series consist of two doses administered intramuscularly:
Pfizer-BioNTech (30 µg, 0.3 ml each): three weeks (21 days) apart
Moderna (100 µg, 0.5 ml): one month (28 days) apart
Second doses administered within a grace period of ≤4 days from the recommended date for the second dose are considered valid. However, doses administered earlier do not need to be repeated. The second dose should be administered as close to the recommended interval as possible. However, there is no maximum interval between the first and second dose for either vaccine.
For any questions about providing the mRNA vaccines in the context of past SARS-CoV-2 infection or exposure, considerations for special populations, and determinations of precautions or contraindications to vaccination please see the CDC's Interim Clinical Considerations for Use of mRNA COVID-19 Vaccines Currently Authorized in the United States.
Resources
General
Pfizer-BioNTech vaccine
Moderna Vaccine
Reporting Side Effects and Adverse Reactions
V-safe
V-safe is a smartphone-based tool that uses text messaging and web surveys to provide personalized health check-ins after a patient receives a COVID-19 vaccination. Enrolling to receive electronic health check-ins is a manual process where a patient registers online through a website or QR code. More information on V-safe can be found on www.cdc.gov/vsafe.
Healthcare providers should give a one-page enrollment sheet to patients at the time of vaccination and counsel patients on the importance of enrolling in V-safe. Please contact the Immunization Program by calling 802-863-7240, if your vaccination clinics need V-safe information sheets or posters. Information sheets and posters are availabe in English, Vietnamese, Spanish, Simplified Chinese and Korean. 
VAERS
If your patient has a reaction following vaccination, it should be reported to the Vaccine Adverse Event Reporting System (VAERS). To report an adverse event, go to https://vaers.hhs.gov/ and fill out the VAERS online form or downloadable PDF. Anyone can submit a report in VAERS.
VAERS is a passive system that accepts reports from everyone, and all ages, races, states/jurisdictions, and those with or without co-morbidities. VAERS accepts all reports of adverse events regardless of the plausibility of the vaccine causing the event or the clinical seriousness of the event.
Getting a Vaccine for Yourself
Health care workers and residents of long-term care facilities are first to get the vaccine. See the Vaccine Distribution section for details.
All 14 Vermont hospitals have been asked to provide vaccination to health care workers in their hospital-service area identified in this initial phase. Hospitals contact staff and health care workers in their area to schedule appointments. If you have not heard from your local hospital by January 11, 2021, contact the hospital in your area.
Read Post Vaccine Considerations for Health Care Personnel (CDC)
Information to Help with Patient Questions
With such a new virus and vaccine, there are many things that are still unknown. Talking to your patients now can help them make an informed decision about being vaccinated. Here are some tools to help you prepare for these conversations. 
Patients receiving the COVID-19 vaccine series should be advised to continue taking prevention steps. There is not enough information currently available to say if or when CDC will stop recommending that people wear masks and staying six feet apart to help prevent the spread of the virus that causes COVID-19. Experts need to understand more about the protection that COVID-19 vaccines provide before making that decision. Other factors, including how many people get vaccinated and how the virus is spreading in communities, will also affect this decision.
Federal Pharmacy Partnerships
Vermont will participate in the Pharmacy Partnership for Long-term Care (LTC) Program coordinated by CDC. Vermont's Pharmacy Partners are CVS, Walgreens, and HealthDirect/Kinney Drugs. These pharmacies will provide on-site vaccination clinics for residents and staff of long-term care facilities (LTCFs) and administer the Pfizer-BioNTech vaccine. More information on the Pfizer-BioNTech Vaccine can be found in the Emergency Use Authorization (EUA). The CDC has defined LTCF's as skilled nursing facilities, assisted living facilities, continuing care residential communities, residential care communities/adult family homes, including HUD 202 low-income senior housing, intermediate care facilities for individuals with developmental disabilities, or state-run veterans' homes. Enrollment with this program is closed.
Covid-19 vaccination will begin at skilled nursing facilities on December 21. Vaccination for all other LTCF's enrolled in the federal program is scheduled to begin mid to late January, but is dependent on vaccine allocations.
The pharmacy will:
Schedule and coordinate on-site clinics directly with each facility. Pharmacies will likely take schedule three clinics to administer both vaccine doses and vaccinate new residents and staff.
Order vaccines and associated supplies (e.g., syringes, needles, personal protective equipment).
Ensure cold chain management for vaccine.
Provide on-site administration of vaccine.
Adhere to all applicable CMS requirements for COVID-19 testing for LTCF staff.
These clinics are free to both staff and residents. Pharmacy partners may ask for insurance information to seek reimbursement for the administration of the vaccine, but if someone is uninsured vaccine will still be supplied at no charge.
After the initial phase of vaccinations, the facility can choose to continue working with the pharmacy that provided its on-site clinics or work with a pharmacy provider of its choice. Facilities that are ineligible for this program, or that missed the window for enrollment, are encouraged to work with existing or local pharmacies to arrange on-site clinics if desired.
If you are an enrolled facility and have questions about these clinics, please reach out to your pharmacy partner.
CVS
HealthDirect/Kinney
Walgreens
Read CDC's Frequently Asked Questions about COVID-19 Vaccination in Long-Term Care Facilities
Contact Us
Call 802-863-7240