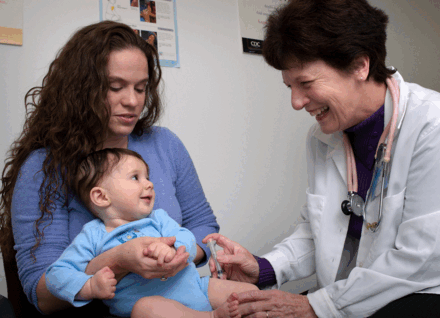 This page serves as a resource for provider offices enrolled in Vermont Child Vaccine Program (VCVP) and Vermont Adult Vaccine Program (VAVP). Providers and the Vermont Department of Health Immunization Program share stewardship of vaccine purchased through these programs. In order to protect against loss and ensure sufficient supply, proper vaccine inventory management is essential for all enrolled providers. Therefore, the ordering process requires a full accounting of state-provided doses. Concurrent with each order, provider office staff must report all vaccine loss, transfer, and administration from the previous order period.
Vaccine inventory Management SysteM (VIMS)
Vaccine Orders and accompanying documentation are submitted by provider offices to the Immunization Program through the Vaccine Inventory Management System (VIMS). VIMS is accessed through the Vermont Immunization Registry (IMR). Once logged into the IMR, find the VIMS link under Programs on the Patient Profile Home page.
Get COVID-19 vaccine ordering information
NEW USERS
If you do not have access to the IMR, visit the website and complete a Confidentiality Agreement or call (888) 688-4667. New Users should contact the Immunization Program ([email protected]) to set up a VIMS training call.
ROUTINE ORDER PROCESS
In VIMS, all vaccine inventory activity is documented using forms called Requests. When placing a routine vaccine order in VIMS, a user completes the Requests in the order they appear in the menu as illustrated below.
Note: Transfer and Adjust Requests can be completed at any time; the user does not need to wait until ordering to submit these. A Reconcile Request must be submitted no more than seven days prior to placing an order.
RESOURCES
Below you will find a series of Quick Guides that will help you navigate each section in VIMS as well as a complete User Guide.  See the current Vaccine Availability Sheet for information on specific vaccines.  
Transfer Requests
Title
Date
Type
Transfer: How To


Transfer Requests document the movement of state supplied vaccines between practices enrolled in Vermont's VCVP and VAVP programs. One-page guide and checklist for reporting transfers

06/21/2018
PDF

Adjust Requests
Title
Date
Type
Adjust: How To


How to complete an Adjust Request

06/20/2018
PDF

Adjust: Quick Guide


Adjust Requests are used to report vaccine inventory activities other than administration or transfer. Select Adjust from the Request menu to return vaccines, report waste or document otherwise unaccounted for doses.

06/21/2018
PDF

Adjust: Return or Waste?


Explains the difference between "Return" and "Waste" within an Adjust Request

06/19/2018
PDF

Adjust: Return Shipping


How to ship non-viable vaccine to the distributor

06/18/2018
PDF

Reconcile Requests
Title
Date
Type
Reconcile: Completing the Table


Defines the terms used on the VIMS worksheet and highlights required fields

06/19/2018
PDF

Reconcile: Taking Stock


Recommendations on taking a vaccine inventory using the VIMS worksheet

06/20/2018
PDF

Reconcile: Common Errors


How to resolve common system errors in a Reconcile Request

06/17/2018
PDF

Reconcile: Quick Guide


The submission of a Reconcile Request is required before a provider can place a vaccine order. The Reconcile Request should provide a summary of all vaccine inventory activity in the reporting period.

04/01/2020
PDF

Reconcile: Tips


Summary of recommendations from users

06/18/2018
PDF

Order Requests
Title
Date
Type
Order: Tracking


Describes how a user can find tracking information in VIMS

06/19/2018
PDF

Order: Basics


An Order Request includes shipping information and a list of the vaccines a provider office is eligible to order. A Vaccine Contact completes the request and, once reviewed by the Immunization Program, it is forwarded to the distributors for fulfillment.

06/21/2018
PDF

Order: Defining Terms


Defines terms used in the header of the Order Table

06/20/2018
PDF

Ordering Calendars
| Title | Date | Type |
| --- | --- | --- |
| Monthly Ordering, Days 1-15 | 03/10/2022 | PDF |
| Monthly Ordering, Days 16-31 | 03/10/2022 | PDF |
| Bimonthly Ordering, Jan-Nov, Days 1-15 | 03/10/2022 | PDF |
| Bimonthly Ordering, Jan-Nov, Days 16-31 | 03/10/2022 | PDF |
| Bimonthly Ordering, Feb-Dec, Days 1-15 | 03/10/2022 | PDF |
| Bimonthly Ordering, Feb-Dec, Days 16-31 | 03/10/2022 | PDF |
| Quarterly Ordering, Mar-Dec, Days 1-15 | 03/10/2022 | PDF |
| Quarterly Ordering, Mar-Dec, Days 16-31 | 03/10/2022 | PDF |
| Quarterly Ordering, Jan-Oct, Days 1-15 | 03/10/2022 | PDF |
| Quarterly Ordering, Jan-Oct, Days 16-31 | 03/10/2022 | PDF |
| Quarterly Ordering, Feb-Nov, Days 1-15 | 03/10/2022 | PDF |
| Quarterly Ordering, Feb-Nov, Days 16-31 | 03/10/2022 | PDF |