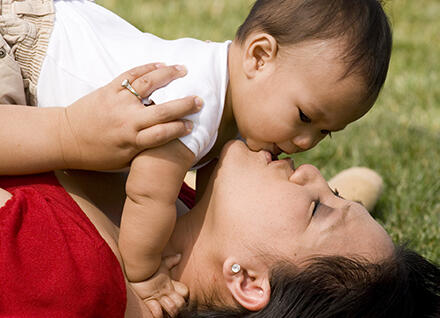 The Burlington Local Health Office promotes the health and wellness of women, children and families throughout their lives. To do this we work with:
Women, Children and Familie
We help women access health care for healthy pregnancies, and refer women and their partners to drug or alcohol treatment and quit smoking services.
We connect women with WIC Services for nutrition education for their pregnancy, postpartum period, and for nutrition education to support children up to age 5.
We help new moms become successful at breastfeeding by linking women to breastfeeding support services such as our WIC Peer Counselors. We encourage local businesses to become breastfeeding friendly. 
We offer training for new moms in many community settings on valuable topics like infant safe sleep.
We reach out to foster parents to share key public health messages on maternal and child health.
Health Professionals and Child Care Providers
We support and outreach to health care and dental health care providers, home visiting nurses, our local parent-child center and child care providers to share current key messages on maternal and child health.
We promote Bright Futures, a national health promotion and prevention initiative that sets kids up for long and healthy lives.
We provide training on a variety of topics to birthing center nurses and home visiting nurses.
We provide education and technical assistance to child care providers.
Local Highlights
We serve on teams dedicated to protecting the health and safety of children and families. We collaborate with local health care providers, hospitals and partner organizations to create systems that improve access to care, such as:
We regularly review and share data with our community partners to share our progress and inform our initiatives.
Our local health office supports breastfeeding in the community. We do this by collaborating with workplaces to make them more accessible to breastfeeding moms. Working through a Breastfeeding Friendly Employers grant, local businesses and schools were able to create private lactation spaces within their organizations. Check out the Breastfeeding Friendly Employer Program to learn more about becoming a breastfeeding friendly workplace.  We promote World Breastfeeding Week in August of each year. This includes the Big Latch On which helps communities positively support breastfeeding in public places.
Learn More
Contact Us
Jessica, Chronic Disease Program Specialist