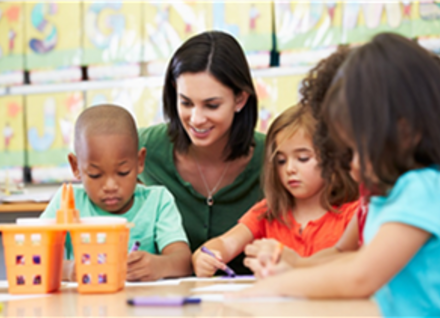 High quality early experiences promote brain development, socio-emotional skills and support learning for children so that they will succeed in school. In Vermont almost 13,000 children under the age of 3 need some form of child care. 70% of Vermont children under the age of 6 have both parents in the work force.  High quality child care programs help children learn healthy habits and promote health behaviors associated with lifelong health.
For Parents and Caregivers
Vermont's Childcare Wellness Consultants are trained Registered Nurses who are available to early care and education programs in Vermont for guidance and expertise around a comprehensive list of health and safety topics. For more information, keep reading.
For Child Care Providers         
What are Child Care Wellness Consultants?    
Child Care Wellness Consultants, Registered Nurses with specialized training and experience in child health issues, are available to help you by providing specialized, supportive guidance and technical assistance using the most current national health and safety standards and best practice guidelines. A Child Care Wellness Consultant can also help you achieve your STARS (the state's quality improvement system for child care programs) to help you assure that children in your care can learn and grow in a safe and healthy environment.  The program can help child care providers:
Keep children healthy
Be prepared for emergencies
Write health and safety policies
Safely administer medications
Manage infections with good hand-washing and diapering techniques
Ensure a safe sleep environment
Prepare for children with special health care needs
Interpret Vermont Licensing Regulations
More Information
Child Care Wellness Consultation Brochure
FAQ About Child Care Wellness Consultation
Find a Child Care Wellness Consultant Near You
Refer to the list below and contact a consultant in your area, or dial 2-1-1 to be connected to care in your area.
COUNTY
Child Care wellness Consultant
Addison County

Ann Bannister, RN – 802-855-1668
Meredith Kitfield, RN – 802-274-3624
Mary Gill – 802-872-8051

Bennington County

Nancy Coleman, RN – 802-379-0046

Caledonia County

Brenda Machado, RN – 802-755-6167
Vicki Rich, RN – 802-888-3470

Chittenden County

Kary Towne, RN – 802-893-1537
Mary Axworthy – 802-878-1095
Tara McMahon – 802-872-8051
Meredith Kitfield – 802-274-3624

Essex County

Brenda Machado, RN – 802-755-6167
Vicki Rich, RN – 802-888-3470

Franklin & Grand Isle Counties

Kary Towne, RN – 802-893-1537
Ann Bannister, RN – 802-855-1668
Terry Shaw – 802-524-4823

Lamoille

Vicki Rich, RN – 802-888-3470
Brenda Machado – 802-755-6167

Orange

Meredith Kitfield, RN – 802-274-3624
Tanya Crawford-Stemple – 702-485-5504

Orleans

Brenda Machado, RN – 802-755-6167
Vicki Rich, RN – 802-888-3470

Rutland

Ann Bannister, RN – 802-855-1668
Meredith Kitfield, RN – 802-274-3624
Mary Gill – 802-872-8051

Washington

Meredith Kitfield, RN – 802-274-3624
Tanya Crawford-Stemple – 702-485-5504

Windham

Nancy Coleman, RN – 802-379-0046

Windsor

Anne Marinello – 802-262-6044
Vermont Resources and Licensing Regulations
National Resources