Drinking Water Testing
Drinking Water Testing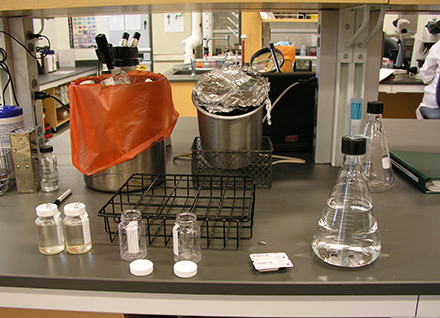 The Vermont Department of Health Laboratory provides chemical, radiological and microbiological analyses for public and private drinking water. Our laboratory is accredited by the National Environmental Laboratory Accreditation Program (NELAP) for drinking water testing.
Learn about water testing
order testing supplies
understanding your test results and treatment options
Alternate drinking water testing laboratories
Here is a list of nearby labs that offer the Vermont Homeowners Testing Package, including the recommended test kits for Total Coliform/E.coli bacteria, Arsenic, Chloride, Copper, Fluoride, Hardness, Iron, Lead (first draw), Lead (flush), Manganese, Nitrate as N, Nitrite as N, Sodium, Gross Alpha Radiation, Uranium, pH.
Search a map for other certified drinking water labs
| Lab Name | Address | Phone |
| --- | --- | --- |
| Eastern Analytical, Inc. | 25 Chenell Drive, Concord, NH | 603-228-0528 |
| Endyne, Inc. | 56 Etna Road, Lebanon, NH | 603-678-4891 |
| Endyne, Inc. | 315 New York Road, Plattsburgh, NY | 518-563-1720 |
| Endyne, Inc. | 160 James Brown Drive, Williston, VT | 802-879-4333 |
| Granite State Analytical Services, LLC | 22 Manchester Road, Derry, NH | 603-432-3044 |
| Nelson Analytical | 490 East Industrial Park Drive, Manchester, NH | 603-622-0200 |