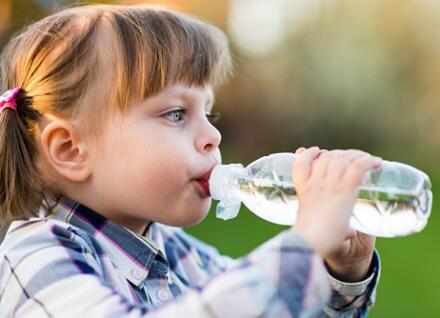 Due to the State's COVID-19 response:
Unless otherwise instructed, child care providers should not collect water samples for lead testing at this time. This includes testing for the first time, post-remediation follow-up testing, or diagnostic sampling. If you already have your bottles and instructions, please hold onto them.
See additional information on lead testing during the COVID-19 pandemic.
If you are a provider who is open because you are offering care to children of essential workers OR you are a new provider in the process of applying for a child care license and have questions about lead testing, please email leadchildcare@vermont.gov.
The Health Department will notify providers once lead testing becomes available again.

While a major source of lead exposure in Vermont children is paint, lead in older plumbing and fixtures can add to a child's overall lead exposure.
Lead exposure poses a special risk to young children because they absorb lead into their systems more easily than adults do. Lead can slow down growth, impair development and learning, and can cause behavior problems.
To address these risks, Act 66 (2019) requires all Vermont schools and licensed or registered child care providers to test their drinking and cooking water for lead. If lead is found in an amount at or above the action level of 4 parts per billion (ppb), the school or child care provider must immediately take the fixture out of service and take steps to eliminate or reduce the amount of lead to below 4 ppb.
go to the lead in drinking water results website

Go to the Child Care Provider Testing Schedule
Who is affected
Some child care providers may have already tested their drinking water under current child care regulations. Because the new law requires standards for lead in drinking water testing that are different from what is required in the child care regulations, all child care providers—including those that have already tested—will need to test for lead under the standards of the new law. The child care regulations will be updated to match the new law.
The State of Vermont will cover all testing costs. The State will also reimburse for the actual costs to replace fixtures up to a certain amount.
What happens next
If you are a child care provider who operates year-round, your CDD licensing technician has already called you to collect information about which taps you use for drinking, cooking, food prep, making bottles and brushing teeth, to confirm your contact information, and to order your drinking water test kits. For programs that don't operate year round, you will be contacted soon.
Below you will find step-by-step instructions, instructional videos, and all the materials you will need to help you through this process. See Frequently Asked Questions
If you have any questions about this process, call Vermont211 by dialing 2-1-1 or 802-652-4636.
Child Care Providers operating in a school
Schools will collect drinking water samples from all taps that are currently or reasonably expected to be used for drinking or cooking in the buildings they own, control and operate. To simplify the testing process, the Health Department recommends that schools collect water samples for licensed child care programs that operate in their school.
However, it is the responsibility of the child care to be sure the law's requirements for their facilities are met. This includes ensuring that taps within the child care area are tested, and that any taps found to have levels at or above 4 ppb are addressed.
The child care provider is also responsible for notifying their program's parents, guardians and staff at least 5 days before water sample collection begins, and within 10 business days of receiving results from the Lab.
Child care providers should talk to school administrators (principals and facilities managers) to be fully aware of the school's plans and schedule for:
collecting the water samples
notifying parents, guardians and staff after receiving results
implementing any required remediation plans
Child care providers may also ask to review the school's tap inventory to ensure that taps in the child care areas are clearly identified in the location description.
STEP-By-Step instructions
 
WATER SAMPLE COLLECTION