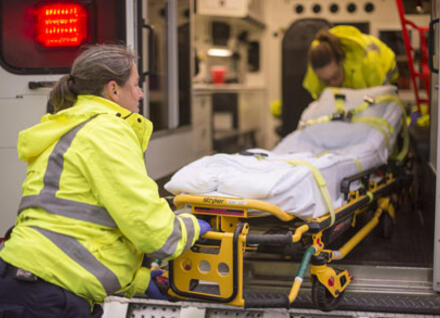 There are a number of programs and initiatives for EMS agencies looking to expand their scope of practice, increase their volunteer ranks and become more engaged in their community.
resuscitation Academy and VTACH-R Resources
To arrange an Adult Resuscitation Academy at your agency, contact Chris McCarthy: chris@netsvt.com
To arrange a Pediatric Resuscitation Academy at your agency, contact Merrill Pine: Merrill.Pine@Vermont.gov
On June 24, 2021, State Medical Director Dr. Dan Wolfson presented a report reviewing the results from the National and Vermont Cardiac Arrest Registry to Enhance Survival (CARES). He also covered Hot Topics in Cardiac Resuscitation (including the impact of COVID-19 on cardiac arrest), and take home points to help you improve your care of the out-of-hospital cardiac arrest patient. View the presentation.
infection control officer resources
EMS providers deliver medical care in many unique and oftentimes dangerous environments. One of the risks they encounter in dealing with increasingly mobile populations is the potential of exposure to an infectious or emerging disease. Below are resources for EMS and other front-line health care workers from the Centers for Disease Control and Prevention and the Association for Professionals in Infection Control and Epidemiology (APIC).
The Project Firstline Program - Learn about Infection Control provides resources that help frontline healthcare workers understand and apply infection control principles.
This Guide to Infection Prevention in Emergency Medical Services is intended to help EMS providers and their patients stay safe and healthy while reducing their exposure risks:
Ambulance cleaning procedures
Sample exposure control plan
A list of infectious diseases to which EMS providers may be exposed
Work restrictions for providers who have been exposed or infected
Immunization programs
Risk factors and standard precautions
Disinfection and decontamination
As we develop more infection control resources, we will post them to this page.
Clinical Resources
Naloxone
Ordering Narcan
Please be sure to request Narcan and naloxone at least two weeks in advance of anticipated need. Our online request form allows us to streamline requests.
Rotating Narcan Stock and Expiration Dates
Please be sure to check your entire inventory of Narcan/naloxone and be sure to use the Narcan/naloxone that is the 'oldest', set to expire sooner.  The manufacturer has recently announced a shelf-life extension of Narcan 4 mg White Nasal Spray from 24 months to 36 months. When rotating stock, please remember to include the doses of Narcan in your Naloxone Leave-Behind Kits. Please see the manufacturer's FAQ sheet for more information and don't hesitate to email us with additional questions. Please note this does NOT influence the IV vials naloxone medication (salmon-colored boxes). Follow the expiration dates on your medication.
Our recommendation remains for first responders to carry a single dose of Narcan in jump kits. If the patient does not respond to the first dose of Narcan and there is a sole responder on scene, ventilating the patient will help to keep them alive until additional resources arrive.
Please email us if you have any questions or concerns.
Ready, Check, Inject
The Ready, Check, Inject program provides a simple and safe alternative to epinephrine auto-injectors and allows trained emergency medical technicians (EMTs) to withdraw epinephrine from a vial and inject the medication intramuscularly. It was created to address the rising cost of epinephrine auto-injectors and is designed to be an optional alternative to stocking these devices.  It is not intended to necessarily take the place of autoinjectors unless cost is prohibiting their use.  Epinephrine auto-injectors are still considered the preferred method of medication administration in anaphylaxis.   
To administer intramuscular epinephrine at the EMT level, an agency must stock 1 mL vials of 1 mg/1 mL (1:1000) concentration epinephrine and 1 mL syringes with an accompanying 1 inch intramuscular safety needle. Larger volume vials and syringes are not allowed at the EMT level.  We recommend separating this specific equipment from other ALS supplies to prevent confusion.  Each EMT medication administration kit must also include the Ready Check Inject Safety Card. Its contents are detailed in the Ready Check Inject training document, but it serves as a cross check reference to prevent medication error. To obtain cards, email the EMS Office with your required amount. Please see the equipment checklist for the complete list of required items.
Ready, Check, Inject Training and Credentialing
EMS agencies must credential their EMT level providers to use the new protocol using a two-step process.  Providers will watch a narrated Power Point on CentreLearn (individually or as a class) and then complete an agency-led practical training session overseen by the agency's or district's training coordinator. Competency must be confirmed by a licensed provider at the AEMT or Paramedic level using the skill sheet included in the training program. Documentation of training and competency verification should be kept on file by the agency. 
Mobile Integrated Healthcare / Community Paramedicine Program
The Vermont Department of Health contracted with All Clear Emergency Management Group in August 2016 to assess the feasibility of a Mobile Integrated Healthcare / Community Paramedicine (MIH-CP) program in Vermont. There were two main components of this project:
1. Conduct a baseline situation analysis of the current state of work being done in community paramedicine, mobile integrated health, and other non-traditional roles for EMS providers.
2. Conduct a gap analysis of program implementation and provide input on how to address the gaps within Vermont.
This report contains the baseline situation analysis, gap analysis, and recommendations for the Vermont Department of Health. View the Mobile Integrated Healthcare / Community Paramedicine Program in Vermont Final Report.
Rapid Sequence Intubation
Rapid Sequence Intubation (RSI) is an advanced airway skill only available to paramedics with additional training, medical direction oversight and participation in an educational and Continuous Quality Improvement (CQI) program approved by the Department of Health.
For more information, contact EMS Medical Director Dr. Dan Wolfson.
Community Resources
OnCall for Vermont
OnCall for Vermont is the online hub for health-focused volunteering, training and response in Vermont. Building on our state's rich history of volunteerism and neighbors helping neighbors in times of need, this portal provides Vermonters with a simple path to becoming a health volunteer.
HEARTSafe Community
Designation as a HEARTSafe Community is based upon meeting criteria that increase the potential for survival from sudden cardiac arrest. By becoming a HEARTSafe Community, your government officials and citizens will be recognized for their commitment to becoming a critical link in the Chain of Survival.
Applications and additional information can be found in Documents, Forms and Publications.