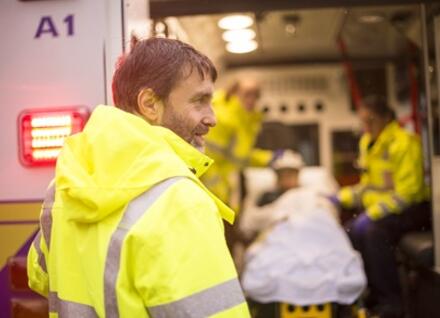 Important information about the documents provided here:
Original signatures are required on all licensing documents.
The EMS office does not accept faxed or scanned/emailed versions. Licensing applications must be printed and mailed.
Altering these documents in any way is prohibited.
These documents are updated regularly. To make sure you have the most recent version, download a new application each time you need one rather than keeping copies on file.
If you have questions, or would like a paper copy mailed to you, email the EMS office.
Vermont Statewide EMS Protocols - 2020 Version (Effective May 15, 2020)
Photo/Video Release Forms
Apply to Take a Practical Exam
Use these forms to apply for a Vermont EMR or EMT practical examination. These forms also serve as license applications, so you do not need to submit additional paperwork after completing the licensing requirements. AEMT and Paramedic candidates register for a practical exam through their course instructor.
If you are a Registered Nurse or Physician Assistant, you can apply to challenge the exam and obtain a Vermont license at any level without taking a course. Challenging the exam will not result in a National Registry certification.
Apply for an Initial EMS Personnel License
Use these forms to apply for an initial Vermont EMS license AFTER you have obtained a National Registry of EMTs certification at that level:
Renew an EMS Personnel License - 2016 NCCP Standard
Use one of the following EMS License Renewal Applications if your license is due to expire after 2018:
Critical Care Paramedic Endorsement
Paramedics who hold an approved Critical Care Paramedic certification may apply for a CCP endorsement if they are affiliated with a Paramedic level agency that has been approved to function at the CCP level and have the approval of that agency's District Medical Advisor.
EMS Agency Administration
Instructor/Coordinator Resources
Practical Exam Site Resources
Become a HEARTSafe Community
Refer to the documents in this section to apply to become a Heart Safe Community:
Please send completed HEARTSafe applications to the Vermont EMS Office by emailing vtems@vermont.gov or by mailing to Vermont EMS, PO Box 70, Burlington 05402-0070. 
Public Access Defibrillation (PAD)
PAD Registration Form:

Use this form to notify the Vermont Department of Health that a public access defibrillator has been placed at your location.

PAD Legislation: This is the text of legislation that created the Public Access Defibrillation program and provides instructions for registering defibrillators with the Vermont Department of Health.
 If you need Adobe Reader click on the link below for a free download.
Meeting Minutes
EMS Advisory Committee
Monthly EMS Leadership Conference Calls