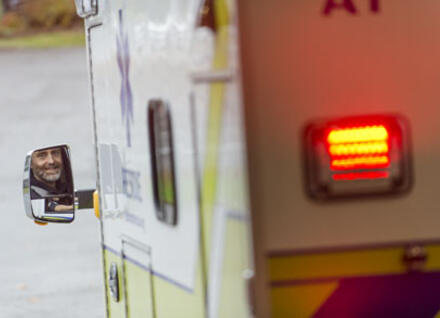 The Vermont EMS office licenses nearly 180 ambulance and first responder agencies and 2,800 licensed patient care providers.
While our primary role is to regulate EMS to ensure a safe and competent workforce, we also provide technical and operational support to the agencies and people who make up the Vermont EMS system.
Obtaining a Personnel License
To render patient care within Vermont's EMS system, a person must hold a current state EMS license and function on behalf of a licensed EMS agency.
In Vermont, all initial EMS personnel licenses are based on certification from the National Registry of EMTs (NREMT) and an affiliation with a Vermont-licensed ambulance or first responder agency. A person working at a medical facility may obtain a Vermont EMS personnel license if EMS licensure is a requirement for employment.
An applicant for personnel licensure at the EMT level or higher must be at least 18 years old and undergo background screening for criminal convictions, tax and child support liabilities and actions taken on other professional licenses.
Vermont's four EMS license levels match the levels of the U.S. Department of Transportation's National Scope of Practice Model. They are: Emergency Medical Responder (EMR), Emergency Medical Technician (EMT), Advanced EMT (AEMT), and Paramedic. You can find each level's scope of skills in Appendix 4 of the Vermont Statewide EMS Protocols.
If you hold a current NREMT certification, are affiliated with a Vermont-licensed EMS agency and would like to obtain a Vermont EMS personnel license, you must complete the Vermont EMS Reciprocity Application and submit it to the address on the application.
If you are interested in taking a course to become a Vermont EMS provider, consult the EMS Education page. A person who successfully completes a Vermont EMS course and passes the exam will earn a National Registry of EMTs certification. This NREMT certification must be maintained for the duration of your Vermont EMS career.
Vermont EMS licenses are timed to expire three months after the NREMT expiration date.
Renewing a Personnel License
To renew a Vermont EMS personnel license, a provider must first renew their NREMT certification and then submit a Vermont license renewal application to the EMS office. You can download and print a license renewal application from Documents, Forms and Publications.
To learn more about the NREMT renewal requirements, consult the National Registry of EMTs website.
NOTE: Existing EMS providers who obtained their Vermont EMS license prior to the state's adoption of the NREMT testing are allowed to renew their Vermont license by submitting documentation of continuing education in lieu of a NREMT certification. However, if they let their EMS license lapse, they must obtain a NREMT certification to reinstate it.
Obtaining an EMS Agency License
To operate as an ambulance or first responder agency, an organization must be licensed by the Vermont Department of Health. To obtain an initial EMS agency license, contact the EMS office for an application packet.
The first step in the initial agency licensing process is to place a notice approved by the Vermont Department of Health in area newspapers to invite public comment on the application. A sample of an approved public notice is included in the license application packet.  
Licensing Requirements
The applicant must demonstrate to the Health Department that it:
has enough trained personnel to provide service on a 24/7/365 basis
can maintain internal systems of credentialing and quality improvement
has adequate general liability, worker's compensation, automotive and professional liability insurance
has a process for screening the crime conviction backgrounds of its members, employees and other sponsored personnel
will operate in compliance with the applicable regulations of other state and federal departments and agencies including Medicare, Medicaid, the Vermont Occupational Safety and Health Administration (VOSHA), the Federal Communications Commission (FCC) and the Vermont Department of Motor Vehicles
has sufficient training and medical control from the hospital(s) within its service area
agrees to provide coverage according to EMS District and municipal response plans
agrees to maintain operational written agreement(s) with the first responder agencies (if applicant is an ambulance agency) or ambulance agencies (if applicant is a first responder agency) in the proposed service area
is able to maintain operational readiness on a 24/7/365 basis (NOTE: This requirement may be satisfied either by the agency's own operations or through a written contract or agreement with another Vermont licensed agency.)
has resources to support the continuing education of its personnel
If the proposed agency will transport patients, it must also demonstrate that:
its ambulances have two-way communications equipment adequate to allow the ambulances to communicate with dispatchers and the hospital(s) where they will routinely transport patients
it agrees to provide complete and accurate documentation of all EMS response incidents in the SIREN system
it has an appropriate number of ambulance(s) with the required equipment to support the operations proposed
The Health Department will also consider the proposed agency's commitment to its district's policies and procedures, its arrangements for dispatching, its budget and financial resources, the adequacy of its equipment and the potential impact on other area agencies' call volume and financial viability.
After review, the EMS Office will bring the application before the Board of Health for approval. Once granted, an initial license will be issued for the remaining portion of the calendar year.
Renewing an EMS Agency License
Vermont EMS agency licenses are valid for one year. Every year the EMS office sends renewal applications to agencies to be returned in sufficient time for a complete review by the EMS District Board and the EMS office before being presented to the Board of Health for approval. By completing a license renewal application, the agency attests to continued compliance with EMS Statute and EMS Rule. 
The Health Department may periodically inspect an agency's operations and record keeping systems including, but not limited to: vehicle and equipment checks; personnel certifications, licenses, continuing education and credentialing; agency policies and procedures; and any contracts or agreements for services related to agency licensure.
Ambulance Vehicle Licensing
An ambulance vehicle is used to provide on-scene emergency medical treatment in the event of illness or injury, and for subsequent transportation of the patient to an appropriate medical facility.
Ambulances may also be used for emergency transfer of patients between medical facilities or for non-emergency transfers.
All ambulances in Vermont must be licensed by the Vermont Department of Health. An ambulance license is issued to a specific vehicle for a specific agency for a period of two years. If the ambulance is transferred to another EMS agency, it must be relicensed.
To be licensed as an ambulance in Vermont, a vehicle must be maintained in a clean and sanitary condition, free from interior rust, dirt or other foreign contaminating matter and must meet all Department of Motor Vehicles inspection requirements. It must also be equipped in compliance with the Vermont Ambulance Inspection Form.
When an agency acquires a new or used ambulance, it must apply to the EMS office for a license using a Temporary Ambulance Vehicle License Application. Once the application is approved, the agency may operate the vehicle as an ambulance until it is inspected by an EMS office representative.
Ambulance Inspections
At least once every two years, the EMS Office inspects each ambulance to be sure that it is safe, clean and otherwise in conformity with regulations, using a standard inspection form. The inspection includes reviews of the vehicle's insurance, registration and maintenance records.
If an ambulance vehicle does not pass inspection and its continued operation presents a hazard to health or safety, the EMS Office may order it removed from service at once. If the deficiencies are not such as to require the ambulance's immediate removal from service, the EMS Office will notify the agency of the deficiencies and give the agency a reasonable time to bring the ambulance into compliance.
Ambulance Design Requirements
All ambulances must meet the applicable federal and state safety requirements, including those described by the Code of Federal Regulations, Federal Register, Society of Automotive Engineers, Vermont Statutes as of the date of manufacture, and the annual inspection required by the Vermont Department of Motor Vehicles.
Effective January 1, 2018, licensed ambulances must also conform to the design specifications established and updated one year prior to the date of manufacture by one of the following:
At the request of the agency, the EMS Office may waive some details (e.g. color, markings, etc.) provided that the vehicle is in substantial design compliance and won't reduce vehicle performance or safety.