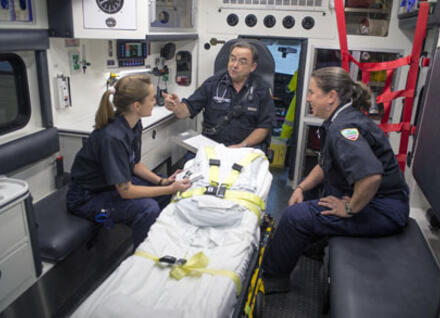 If you are interested in becoming a Vermont EMS Provider, we recommend that you contact the EMS agencies near you to find out how to become a member or employee of their organization. Agency affiliation isn't required to take an EMS course, but agencies usually cover some or all of the cost of EMS training and can provide opportunities to practice the skills you're learning. You must have an affiliation with an EMS agency to become a licensed EMS provider.
All of Vermont's initial and continuing education follows the National Highway Traffic Safety Administration's EMS Education Standards. Once you complete a Vermont EMS course and pass the exam, you will earn a National Registry of EMTs certification, which can help you gain reciprocal licensure in many states.
EMS Protocol Education
The Statewide EMS Protocols represent the work of all 13 District Medical Advisors, numerous stakeholder groups and a multitude of EMS providers, agencies and districts across the state. Wherever possible, protocol updates have been guided by the most recent and best evidence-based EMS literature.
Initial Education For State Licensure
No prior training, certification or licensure is required to take an Emergency Medical Responder (EMR) or Emergency Medical Technician (EMT) course. Instructors often expect students to have a CPR certification before starting a course, but this certification can be obtained during the course. To qualify for an Advanced EMT or Paramedic course, a person must have a current state EMT license or a National Registry of EMTs certification.
EMS courses are held throughout the year across the state. To find out about courses happening near you, go to the Class Schedule. New courses are added to the schedule regularly. You may also reach out to your district's training coordinator to find out if other courses will be offered in your area. To enroll in a course, contact the instructor directly.
Continuing Education - 2016 NCCP Model
For EMS providers with licenses expiring in 2019 and beyond, the NREMT has revised the National topics of the National Continued Competency Program. Likewise, the Vermont EMS office has updated the State/Local requirements to reflect protocol updates, new topics and skills that merit special focus as part of continuous quality improvement. The remaining state/local requirements are chosen by EMS districts and/or agencies based on their unique needs.  
Vermont EMS personnel license renewal requirements mirror those of the NREMT. Most of Vermont's EMS providers hold a National Registry of EMTs certification and meet Vermont's continuing education requirements by renewing that certification.
Vermont has used the NREMT's National Continued Competency Program (NCCP) as its model for continuing education since July 2015. The foundation of this program is continuous quality improvement, lifelong learning and individual self-assessment.
The National Continued Competency Program started in 2010 when a multi-disciplinary task force consisting of representatives from major regulatory, medical oversight and operational components of EMS met to consider revisions to the NREMT recertification process. The end result is a program that evolves over time and allows states, the local EMS community and individual EMS providers to choose topics that are most relevant to their educational needs.
There are three components of the National Continued Competency Program. Half of the hours are determined by the NREMT, a quarter are chosen at the State and Local levels and the remaining quarter are chosen by each EMS provider. The total number of required hours is different for each license level.  
National Requirements of the National Continued Competency Program
The national requirement topics of the National Continued Competency Program are selected by the National Registry of EMTs based on input from EMS researchers, physicians and provider stakeholders and are updated every five years. Topics are chosen from evidence-based medicine and scientific position papers aimed at improving patient care, particularly tasks with low frequency but high criticality.
The National Registry of EMTs has produced educational guides for each level.
State/Local Requirements of the National Continued Competency Program
A portion of  Vermont's state and local requirement topics are determined by the EMS office based on state-specific training needs. The remaining hours are determined at the district and/or agency level.
Individual Requirements of the National Continued Competency Program
The remaining portion of each EMS provider's continuing education is determined by the provider based on their own areas of interest or possible weakness. Any training that relates to the clinical or operational functions of an EMS provider at their license level qualifies for continuing education in this section.