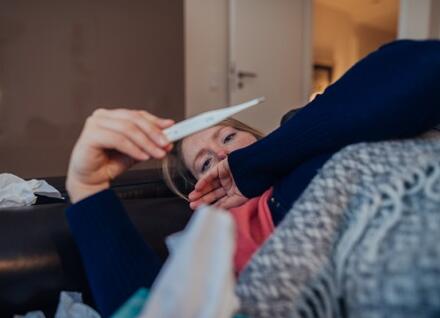 If you test positive for COVID-19, you need to isolate, stay home and away from other people until you have recovered, even if you are fully vaccinated. This is to prevent further spread of the virus. A contact tracer will call you to give you guidance. They will answer any questions you may have and see if you need help getting resources to stay home. Most people with mild illness can recover at home. You should get plenty of rest, drink plenty of fluids, and take fever-reducing medication if needed. 
If you or a family member are sick, follow these steps to care for yourself and to help protect other people in your home and your community:
Stay home, except to get medical care. Call ahead before visiting your health care provider. Anyone who does not have a health care provider can call 2-1-1 to be connected to care or contact the nearest federally qualified health center

(link is external)

or one of Vermont's free & referral clinics

(link is external)

.
Separate yourself from other people and pets. 
Monitor your symptoms. 
Wear a face mask when you're around people and pets.
Cover your coughs and sneezes with your sleeve or a tissue, then throw the tissue in the trash.
Wash your hands often. Use an alcohol-based sanitizer if soap and water aren't available. 
Avoid sharing personal household items.
Clean all high-touch surfaces in your home daily. 
Get support from others. Stay in touch with family and friends by phone, email or online platform.
Monitor your blood oxygen levels. People diagnosed with COVID-19 may have below-normal levels of oxygen in their blood before they feel short of breath. Finding low oxygen levels early can help you know to seek medical care sooner. This could make the disease less severe. Learn more about this program.
Caring for someone with COVID-19
Recovery
People with COVID-19 can stop home isolation when they have recovered. This means they have met the following conditions.
If you had symptoms, recovered is when all three of these have happened (unless otherwise instructed by your health care provider):
It has been at least 24 hours of no fever without the use of fever-reducing medication, and
Other symptoms have improved, and
At least 10 days have passed since symptoms first appeared.  
If you did not have any symptoms, you can leave home and be with others after:
10 days have passed since the date you had your positive test (unless otherwise instructed by your health care provider). 
Key dates to determine isolation timeline for people who test positive and have symptoms and for people who test positive, but do not have symptoms.
Your health care provider will follow CDC guidelines. In all cases, follow the guidance of your health care provider and the Health Department. The decision to stop home isolation should be made in consultation with your health care provider and the Health Department. Most people do not need a test to determine when they can be around others again. However, if your health care provider recommends testing, they will let you know when you can resume being around others based on your test results.
After stopping home isolation, continue to follow the general precautions to help keep the virus from spreading: wash your hands often, stay home if you are sick.
The likelihood of a person being reinfected with COVID-19 within three months of initial infection is extremely low, however, if you have recovered from COVID-19 and develop new symptoms of COVID-19, isolate and contact a health care provider.
If you have fully recovered from COVID-19, the plasma in your blood may contain antibodies that can attack the virus. This is the body's immune response to the virus. Plasma is being evaluated as a possible treatment for people who are currently sick with COVID-19.
The Red Cross is looking for people who are fully recovered from COVID-19 and may be able to donate plasma. If you are fully recovered from a COVID-19 diagnosis that was confirmed by a lab test and would like to donate your plasma, fill out the form on the Red Cross website (link is external).