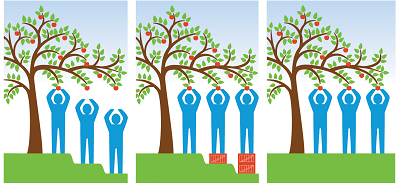 Health equity exists when all people have a fair and just opportunity to be healthy, especially those who have experienced socioeconomic disadvantage, historical injustice, and other avoidable systemic inequalities that are often associated with social categories of race, gender, ethnicity, social position, sexual orientation and disability.
Health is shaped by where we live, learn, work and play. Some people in Vermont have more opportunities than others to enjoy good health and a high quality of life. Vermonters who identify as white and heterosexual, who are able-bodied, live in urban or suburban areas, or are middle or upper class generally have better health compared to other Vermonters. These are health inequities and together with our partners we are committed to addressing them.
Health equity is one of the goals of our Strategic Plan 2014-2019 and a cornerstone of our 2018 State Health Assessment and State Health Improvement Plan.

Our Work
What is health equity?
According to Healthy People 2020, health equity is defined as "the attainment of the highest level of health for all people. Achieving health equity requires valuing everyone equally with focused and ongoing societal efforts to address avoidable inequalities, historical and contemporary injustices, and the elimination of health and health care disparities."
Not everyone in Vermont has equal access to the conditions that favor health. Some people live in areas where there aren't many doctors or dentists and have to travel greater distances for care. Some live in areas where it's hard to access healthy food or where it's not safe to take a walk. Some face prejudice or discrimination because of the color of their skin, their gender, sexuality, gender identity, age, country of origin, socioeconomic status, geography, or for having a disability. These conditions or characteristics can affect a person's ability to lead a healthy life – and can result in health disparities, or unequal health outcomes – based on their group membership.
By viewing public health through a health equity lens, we are more likely to reach the people and communities most in need of our support.
Community Engagement
We work with communities across the state on the health issues that matter to them. We know that community members bring unique knowledge and abilities to support health. This is an important part of the work of our 12 local health offices.
We must also do more to build relationships with communities that experience the greatest inequities. This is a goal in our State Health Improvement Plan.  
Cultural Humility
We create opportunities for staff and partners to critically analyze beliefs and systems so that we can provide services that are respectful, trauma-informed, and culturally- and linguistically-appropriate. Our Office of Health Equity provides training and technical assistance to support this work throughout the department. You can find some of the resources we use on the bottom of this page.
Culturally and Linguistically Appropriate Care
Reflect and Respect Diversity
To successfully create opportunities for health it is important for our workforce to reflect the diversity of our communities and for our workplace culture to value everyone's different life experiences. This culture of mutual respect and acceptance increases job satisfaction as well as programmatic success.
We promote affirmative hiring and incorporate strategies for affirmative recruitment in our hiring guide.
Health Equity Action Team
The Health Equity Action Team (HEAT) is a cross-departmental workgroup to support health equity work at the Health Department. Its goals are to outline actions that the department can take to further and deepen health equity work by addressing both internal systems and processes as well as to develop health equity leadership within divisions.
HEAT focuses on four areas of work for equity: transforming systems; building internal infrastructure; working across government; and fostering community partnerships.
Language Access, Interpretation and Translation
We aim for information from the Health Department to be accessible to everyone living in Vermont. Sometimes this means we translate documents or write using plain language. Other times it means thinking about who is delivering information, the format the communication takes, or where a meeting takes place.
Print and video information in English and a number of other languages spoken in Vermont are available on our website – Translated Information
Monitor Health Disparities
We collect and analyze data on the diversity of Vermonters. This includes data on gender identity, race, sexual identity, and income. This way we know what we are doing well and where we have room for improvement.
We also work with our staff and partners to collect data about social conditions, such as access to transportation, housing conditions, and employment since we know these contribute to health. Some of the ways we monitor this data includes:
Our Approach
Health equity is more than just health disparities—preventable differences in health between groups. Health inequities are created when fair and just opportunities for health don't exist. When people do not have fair and just opportunities for health—when they experience systemic discrimination in their physical, social, and natural environments—this can affect health outcomes.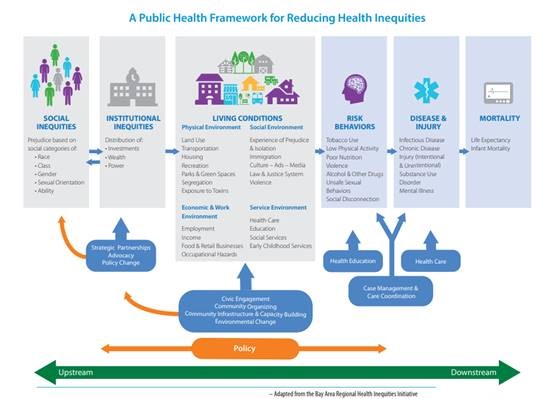 To successfully tackle inequities, we must look at the structures and systems underlying health behaviors and health outcomes. Focusing on inequities means addressing upstream contributors, including the distribution of power, and reframing the questions we ask about health.
Prioritizing health equity means thinking about our work differently so that we can create better conditions for health. Some questions to consider when taking on health equity work include:
What living conditions contribute to the issues? What institutional inequities contribute to the issues?
Who is part of the decision-making process?
What data are we using? Do the data fully represent populations in Vermont? How do we analyze the data to promote equity?
Inside our department we create systems to support equity. Outside the department we work with traditional and non-traditional public health partners, members of communities that most experience inequities, and other departments and agencies in Vermont on health equity.
Learn More
Trainings
Tools and Resources
Vermont-specific Resources
Episodes from VPR's award-winning podcast, Brave Little State