In the Newport Office of Local Health, we aspire to prevent chronic diseases by strengthening communities in our region. Through collaboration with partners, we promote the highest level of health for all people, working to eliminate differences in health for different groups of people.
Our vision is that all Vermonters will live in communities that enable them to make healthy food choices and lead physically active lives. We support statewide partners working together to encourage lifelong healthy eating and physical activity by:
Developing community partnerships
Planning, implementing and evaluating targeted interventions
Creating policy and environmental changes
Focus Areas in the Northeast KingdoM
Physical Activity
Safe Routes to School is a comprehensive program based on a simple premise: our kids should be able to safely walk and bike to school. Walking and biking to school helps students develop independence, improves academic performance, helps reduce traffic congestion and air pollution, and helps create a stronger community.
Local Motion, Vermont's statewide nonprofit walk-bike advocacy organization, assists with the non-infrastructure side of the Safe Routes to School program, answering questions and providing guidance to partner schools.
The mission of Newport Parks and Recreation is to provide the citizens of Newport with a broad selection of high quality recreational opportunities through facilities and programs and to enhance the quality of life for all ages. They work to create community through people, parks and programs.
North Country Career Center Indoor Walking Path: North Country Career Center Adult Education 802-334-5469 extension 3305.
Our Town, Slow Down: Creating safe streets for all our residents and visitors.
Newport City Renaissance Corporation: The Newport City Renaissance Corporation is a private nonprofit organization. They provide leadership and volunteer management for resource development, project management, technical assistance and skills which assist volunteers in designing effective programs for economic restructuring, design and promotion.
The Wellness Center is the place to go for fitness, fun and health! The Center offers a variety of health and fitness classes aimed at helping you reach your fitness goals and achieve greater overall wellness. They offer yoga, pilates, spinning and strength training just to name a few. 
Newport Vermont - AARP Age-Friendly Community: Well-designed, livable communities promote health and sustain economic growth, and they make for happier, healthier residents — of all ages.
Nutrition/Food Access
Upper Kingdom Food Access is a community initiative which focuses on Orleans and Northern Essex Counties. The vision of Upper Kingdom Food Access is healthy outcomes from better eating, and its mission is to foster better eating through education about choices in the food system.
The mission of Green Mountain Farm to School is to restore and strengthen local food systems in the Northeast Kingdom of Vermont by promoting positive economic and educational relationships among schools, farms and communities. We create healthy communities by working across the food system with capacity building, resource development, and technical assistance through Green Mountain Farm to School's school gardens, Farm to School program, food hub, food truck, and statewide marketing campaign.
The Center for an Agricultural Economy works to engage the public in building a regenerative, locally based, healthy food system through collaboration opportunities, food access and hunger relief, educational outreach and providing infrastructure.
Northeast Kingdom Hunger Council is a comprehensive, locally-supported anti-hunger model which brings together community leaders to identify strengths and challenges in the local nutrition safety net and mobilize to improve access to food and nutrition.
Fresh Start Community Farm is a decentralized urban farm in Newport. The Farm's gardens are lawns, lots, public parks, and other reclaimed green spaces around the city. The Farm's gardeners are the next generation of growers and an intergenerational team of neighbors. They strive to create gardens that function as cultural, economic, and social hubs within our community.
Island Pond Community Garden:  802-723-6184 
3-4-50
A simple and powerful model for communicating the message about preventing chronic disease, 3-4-50 is a community health improvement strategy. It is based on evidence that three health behaviors lead to four chronic conditions that together cause more than fifty percent of deaths in Vermont.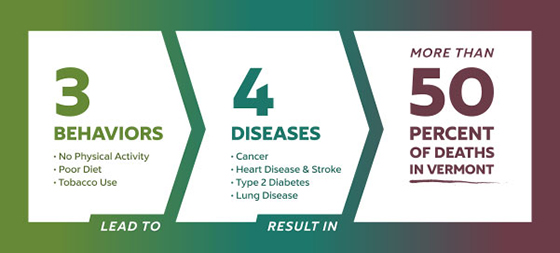 Learn More
Health Promotion & Disease Prevention in Vermont
Contact Us
802-334-6707