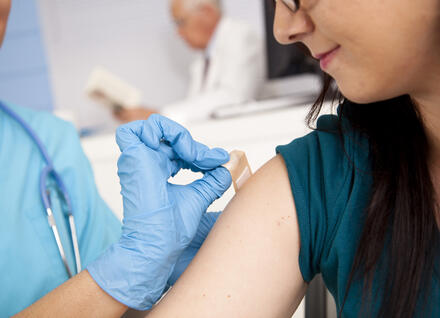 know what to do about the flu
Get a flu shot. The best way to prevent the flu is to get a flu shot. Flu vaccination can reduce flu illnesses, doctor's visits, and missed work and school due to the flu, as well as prevent flu-related hospitalizations and death. It is recommended to get a flu shot once a year. Flu shots are offered at many places, including doctor's offices, pharmacies, clinics, and some schools and workplaces.
Take Other Prevention Steps
Prevent the spread of germs. Wash your hands often with soap and water. Avoid contact with sick individuals. Stay home if you are sick. Cover your nose when you cough and sneeze.
Take flu medications if your doctor prescribes them. If you get the flu, antiviral drugs can be used to treat your illness.
Stay hydrated, and drink plenty of fluids.
Tips to Prevent Flu and Illness video in  Arabic | Bosnian | Chinese/Mandarin | English | Kirundi | Nepali | Russian | Somali | Swahili | Vietnamese
About the Flu Vaccine
The Vermont Department of Health and the Centers for Disease Control & Prevention encourage all Vermonters to get vaccinated, especially those at high risk of complications.
Vaccination is recommended if you are:
Age 6 months and older
At high risk of complications from the flu, or if you are in contact with someone who is at high risk
High-risk groups include:
Pregnant women
Breastfeeding mothers
All adults 50 years of age and older
Residents of nursing homes and other long term care facilities
Healthcare workers
Travelers
People with a compromised immune system
Anyone with a condition that can compromise respiratory function
People at high risk for severe complications from influenza
Learn about flu vaccine coverage in Vermont
Flu Vaccine Effectiveness
Flu viruses are constantly changing, so the vaccine is reviewed each year and updated as needed based on which influenza viruses are making people sick, how much those viruses are spreading, and how well last season's vaccine protects against those viruses.
How well the flu vaccine works varies from season to season. Each flu season, CDC studies how well the flu vaccine protects against flu illness.
Learn more about flu vaccine effectiveness
For the 2019-2020 flu season, CDC's Advisory Committee on Immunization Practices (ACIP) recommends flu shots and nasal spray as options for vaccination this season. The nasal spray is approved for use in non-pregnant individuals, two years through 49 years of age. People with some medical conditions should not receive the nasal spray flu vaccine.
Nasal spray flu vaccine effectiveness studies