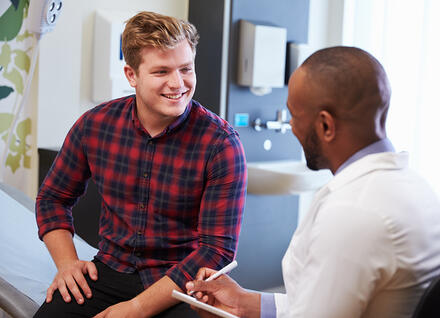 HIV surveillance is the process of collecting, analyzing, and interpreting data on individuals infected with HIV (human immunodeficiency virus), the virus that can cause AIDS. We use data presented in the most recent Integrated Epidemiological Profile for HIV/AIDS (updated every five years) to guide Vermont's HIV/AIDS prevention and care/support service efforts. The comprehensive and multi-perspective profile information is also used to evaluate programs and policies, and is an essential planning tool for HIV prevention and care in our state. Read the most recent Integrated Epidemiological Profile for Prevention and Care Planning in Vermont 2016.
To access a more complete picture of HIV in our state from a data perspective, start with our Vermont HIV Annual Reports. These reports provide information on HIV diagnoses and mortality, gender and race demographics and the age distribution of cases. They outline the behavioral risks associated with Vermont's HIV cases. Vermont HIV Annual Reports use data that are subject to change. Each report should be read in detail and considered as a standalone summary of data available for the timeframe indicated.
Vermont HIV Annual Reports
HIV/STD/Hepatitis Program Client Confidentiality
We at the health department value client confidentiality and recognize the importance of health information privacy, particularly when it comes to HIV services. No client should fear that their behavioral risk information, which may include socially stigmatized activities (e.g.: sex, drug use), will be shared with anyone other than authorized individuals with reasonable need to know. Neither should a client feel the need to withhold information for fear of the legal liability that could result from unauthorized disclosure of their behavioral risk info.
It is essential that clients feel confident that any data collected about them is treated in an appropriate manner. Trust in our systems of care and support is essential if people living with HIV, or at high risk for HIV infection, are to get the most out of the programs designed to help them be as healthy as they can be.
The HIV/STD/Hepatitis (HSH) Program's confidentiality and data training for our community partner organizations that deliver HIV testing, care and prevention services covers a range of topics including:
How client data is collected, stored, transported and submitted to the HSH Program in ways that protect privacy.
Action steps for service providers that help protect client data.
HSH Program grantee staff and volunteers, who handle sensitive client health information as part of their work, must complete the following Confidentiality Training and pass a written assessment. Finally, staff and volunteers who handle health information must review and sign a secure user confidentiality statement, committing themselves to protecting client confidentiality. These steps are completed before handling client data. The HSH Program requires that these steps are completed on an annual basis.
Confidentiality Training For HIV Services Staff and Volunteers
The following training and related resources are for people who deliver services at community partner organizations funded by our HIV/STD/Hepatitis (HSH) Program.
If you have a role in the delivery of such HIV prevention, testing, or support services in Vermont, you must complete our Confidentiality and Security training.
The training is required at the start of your tenure before you handle or access client data. Thereafter, you are expected to complete this training annually, within the first quarter (Jan.-Mar.) of each calendar year. Check with your supervisor or team leader before proceeding.
There are four steps to complete this training. Click on the links provided at each step to proceed.
Step One: Fully review the Confidentiality and Security slide set in PowerPoint.
You may interrupt your review as needed. If you close the PowerPoint, it will reset to slide one when reopened. You may view the slide multiple times before you continue or at any time.
Step Two: Complete the Confidentiality and Security quiz on SurveyMonkey. Find the link to the quiz on the last PowerPoint slide.
The quiz must be completed fully in a single session. All quizzes must be submitted through SurveyMonkey.
The quiz has a total of ten questions. Question one asks that you type in your agency name and click, "Okay." Question two asks for your full name and email address. Click "Okay." Questions three through ten focus on key learning from the slide set. These are shown in either multiple choice or true/false format.
When all ten questions are complete, click "Done."
Step Three: Review your responses to the quiz (required).
SurveyMonkey will automatically guide you through review of the eight content questions, one by one. You will be able to see which of your responses were correct or incorrect.
Each question will show the correct answer. Additional Confidentiality and Security information will be provided in this review.
Review of your responses is a requirement that you will be asked to attest to in the final step.
Step Four: Review, complete, sign and submit a copy of the Secure User Confidentiality Statement.
The Secure User Confidentiality Statement must be reviewed, completed, fully signed, and submitted before a person can access client data.
There are two options to complete this step.
Save the form as a PDF to complete it and add needed e-signatures electronically. Submit the completed statement via email to your supervisor, team leader or agency designee. They will submit your form to the HSH Program grant monitor electronically.
If needed, you may print a hard copy to complete, with both parties signing in ink. Give your completed form to your supervisor, team leader or agency designee for submission to the HSH Program grant monitor. Printed forms should be scanned and submitted to the grant monitor electronically.