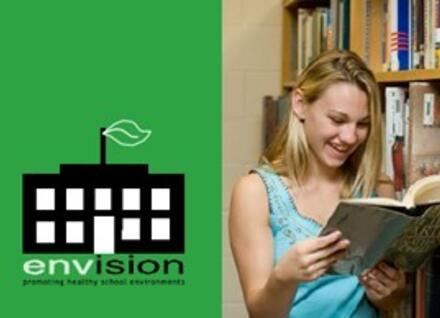 Poor indoor air quality in schools has been linked to decreased student and teacher performance and increased absenteeism. Poor indoor air quality can also result in acute symptoms such as eye, nose and throat irritation, headache, nausea, lethargy and chronic conditions—such as asthma and allergies. The Envision Program – Promoting Healthy School Environments was created by the Legislature in 2000 as part of the School Environmental Health Act (Act 125) to address indoor air quality issues by providing model environmental health management plans, policies and guidance to schools.
The School Environmental Health Act 125 was passed into law with goals to improve school indoor air quality, reduce hazardous exposures, and help schools earn the Envision Certificate of Achievement.
Learn more about Act 125
Act 125 is one of a kind in the nation, setting standards that:
Address the issues of air quality and other environmental factors that may affect the health of children, staff and teachers in our schools
Recognize the importance of sustaining a healthy school environment through the adoption of a model environmental health management plan and policy
The Envision Program is accomplished as a joint effort by Vermont's departments of Health and Buildings & General Services, and the Agency of Education, which work together to:
Create and maintain a clearinghouse of environmental health information on the Health Department's website
Provide technical assistance to schools
Provide workshops on environmental health for school personnel
Develop a model environmental health plan and policy
Encourage and assist schools in developing programs that will enable them to address and prevent environmental health issues through voluntary participation
From unblocking air vents to limiting the use of disinfecting wipes, you can take simple steps to make your school healthier. Check out the video below and learn how to inspect your school building to identify potential environmental health issues. Then scroll down to find important resources about the Envision Program and how to address indoor air quality and environmental health in your school.