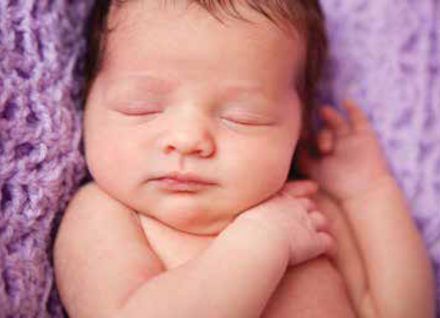 Just as every child is different, so are the signs and symptoms of hearing loss.
Hearing screening is simple and painless. Early screening ensures children early access to services to help them reach their full potential. Contact your child's doctor if you have any concerns about your child's hearing.
Vermont Early Hearing Detection & Intervention Program 
The Vermont Early Hearing Detection & Intervention Program (VTEHDI) works with hospitals and other community providers, such as early head start, homebirth midwives and primary care professionals to provide newborn and early periodic hearing screenings. The program provides support, training, and care management to families and their babies, and to community providers. These partnerships ensure timely referrals for diagnostic testing and early intervention services.
As part of Children with Special Health Needs, VTEHDI provides support, training, and care management for families and their babies, hospitals, and community providers. VTEHDI works with state and national agencies and organizations to achieve the National EHDI goals.
Learn how the VTEHDI program is doing by viewing the Early Childhood Screening Performance Dashboard.
Newborn Hearing Screening
All babies born in Vermont are offered a newborn hearing screening by their birth facility or midwife. Hearing screenings are ava
ilable for newborns that did not have a newborn hearing screening or did not pass the first screening at all Vermont birthing hospitals, pediatric audiology practices, some primary care practices and by midwives. Hearing screening results are sent to VTEHDI by hospitals, midwives, primary care providers and audiologists. These providers also send high-risk information on each baby related to late onset hearing loss. VTEHDI provides families and providers follow-up recommendations for on-going hearing health care based on identified risk factors. Take a look at our "Can my baby hear?" brochure to learn more. Also available in French, Arabic, and Swahili.
One Family's Journey
Resources for Families
Hearing Screening and AUdiology Services
Hospital Outpatient Screening Appointments: Hospitals offer outpatient hearing screenings for newborns. Call the hospital to schedule an appointment.
Regional Pediatric Audiology Practices: Facilities and providers that offer hearing evaluations for children.
Vermont HEARS LLC; Vermont HEARS contracts with school districts and families to provide collaborative hearing consultation services (teacher/s for students who are deaf or hard of hearing + educational audiologist/s) and the full scope of educational audiology services as called for within the Individuals with Disabilities Education Act (IDEA), including auditory processing assessments and auditory training.  
Services that support Deaf, hard of hearing and DeafBlind
VTEHDI/UVMMC: Deaf, Hard of Hearing and DeafBlind Educational Services Program: 

ASL Bilingual Education Services These services include; Sign instruction for families and school teams, contracted Communication Facilitators (CF) and Educational Interpreters and some direct service from Teachers of the Deaf (TOD) who work specifically with students who utilize ASL/sign language.

 

 

UVM School-Age Deaf, Hard of Hearing, DeafBlind (DHHDB) Program: Provides consultative services to school teams and families of students (age 3-22) who are Deaf, Hard of Hearing, or DeafBlind (DHHDB).
Family, Community and National Partners

          
The Vermont Deaf, Hard of Hearing, and DeafBlind Advisory Council