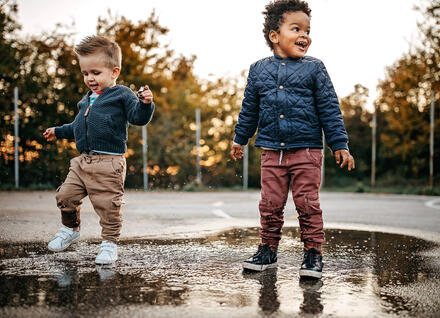 The goal is to keep children in child care whenever possible while ensuring optimal safety for children and staff. We encourage programs and families to have rapid antigen tests available at home when children or staff have symptoms of COVID-19. Please see below for information on assistance, testing supplies, and handling suspected cases of COVID-19 in child care settings.
Find general guidance on preventing COVID-19, vaccines, testing and symptoms and treatment
Find COVID-19 guidance for PreK-12 schools
FOR CHILD CARE AND OUT-OF-SCHOOL PROGRAMS
Child care providers should revisit their pre-COVID-19 child care sickness policies. Good communication with pediatric medical homes in your district is important to the success of these illness policies. Aligning your approach with local medical practices will promote better outcomes.
If a child or staff member has tested positive, and you need assistance:
 You can contact your Local Health Office (preferred) with your contact information, or email

[email protected]

.
 Please do not include any patient names, dates of birth, or other patient identifying information in your email.
 You can contact the Health Department's Infectious Disease Epidemiology team at: 802-863-7240 Option 2 (Mon-Fri 7:45 a.m. - 4:30 p.m.)
COVID-19 antigen tests for child care programs:
Antigen tests are intended for children ages 2 and older while in child care programs.
As of November 1st, child care and out-of-school program distributions of COVID tests have ended.
We encourage your staff and the families at your program to have rapid tests at home in case they develop symptoms.
COVID-19 testing should no longer be required in decision-making. Programs are encouraged to use the same principles with COVID-19 that they use with other infectious respiratory diseases. If a child or staff member is too sick to participate, they should be sent home.
Learn more about COVID-19 testing
How to handle a symptomatic or confirmed case of COVID-19 in your program:
Please see the Child Development Division (DCF) Memo and CDC Operational Guidance for K-12 Schools and Early Care and Education Programs to Support Safe In-Person Learning.
RESOURCES