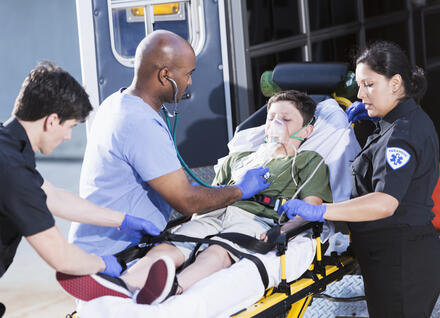 For more than 10 years, Vermont's Emergency Medical Services for Children program has worked with families, local emergency responders, hospital and community organizations throughout the state to improve emergency care of our children through education, system development and research.
EMSC Case Reviews
EMSC will be holding pediatric case reviews on the first Wednesday of every month at 7pm.  Attendance links will be sent out monthly with the theme of the cases to be reviewed. Case reviews will be recorded and uploaded to centrelearn for those unable to attend live. Please contact Merrill Pine at Merrill.pine@vermont.gov if you have any questions or interesting cases.
Vermont Pediatric Safe Program 
The Pediatric Safe Program is designed to recognize the commitment of agencies that are improving pediatric emergency care. This voluntary, statewide initiative recognizes Vermont EMS agencies that go beyond basic requirements to provide excellent care to your community's children.
Pediatric Education
The EMS for Children (EMSC) program works with state and local services to increase educational opportunities for emergency providers to improve their abilities to treat ill and injured children. The program has supported Pediatric Education for Prehospital Professionals (PEPP), and makes sure pediatric topics are presented at the annual EMS conference.
Find a class:
Safe TransPort of children in ambulances (cps for ems)
The Safe Transport training, also known as Child Passenger Safety (CPS) for EMS, was developed to increase the number of properly restrained children during ambulance transport.
The course is designed to educate EMS personnel and others involved in transporting children in ambulances, about the selection and installation of ambulance-specific restraints and some types of conventional child restraints in the ambulance.
For more information, visit NASEMSO's Safe Transport of Children and NASEMSO's Pediatric Transport Products for Ground Ambulances.
Prehospital Pediatric Emergency Care Coordinator
A Prehospital
Pediatric Emergency Care Coordinator (PECC)
in an individual or individuals who are responsible for coordinating pediatric specific activities. A designated individual who coordinates pediatric emergency care does not need to be dedicated solely to this role; it can be an individual already in place who assumes this role as part of their existing duties. The individual may be a member of your agency, or work at a county or regional level and serve more than one agency.
The goal of establishing a PECC is to designate someone to be a pediatric champion and always keep in mind the pediatric perspective within their agency or region.  Studies have found an association between presence of a PECC and an increased level of preparedness for pediatric emergencies. 
Some responsibilities of the individual who might fulfill the PECC role include, but are not limited to: 
•          Ensures that the pediatric perspective is included in the development of EMS protocols.
•          Ensures that fellow EMS providers follow pediatric clinical practice guidelines. 
•          Promotes pediatric continuing education opportunities.
•          Oversees the pediatric-process improvement. 
•          Ensures the availability of pediatric medications, equipment and supplies. 
•          Promotes agency participation in pediatric prevention programs.
•          Promotes agency participation in pediatric research efforts. 
•          Coordinates with the emergency department pediatric emergency care coordinator. 
•          Promotes family-centered care at the agency
Vermont Protocols
Vermont has integrated adult and pediatric statewide protocols. To locate the pediatric protocols, look for the EMSC Bear.