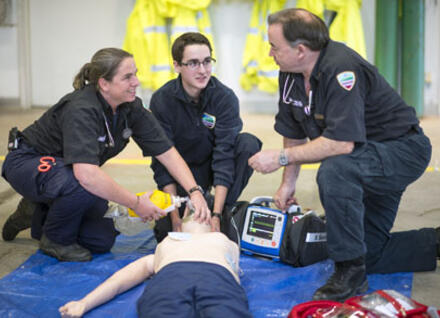 EMS ClassES
Ongoing EMS training, certification and skill development are available to match your interests. If you are interested in enrolling in a class, you must contact the course coordinator. The Vermont EMS Office does not register students for classes.
Don't see a course in your area? Visit the District Contacts link to connect with training coordinators in neighboring districts who might be planning a class nearby.
Emergency Medical Responder Class Schedule
There are no EMR classes scheduled at this time, but check back often as new classes are added regularly.
Emergency Medical Technician Class Schedule
Bennington
Course Dates: June 29, 2020 - August 14, 2020
Location: Bennington Rescue Squad, 120 McKinley Street
Cost: $1,125
FOR INFORMATION, CONTACT: Bill Camarda
Advanced Emergency Medical Technician Class Schedule
There are no AEMT classes scheduled at this time, but check back often as new classes are added regularly.
Paramedic Class Schedule
There are no Paramedic courses scheduled at this time.
EMS Practical ExamS
(SUSPENDED UNTIL FURTHER NOTICE)
How do I register for a practical exam site?
All candidates must register before attending an exam site.  At the EMR and EMT levels, students fill out a paper application to sign up for a test site. The applications are typically provided by the instructor near the end of the course, but students may also download an EMR or EMT exam application from the Documents section of this website. EMR and EMT candidates who need to retest a failed skill station will receive a Retest Registration form with their official results.
At the AEMT and Paramedic levels, instructors register their students for the practical exam. Students can sign up to retest failed AEMT or Paramedic skill stations by contacting the EMS Office.  Registration for an AEMT and Paramedic exam site requires a Practical Authorization to Test (PATT) number, which is assigned after completing an online application on the National Registry of EMTs website. 
View the EMS Practical Exam Schedule
Meeting Schedule
The EMS Office strives to provide many opportunities to interact with members of the EMS community and its stakeholder groups. These meetings are open – see the chart below for details. if you have any questions, please contact the EMS Office.
EMS Leadership Call – This monthly conference call is a forum for district and agency leaders to receive updates from EMS Office staff and discuss current issues and activities relevant to the Vermont EMS system.
Protocol Update Training Sessions - These in-person sessions are not mandatory and are offered to supplement training you might receive at your home service.  Training Officers are strongly encouraged to attend these sessions.
Credentialing Seminars - This seminar will provide an overview of credentialing for Heads of Service, Training Officers and Instructor/Coordinators. Participants will leave with a credentialing process to bring back to their agencies.
EMS Regional Meetings – Several times a year, the EMS Office staff travels to various locations around the state for town hall-type meetings to provide updates and discuss pertinent issues and ideas with the local EMS community.
EMS Advisory Committee Meetings – The EMS Advisory Committee is comprised of representatives of the EMS community and stakeholder groups.
Group
Date/Time
Location
Audio Conferencing Information
 EMS Leadership
First Thursday of every month 11:00
N/A

877-273-4202

Conference room #8496314